More Funding Sought to Offset COVID-19 Losses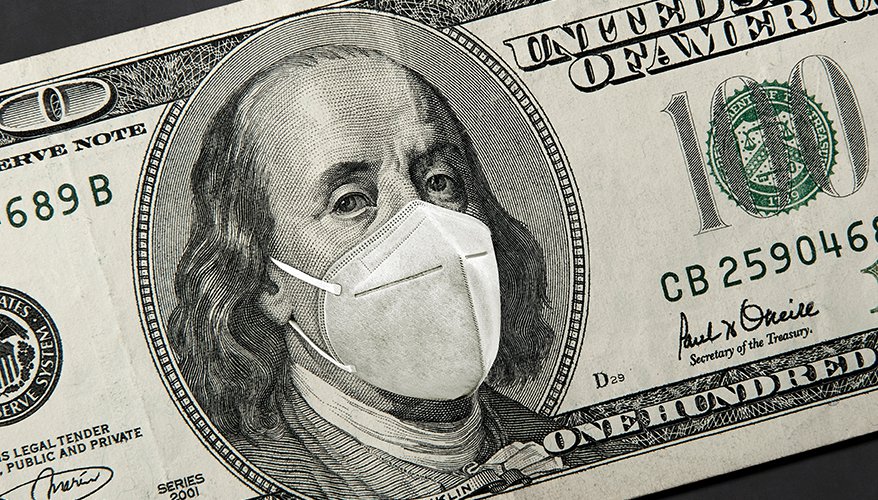 iStock illustration
The Pentagon is looking for more money to help keep companies afloat as the defense industrial base continues to work through COVID-19 pandemic complications.
One avenue of approach includes using funds from the Coronavirus Aid, Relief, and Economic Security (CARES) Act, to mitigate problems for suppliers. Section 3610 under the legislation offers financial relief by providing reimbursements to companies that have workforces that cannot telework or work on-site due to COVID-19 concerns.
Undersecretary of Defense for Acquisition and Sustainment Ellen Lord said in testimony to the House Armed Services Committee in a June hearing that although Section 3610 authorized funds for these reimbursements, it did not appropriate them. In one case, a prime contractor has estimated that it faces $1.5 billion in costs to address these types of challenges, she said.
"While the department may be able to use other appropriated funds to reimburse contractors, the cost for 3610 is likely well beyond the department's resourced ability to do so without significantly jeopardizing modernization or readiness," she told lawmakers.
The Pentagon has rough calculations of how much funding will be needed, although contractors have not yet filed claims, Lord noted.
"We have not yet had any contractors actually submit claims because they're aware that there is not an appropriation yet," she said. "I believe that their concern [is] they might get a one-time shot and want to make sure what the entire situation is" before they make that move.
Kea Matory, director of legislative policy for the National Defense Industrial Association, said businesses may be confused about what benefits are available. In some cases, companies have already applied for the Small Business Administration's paycheck protection program and may not be sure if they are allowed to apply for Section 3610 as well, she noted. The PPP program provides loans to small businesses to encourage them to keep employees on payroll.
"A lot of them felt that it was actually preventing them from being able to apply," she said. "The way that it should work is that they can receive PPP, and if they get equitable adjustment with 3610, then they pay back that loan, so that way it's not double dipping."
Other needs include personal protective equipment purchases, cleaning and sterilization, Lord said. The Defense Department does not have the funding to cover these costs either, she noted.
Ranking Member of the House Armed Services Committee Rep. Mac Thornberry, R-Texas, said in June that he is supportive of providing Defense Department funding in the next COVID-19 relief package. The new legislation is not likely to come in July, as predicted by some lawmakers, he noted.
"Ellen Lord helped me at least understand some of the COVID-related expenses at DoD," Thornberry said during a teleconference with reporters hosted by the Project for Media and National Security at George Washington University. "Programs are delayed. That makes them more expensive. ... There are issues related to the industrial base, especially single-source suppliers who may not be able to stay in business."
Additionally, there may not be bipartisan support for providing the Defense Department with additional COVID-19-related funds, he noted.
"It would be part of a bigger bill, and I think the support will be dependent upon what that bigger bill looks like," he said.
Moving forward, Congress' decision on the topline for defense spending in fiscal year 2021 will also have an impact on the industry's recovery, Matory noted. The Bipartisan Budget Act of 2019 set the cap for the defense topline in 2021 at $740.5 billion. As of press time, Congress had yet to pass a final version of the NDAA that would authorize specific spending levels. "There is still that concern over what the long-term impact [of the pandemic] will be, and especially if the FY '21 NDAA is a reduction" in funding, Matory said.
Meanwhile, the Defense Department still expects a several month setback on acquisition programs, Lord noted during a June Pentagon press briefing.
"We continue to assess a three-month slowdown to all programs due to COVID-19," Lord said. "I won't discuss any programs specifically, but we have seen inefficiencies across most programs. COVID-19 is shutting down defense manufacturing facilities and production lines, disrupting supply chains and distressing the financial stability of the companies DoD relies on to protect the nation."
Lord first announced delays in April, noting that aviation, shipbuilding and small space launch sectors have been impacted the most.
The three-month estimate was based on the April to June timeframe, when COVID-19 restrictions had the most impact on weapons programs, she said.
However, companies are beginning to bounce back from these complications, she noted. Out of the 10,509 companies tracked by the Defense Contract Management Agency, two have closed and 267 have closed and reopened. Additionally, out of the 11,413 companies tracked by the Defense Logistics Agency, 31 are closed and 661 have closed and reopened.
"We see an enormous amount of recovery in the defense industrial base," she said. "It depends on location and what type of work is being performed, but there is enormous progress coming back."
Matory said companies seem to be readjusting to working during the pandemic, although there are still some concerns about facility accessibility.
"People have a little bit better understanding of how to work through a pandemic," she said. "We're more used to teleworking now."
While contractors have become more accustomed to operating in these conditions, there is still concern about receiving paychecks on time and being able to access important facilities, she said.
The Pentagon has also been leveraging Defense Production Act funding to help keep industry afloat, Lord noted. In June, the Defense Department announced multiple DPA Title III actions to provide funds for capabilities such as body armor, aircraft manufacturing and shipbuilding.
"These actions will help to retain critical workforce capabilities throughout the disruption caused by COVID-19 and to restore some jobs lost because of the pandemic," Air Force Lt. Col. Mike Andrews, a Pentagon spokesperson, said in a statement.
Some companies receiving DPA funding include Austal USA, Weber Metals, Bethel Industries, GE Aviation and Steel America.
James Geurts, assistant secretary of the Navy for research, development and acquisition, told reporters in June that much of the DPA money is being put toward high priority issues on the shipbuilding and aviation side. The Navy is also still speeding up contract awards to inject money into the industrial base sooner, he noted.
"The Defense Production Act has been very useful for us," he said. "We want to ensure we can maintain that supply base going forward."
Additionally, in June the Defense Logistics Agency launched the FedMall Small Business Corridor, which will enable small businesses to purchase personal protective equipment for their employees, Lord noted.
Lord has also been in talks with the State Department about reopening manufacturing facilities in Mexico that are critical to the defense industrial base. The nation is one of the most important sources for airframe production.
"I wrote letters and actually talked to our State Department colleagues in Mexico about reopening, talking about the criticality of the defense industrial base," she said. "They were very, very cooperative and obviously want their facilities up and running in a safe manner."
Kim Herrington, acting principal director for defense pricing and contracting, has also issued 35 defense pricing and contracting memos to implement legislation and guidance on assisting the industrial base during the pandemic, Lord noted.
"Those memos include guidance, allowing companies to continue to work, providing liquidity to the industrial base, implementing legislation benefiting industry, improving the speed of contracting activity and providing spending transparency," she said.
As for the Army, weapons system testing remains its biggest concern during the ongoing COVID-19 pandemic. "What things have been hindering us a bit? ... The biggest one there is testing," Assistant Secretary of the Army for Acquisition, Logistics and Technology Bruce Jette said during an Association of the United States Army webinar.
Jette said he's been working closely with Gen. John "Mike" Murray, commander of Army Futures Command, to try to accommodate testing issues. Safety measures related to the pandemic such as social distancing can pose a challenge, he noted.
"In the case of testing, you have to put a lot of people in the same place," Jette said.
So far, the service has adjusted some testing timelines, but first unit equipped dates have remained the same, he said.
"We'll probably move a couple Milestone Cs around, but generally testing and delivery have remained on schedule or we have a makeup plan," he said. "It's the testing that's the long pole in the tent and we're accommodating that."
There have been situations where companies with a small number of workers have had to shut down temporarily when an employee was diagnosed with COVID-19, he noted.
"They're all in close proximity, and [when] one of them comes down positive, the whole place shuts down for two weeks. And in some cases ... we had some suppliers down for a month or two," he said.
However, officials are still on track to keep up with the overall schedule for the service's top 31 signature systems, Jette said. The highest priority modernization initiatives include long-range precision fires, next-generation combat vehicles, future vertical lift, the network, air-and-missile defense and soldier lethality.
There are a number of ongoing studies within Army Futures Command as the organization develops roadmaps for the future and works to balance the effects of the pandemic with its modernization priorities. The service is working on a holistic economic model to examine issues such as the long-term affordability of new weapon systems to include lifecycle costs, Jette noted.
"We are taking some steps to provide additional data in case there's a prioritization that does come down the road due to changes in the budget profiles," he said.
Meanwhile, COVID-19 has hit the Air Force particularly hard, Will Roper, the Air Force's assistant secretary for acquisition, technology and logistics, said during a June call with reporters.
"Aerospace was particularly hard hit by COVID-19 because so much of the aerospace industry that supports defense is reliant on commercial revenue streams," he said. "So we've had to work double hard in the Air Force because everything that we do is aerospace.
"All of our awards have specific deliverables and expectations that they have to meet," he said. "And they're very particular to the issue involved."
One of the aerospace companies picked for Defense Production Act funding included Spirit AeroSystems. The company received $80 million to expand domestic production capability for advanced tooling, composite fabrication and metallic fabrication, according to a news release.
— Additional reporting by Yasmin Tadjdeh

Topics: Defense Department