JUST IN: F-15EX Program Viewed as Pathfinder for 'Digital Century Series' Initiative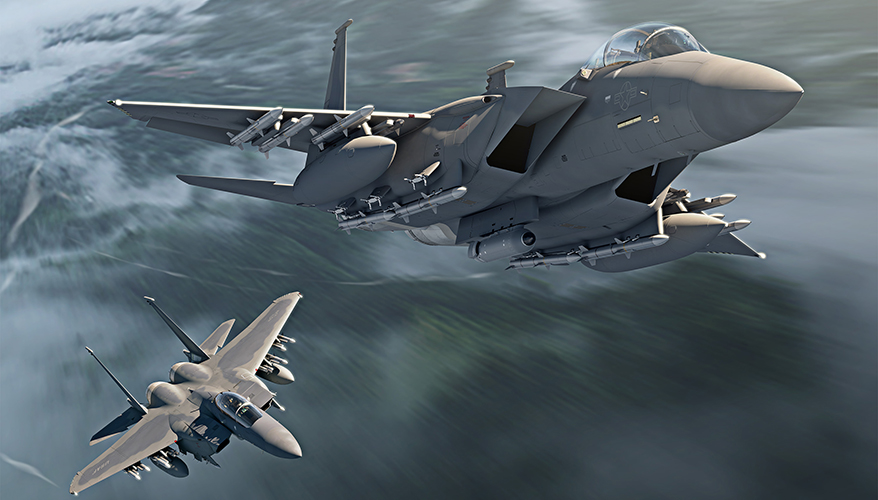 F-15EX Concept
Boeing concept art
Boeing is utilizing techniques to build its new F-15EX fighter jets that could serve as a pathfinder for the Air Force's "Digital Century Series" initiative, which aims to change the way the service acquires new aircraft, company executives say.
The Air Force on July 13 announced that it had awarded Boeing a nearly $1.2 billion contract for the first lot of F-15EX planes. The souped-up variant of the jet, which will replace aging F-15C/D Eagles, will provide enhanced capabilities over legacy systems. Some observers have called it a "4-5-gen" aircraft to indicate that it is significantly more advanced than fourth-generation platforms currently in the fleet but not in the same class as stealth fighters such as the F-35 joint strike fighter or F-22 Raptor.
The aircraft is currently being built at the company's St. Louis manufacturing facility.
The Digital Century Series is an Air Force concept being promoted by Assistant Secretary for Acquisition, Technology and Logistics Will Roper. It embraces digital engineering, open systems architecture and advanced software development methods as a means of accelerating new aircraft development. The new paradigm, if widely adopted, could enable the service to buy smaller quantities of aircraft at any given time while holding more frequent industry competitions to get the latest and greatest technologies, officials say. The goal is to shorten modernization cycles and give contractors more opportunities to participate in programs.
During a July 15 teleconference with reporters, Prat Kumar, Boeing vice president and F-15 program manager, was asked how the F-15EX program could serve as a pathfinder for the Digital Century Series.
"The clearest example is how we manufacture the jets," he said. "Taking advantage of digital engineering and precision manufacturing, we now bring [in] parts that have pre-drilled holes … and we assemble that in a Lego-like fashion."

Digital engineering and 3D modeling is being used to manufacture components in a very precise manner, he noted. "It certainly provides flexibility in the supply chain as long as our supply base is equally enabled with the 3D modeling capabilities and advanced ... manufacturing," Kumar said.

Roper has touted the new platform.
"The F-15EX's digital backbone, open mission systems and generous payload capacity fit well with our vision for future net-enabled warfare," he said in a press release when the contract award was announced. "Continually upgrading systems, and how they share data across the Joint Force, is critical for defeating advanced threats. F-15EX is designed to evolve from day one."

The fighter's open mission systems architecture — which is supposed to enable the rapid insertion of new technologies to keep the aircraft viable for decades to come —has been identified as the most significant differentiator between the new version and legacy variants. According to Kumar, that architecture allows the company to test new capabilities that are developed by third-party vendors in a much speedier fashion than in the past.

Boeing says the new variant of the jet is being built on a "digital thread," which is a key aspect of the Digital Century Series.

The digital thread concept utilizes simulations in the designing and manufacturing phase of building an aircraft.

"We will be able to really test all these capabilities much more rapidly and therefore really kind of enable insertion of new capabilities elsewhere in the Air Force using F-15EX as a testbed," Kumar said.

Using digital engineering to ease the complexity of building the jet in the assembly shop also increases supply base options, Kumar said.

The aircraft "can be rapidly built and can evolve into different models in a very quick fashion compared to historically handcrafting a jet," he said. "That's the big advantage of Digital Century Series. It's really a differentiator in terms of how you build an airframe in a very rapid fashion."
- Additional reporting by Jon Harper
Topics: Air Power