Army Medical Researchers Waging War on Coronaviruses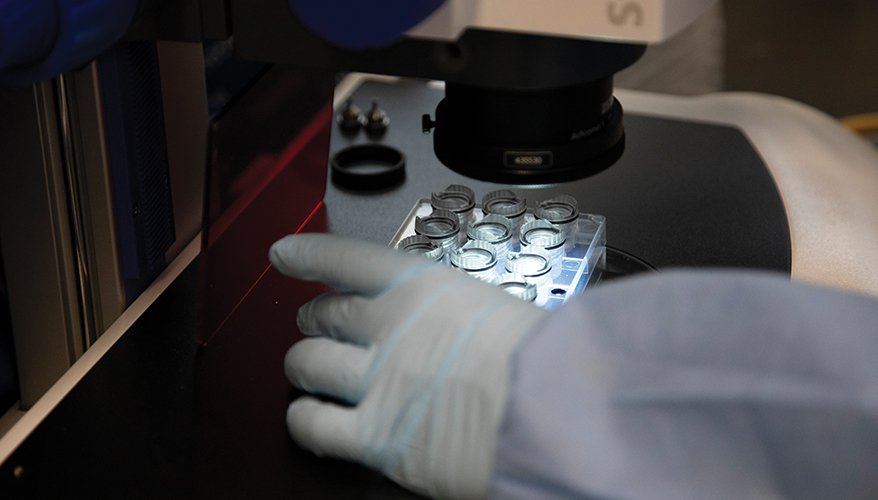 Researchers with the Emerging Infectious Diseases branch at the Walter Reed Army Institute of Research conduct studies in order to find a solution for the coronavirus.
Army photo by Sgt. Michael Walters
The U.S. Army at war conjures images of infantry, tanks and helicopters fighting on far-flung battlefields. But COVID-19 has opened up a new front at home, with scientists in the trenches battling the pandemic.
The Army medical community is now racing to develop vaccines, therapeutics and diagnostic tools, but it is also taking aim at other coronaviruses that may emerge in the hopes of staving off a future outbreak.
Army scientists are no strangers to combating deadly diseases. For decades, they have tackled some of the most challenging viral threats such as Zika, Ebola and HIV. Now, they are a key part of Operation Warp Speed, an interagency effort with the goal of having hundreds of millions of COVID-19 vaccine doses ready by January 2021.
"The three key elements of getting a countermeasure such as a vaccine to the American public are development, manufacturing and distribution," a senior administration official told reporters on condition of anonymity during a background briefing on the operation.
"Under traditional timelines, those elements occur sequentially," the official said. "The key unique characteristic of [Operation Warp Speed] is that these elements are occurring simultaneously. That … will make the major difference and allow us to deliver safe and effective vaccines to Americans in record time."
Army Gen. Gustave "Gus" Perna has been tapped to be the chief operating officer for the initiative, which is receiving billions of dollars in emergency funding. Operation Warp Speed will tap into expertise at the Walter Reed Army Institute of Research (WRAIR) and Army Medical Research Institute of Infectious Diseases (AMRIID), he noted.
The scientists aim to "identify, characterize and develop monoclonal antibodies for use in diagnostic tests, for scientific understanding of the virus, and as a product to prevent and treat infection in patients," Perna said in written responses to questions from the Senate Armed Services Committee prior to his confirmation hearing. They also seek to discover and develop novel and/or repurposed molecules for use as drugs that can treat or prevent infection.
Additionally, the operation will utilize Walter Reed Army Institute of Research efforts to identify patient populations and establish clinical trial sites, develop advanced immunology, conduct full-scale manufacturing, perform clinical trials and analyze data to advance novel vaccine candidates, Perna noted.
The Army and other Defense Department components will also provide critical logistical assistance.
"As one of the world's largest organizations conducting acquisitions and movement of personnel and material, the DoD is uniquely capable of meeting the logistical needs of Operation Warp Speed," a senior administration official told reporters during the background briefing. "Its involvement in supply, production and development will enable faster distribution than otherwise would have been possible."
Several commercial firms, including Moderna, AstraZeneca and Johnson & Johnson, have developed vaccine candidates that will enter various stages of clinical trials this summer and fall. Army researchers are ready to assist them. They can lend their clinical and statistical expertise, infrastructure, understanding of community engagement, and know-how for "the entire lifecycle" of vaccine development, said Dr. Nelson Michael, director of the Center for Infectious Disease Research at WRAIR.
The service has worked with industry partners in the past to develop medtech for diseases such as Ebola.
"We don't necessarily test only those vaccines that are invented in our intramural program," Michael said during a press briefing. For the first few commercially developed vaccines that are being "queued up" for Operation Warp Speed, Army researchers are in discussions with other participants about how they could be involved in those efforts at every level of testing, he noted.
However, the Army isn't only interested in assisting other vaccine developers. It has also been hard at work on its own designs that could do more than just stop COVID-19.
"Our particular vaccine takes … a long-term approach towards a novel new stream of COVID-19 and other coronaviruses in the future," said Dr. Kayvon Modjarrad, director of the emerging infectious diseases branch at WRAIR.
"We actually have done a lot of work … showing that all the coronaviruses circulating in the world can be covered by a single vaccine," he added. "In the event that these viruses can mutate, our vaccine is positioned to be able to cover any new strains or species."
The Army's leading candidate is called Spike Ferritin Nanoparticle, or SpFN. It is unique due to its ferritin nanoparticle platform that has been engineered to present specific pieces of the coronavirus spike protein — the part of the virus that attaches to the lungs — to the immune system, the service said in a news release.
It will be paired with a proprietary adjuvant developed by WRAIR scientists known as the Army Liposome Formulation, or ALF, to further boost the immune response.
While other COVID-19 vaccines might be ready for deployment sooner, the Army's version could be more of a silver bullet against a wider range of viral threats.
"Most of what you see out there in the landscape, whether it be the top four that Operation Warp Speed is prioritizing, or the second tier candidates, they all have some insert, and in almost all of them the difference is the vehicle in which they're delivering that spike. So you have to keep changing it in and out" to thwart specific viruses, Modjarrad explained.
The Army vaccine, by contrast, is presenting the protein spike dozens of times around the particles.
Using a sports analogy, he compared it to a soccer ball.
"It has got all these different faces and on each face is a spike protein that's pointing out," he said. "If we want to try and cover all coronaviruses in one particle, we can mix and match spike proteins from the different coronaviruses and put them on the same particle so that you have one vaccine that is universally effective against all coronaviruses."
The first human clinical trial is expected to kick off before the end of the summer. Depending on the data collected, it could advance to a much larger trial towards the end of the year in support of Operation Warp Speed.
In case SpFN doesn't meet expectations, two backup vaccine candidates are also moving to the next level of research. SpFN and the two backups were selected from more than two dozen prototypes based on their elicitation of the most promising antibody response in preclinical studies.
Meanwhile, some public health experts say the timeline for Operation Warp Speed is unrealistic given all the hurdles involved to have a safe, effective, mass-produced vaccine ready by January of next year. U.S. officials say it is doable, but acknowledge that it will be a challenge.
It is "a Herculean task for all involved," Perna said.
Another senior administration official, speaking on background, said: "We want to make sure the American people understand, given the vagaries of science … we cannot guarantee with 100 percent probability that we'll have a vaccine by the end of the year. But what we can guarantee is we've made investments, we've mitigated risks, we've seeded options that will ensure that we maximize the probability."
National Defense asked Brig. Gen. Michael Talley, commanding general at Army Medical Research and Development Command, about lessons learned from the COVID-19 crisis that could be applied to address future pandemics.
"The way the whole-of-government effort spun up, we've been battling the coronavirus since January. And really, we're beginning to organize ourselves in a fashion that truly is going to expedite and leverage all the resources that we can bring to bear," he said. "We have to ask ourselves, how do you sustain this?
"I don't think this is going to be the last pandemic," he added. "The lesson that we have to take on is, how do we mobilize this quickly [in the future]? How do we maintain and sustain the type of apparatus that could respond" efficiently and effectively?
Other experts also anticipate new coronavirus outbreaks. COVID-19 is the fifth coronavirus in the past two decades that has been identified in human populations, Modjarrad noted.
"We are accelerating in terms of coming in contact with these pathogens, and there are a lot of hypotheses as to why that is," he said. "The only way to really respond to these outbreaks is to be in a posture where … we've already prepared for, anticipated, and developed the countermeasures for that pathogen beforehand."
That isn't an impossible task, Modjarrad said. Some of the tools required are already available or in the works.
"The universal vaccine approach that I described for our vaccine candidate is just one example in a whole array of technologies that we have in terms of diagnostics, therapeutics and vaccines to be able to anticipate what is essentially just a handful of families of viruses" such as coronaviruses and flaviviruses, he said. "If we know generally what's coming in terms of the family of viruses, we have the tools to be able to anticipate it. It's just a matter of changing our posture from one of response towards one of prevention."
Retired Army Lt. Gen. David Barno, visiting professor of strategic studies at the Johns Hopkins University School of Advanced International Studies, expects biodefense to be a higher priority for the Pentagon in the coming years.
The nation will expect more medical capability from the Defense Department going forward, he said during a webinar hosted by the Center for Strategic and International Studies.
"On the infectious diseases side, the Army ... has been one of the leaders in that, not only in exotic tropical illnesses, but also in biowarfare and bioagents, which I think are going to be a renewed area of focus in the aftermath of this pandemic," he said.
There is a potential threat that adversary nations or non-state actors, having witnessed the devastation inflicted by COVID-19, could use a bioweapon against the United States, Barno said. "If this kind of catastrophic economic disruption can be wreaked by a naturally occurring biological vector out there, imagine what would happen with one that was designed to create this kind of a problem."
Officials are pondering how much funding might be needed for Army medtech in the coming years.
The lion's share of the Pentagon's medical R&D funding goes to the office of Thomas McCaffery, assistant secretary of defense for health affairs, he told reporters during a teleconference.
"Oftentimes we'll allocate it to … the Army to carry out research that benefits the entire department," McCaffery noted. "We think that that approach works well. We're going to continue that."
Even more money might be coming the service's way for medtech.
"One of the things that we're actually looking at, based upon our experience to date with COVID, are there … requirements for additional resources?" McCaffery said.
No final decision has been reached about what types of capabilities need more funding and how much they should receive, he added.
Topics: Army News, Research and Development