JUST IN: Battle Brewing on Eliminating Pentagon's Chief Management Officer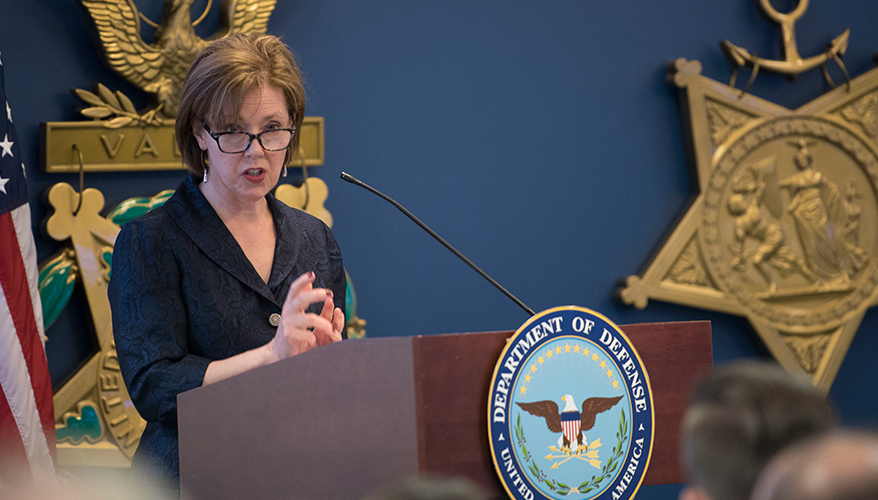 Department of Defense Chief Management Officer Lisa Hershman
Defense Dept. photo by Lisa Ferdinando
Key lawmakers are at odds over a proposal to get rid of the chief management officer position at the Defense Department, a top post responsible for improving the Pentagon's business practices.
The position was created just two years ago in 2018 at the direction of Congress. It is focused on streamlining bureaucracy and finding efficiencies to free up money for investment in new technology and other warfighter needs. But the Senate Armed Services Committee's version of the fiscal year 2021 National Defense Authorization Act calls for splitting up the duties among other officials by October 2022. The move came after the Defense Business Board, an advisory body, recommended getting rid of the CMO position, citing ineffectiveness.
However, House Armed Services Committee Chairman Rep. Adam Smith, D-Wash., is wary of such a shakeup. Responsibilities for the tasks currently assigned to the position have shifted a number of times over the years, he noted June 30 during a teleconference with reporters.
"Changing this up all the time I think makes it makes it more difficult" to have effective reforms, he said. "The CMO has I think only been around a couple of years. … Let's give them a chance to at least do their job before we rip the floor out from under them."
The post is currently held by Lisa Hershman. She has said the department has found about $5.7 billion to reallocate toward modernization priorities since she took office.
Smith said Hershman has provided "good information" that supports sticking with the current setup.
However, HASC Ranking Member Rep. Mac Thornberry, R-Texas., has adopted a different viewpoint after talking with members of the Defense Business Board as well as Defense Secretary Mark Esper and Deputy Defense Secretary David Norquist.
"I have come to the conclusion that Congress is largely responsible for making this an impossible job and we need to figure out something different," he told reporters during a teleconference June 29. "That's my view. And I may well have an amendment to that effect this week" after the committee starts looking at the NDAA markup beginning July 1.
After the House passes its version of the NDAA, the Senate and House will have to reconcile their respective bills in conference before a final NDAA is passed by Congress. That legislation could determine the fate of the CMO.
Smith said he is open to hearing arguments that the position should be eliminated, but he is not inclined to move in that direction.
"My initial take is … let's at least give this time to see if it is working," he said. "It doesn't seem like it's been such a disaster in two or three years that it warrants the radical step of elimination."
--Additional reporting by Yasmin Tadjdeh
Topics: Defense Department