Algorithmic Warfare: Army Bolstering Electronic Warfare Arsenal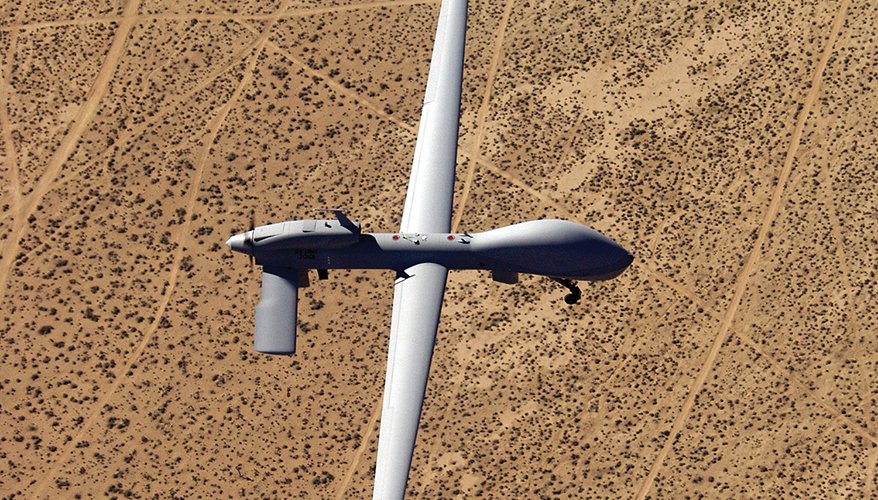 Army photo
The Army is beefing up its electronic warfare and offensive cyber capabilities with a new family of technology.
The service recently awarded Lockheed Martin a $75 million contract for phase two of the Multi-Function Electronic Warfare-Air Large, or MFEW-AL, program, which will give the service enhanced digital firepower through the use of a podded system on an unmanned platform.
"This is very critical because this capability will enable all the [brigade combat teams] and division commanders the ability to see deep in the battlespace" and engage targets, said Col. Kevin Finch, program manager for electronic warfare cyber at the Army's program executive office for intelligence, electronic warfare and sensors.
The pod — which can fit on an MQ-1C Gray Eagle drone — had successful flight demonstrations at Yuma Proving Ground, Arizona, he noted during the Association of Old Crows' Electromagnetic Spectrum Summit in May. The event was held virtually because of the ongoing COVID-19 crisis.
"We're very excited about this capability and what it brings to the force," Finch said.
The phase two contract — which will include four engineering and manufacturing development pods — was awarded in late January but was only announced by the Consortium Management Group/Consortium for Command, Control and Communications in Cyberspace, on behalf of the Army, in April.
John Wojnar, director of cyber and electronic warfare convergence strategy at Lockheed Martin, said the 300-pound pod was built utilizing the Army's open architecture set of standards known as the C4ISR/EW Modular Open Suite of Standards, or CMOSS.
"The customer really wanted to be able to plug-and-play various [radio frequency] antennas and other capabilities," he said in an interview. "Whether it's antennas, whether it's servers, whether it's discrete circuit cards, the intent was, 'Let's follow some well-defined standards to be able to make sure we don't find ourselves dealing with a very expensive end-of-life buy because of items becoming obsolete too quickly.'"
The pod is based on an internal research-and-development cyber and electronic warfare platform Lockheed Martin
created known as Silent Crow, which also attaches to a
Group 4 unmanned aerial system, Wojnar said. Group 4 systems are larger platforms that weigh more than 1,320 pounds.
Silent Crow was tested in Lakehurst, New Jersey, in July and August of last year and conducted a variety of functions including electronic support, sensing and electronic attack/jamming, he said. It was also tested during the Army's Cyber Blitz 2019 exercise at Joint Base McGuire-Dix-Lakehurst, New Jersey.
The work done on Silent Crow was leveraged for the MFEW-AL prototype, Wojnar said. Common items between the systems include the antenna suite, chassis and electronics box which features a number of different circuit cards.
Phase two of the program will last 30 months. The next near-term milestone is the system requirements review, Wojnar said.
Initial testing on a pod is anticipated sometime next summer, he said.
The MFEW-AL pod is part of a larger set of tools the Army is pursuing, he said.
The vision is "to have a family of systems that would be out there in the air to provide a variety of cyber/EW capabilities for the warfighters on the ground," he said. This will include other pods that can be flown on smaller drones under a program known as the Multi-Function Electronic Warfare-Air Small.
Lockheed Martin responded to a request for information from the Army regarding the Air Small program last fall, Wojnar noted.
"We're looking forward to playing in some capacity and would love to be able to share our lessons learned tied to the Air Large program to make sure that the Air Small program benefits from what we've done, both from a research-and-development and product standpoint as well as field testing standpoint," he said.
It would not be difficult for Lockheed Martin to put the MFEW-AL pod on a drone that is smaller than a Group 4 platform, Wojnar noted.
"Placing it on another manned or unmanned platform is fairly straightforward from an interface perspective," he said. "What we need to take a look at would be flight characteristics of the platform and then being able to carry … a 300-pound pod."
The platform is modular enough that it could be scaled up or down depending on mission requirements, he added.
The company is taking advantage of additive manufacturing techniques that could help it reduce the volume of the system's antennas by up to 75 percent, Wojnar said.
Both the MFEW Air Large and Small programs will be complemented by ground-based systems that will provide persistent electronic warfare and cyber effects under a program known as the terrestrial layer system, or TLS, Wojnar said.
The Army recently awarded other transaction authority agreements to two vendors — Lockheed Martin and Digital Receiver Technology — for prototyping, integration and operational assessments for the effort. Lockheed was awarded $6 million and Digital Receiver Technology was awarded $7.6 million, according to the Consortium Management Group.
The Army is excited about the capability the TLS platform will give it, Finch said.
"It's the first platform in the Army which integrates SIGNET, EW and offensive cyber on the same platform," he said. It will "provide the BCT commander the ability to impact their battlespace."
The service is on track to have the terrestrial layer system program fielded by the fourth quarter of fiscal year 2022, Finch added.
Topics: Army News