SOCOM's Tech Initiatives Reflect Old, New Mission Sets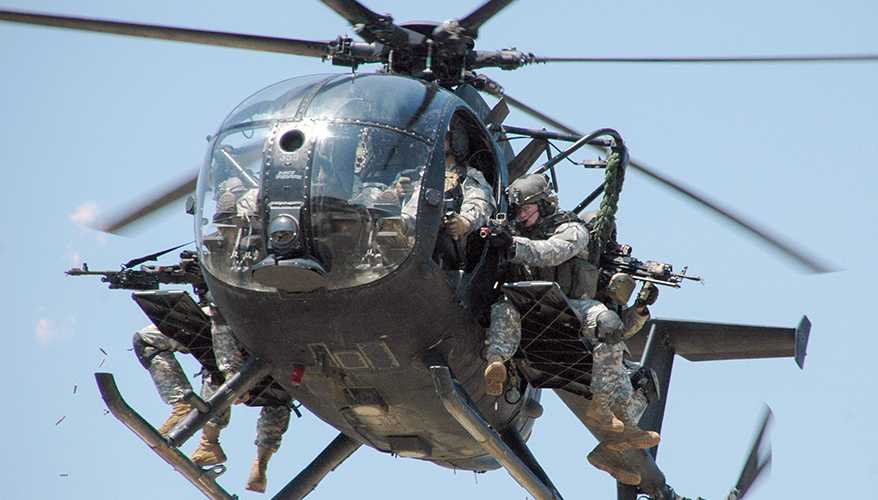 MH-6 Little Bird
SOF photo
Special Operations Command is investing in new technologies and weapons with an eye toward balancing its current counterterrorism missions with great power competition.
Command leadership and program executive officers met with industry virtually in May to share details on new hardware and software initiatives at the Virtual Special Operations Forces Industry Conference, which was hosted by the National Defense Industrial Association.
SOCOM's most wanted capabilities include: biotechnologies/human interface; network and data management; next-generation effects/precision strike; next-generation intelligence, surveillance and reconnaissance/tactically relevant situational awareness; hyper-enabled operator; and next-generation mobility, according to officials.
One of the command's most high-profile efforts is the hyper-enabled operator concept, which is meant to give operators enhanced cognitive capabilities on the battlefield, said James Smith, SOCOM's acquisition executive.
"We're talking about … improving your cognitive overmatch at the edge," he said. "The edge for us … is this small unit, individual operator, operating in a remote, austere environment."
Army Col. Ryan Barnes, director of SOCOM's Joint Acquisition Task Force, said the hyper-enabled operator concept will give commandos better access to the internet of things, which refers to a system of interconnected devices.
Many of the technologies SOCOM wants to give warfighters — such as facial recognition systems — already exist in the commercial space, so officials are looking to integrate commercial-off-the-shelf and government-off-the-shelf materials into a consolidated solution, he said.
"We are looking to put those types of sensors and communication devices on an operator collecting information in the operational environment," he said. The system would be able to analyze data in near real time using advanced analytics. That would be a marked improvement over older technology that could sometimes take hours, days or even weeks to crunch data, he added.
Lisa Sanders, director of science and technology at Special Operations Command, said SOCOM wants to give operators the same access to information that they are accustomed to accessing outside working hours.
"The hyper-enabled operator work that we're focusing on really is about getting that capability [of connectivity] that you assume that you have in your personal life in a tactically relevant environment, and being able to adapt as that environment changes," she said during a media roundtable.
Special Operations Command is also interested in developing new artificial intelligence technology for its weapons platforms, said SOCOM Commander Army Gen. Richard Clarke.
"Artificial intelligence and machine learning efforts are integrated into most of our major PEO programs, and we'll continue this," he said.
SOCOM is in a "war for influence" against its adversaries, making military information support operations, or MISO, ever more critical, he said. MISO was once known as "psychological operations."
"As we look at the ability to influence and shape in this [information] environment, we're going to have to have artificial intelligence and machine learning tools, specifically for information ops that hit a very broad portfolio, because we're going to have to understand how the adversary is thinking, how the population is thinking, and work in these spaces" to conduct information operations at a fast pace, he said.
"If you're not at speed, you won't be relevant," Clarke added. "What we need is adapting data tech that will actually work in this space and we can use it for our organization."
Clarke noted that the command is already using AI for tasks such as predictive maintenance, as well as enabling mission command on the tactical edge.
The command is also developing new technology for its aviation platforms.
Air Force Special Operations Command will attempt to fire a high-energy laser weapon from an AC-130J aircraft by 2022, said Air Force Col. Melissa Johnson, program executive officer for fixed-wing programs.
AFSOC has pursued the goal of employing a directed energy weapon from one of its Ghostrider gunships for the past five years. It has so far carried out a series of studies and ground tests, in partnership with the Naval Surface Warfare Center at Dahlgren, Virginia.
"This is pretty exciting. And if it is successful — and we are planning for success — then it will feed into our new requirements and potentially a new program down the road," Johnson said.
The tests — largely organized by Dahlgren — have so far been ground based, but the demonstration of a 60-kilowatt weapon that is scheduled to occur by the end of fiscal year 2022 will take place aboard an aircraft, she said.
For its rotorcraft inventory, Special Operations Command plans to replace its Black Hawk helicopters with an iteration of the Army's Future Long-Range Assault Aircraft, and may also replace its H-6 Little Bird platforms with a version of the Future Attack Reconnaissance Aircraft, said Geoff Downer, the command's incoming program executive officer for rotary wing.
The future systems, also known as FLRAA and FARA, are being spearheaded by the Army's future vertical lift cross-functional team. Special Operations Command is closely tied to the effort and is investing research-and-development funds directly into the programs to help inform the designs to align with SOCOM requirements, Downer said.
"We are working collaboratively with the Army," he said. "They're still defining what their mission equipment packages are, so we've defined our overarching requirements."
Another Army effort the command has its eye on is the service's next-generation squad weapon, said Col. Joel Babbitt, program executive officer for SOF warrior.
When asked if the command plans to adopt the new weapon, Babbitt said: "Yes, absolutely."
"As the Army moves forward, we are absolutely cheerleaders for that effort," he said. "Our partnership with PEO Soldier out of the Army … is absolutely strong."
The service's next-generation squad weapon program has been one of the Army's most high-profile soldier lethality efforts. Besides new weapons, the program also includes the development of a new 6.8 mm round that is expected to be more lethal than the current 5.56 mm NATO ammunition.
In August 2019, the Army awarded other transaction authority agreements to Sig Sauer, General Dynamics Ordnance and Tactical Systems and Textron Systems, which are all providing prototypes for soldier evaluation.
Delivery of weapons and ammo for formal test and evaluation is slated for December of this year.
Noting that 70 percent of Special Operations Command's deployed forces are part of the Army component, Babbitt said the command has participated in multiple soldier touchpoints to provide input regarding the weapon and the accompanying 6.8 mm ammo.
"That certainly is a great capability that we see coming forward," he said.
For Navy SEALs, the command wants cutting edge technologies that can make its undersea and surface craft more lethal and survivable.
John Bailey, chief engineer for program executive office maritime, said SOCOM has a technology insertion roadmap and a detailed list of items it needs to enhance its new platforms.
The vehicles include undersea platforms such as the SEAL Delivery Vehicle MK 11 and dry combat submersible, and surface systems such as the Combatant Craft Assault, Combatant Craft Heavy and Combatant Craft Medium.
"The base capability is really there but there is a technology insertion roadmap aligned with [the] National Defense Strategy to really enhance our competitive edge," Bailey said.
Capt. Kate Dolloff, program executive officer for maritime, noted that unlike special operations PEOs for aviation and land forces that rely heavily on adapting technologies developed by the Air Force and Army, most of the platforms her office develops are unique.
"We get a lot of support from the Navy as subject matter experts, but we do not get much in the way of hardware," she said.
To enhance survivability, all of the surface boats used by SEAL teams are receiving forward-looking infrared sensors to "detect, recognize, identify, range, track and highlight objects of interest in the maritime environment," according to a presentation slide. Twenty-one of a planned 58 systems have been delivered.
PEO maritime's technology areas of interest for fiscal years 2020 to 2024 include enhanced undersea communications and networking. Unlike some of the command's other capabilities, these are technologies that are normally developed along with the Navy, Bailey said.
Meanwhile, the program executive office for command, control, communications and computers, or C4, is working to provide operators with adaptive, flexible and scalable communications, said head of the office Deborah Woods. To get at that, it is investing in new technologies such as edge computing coupled with smarter algorithms and data assets.
Its modernization priorities are focused on overmatch technology to support the National Defense Strategy and great power competition, while continuing to provide capabilities to support Special Operations Command's counter-violent extremist missions, Woods said.
The program office has embraced acquisition agility, which is particularly crucial for its portfolio given the speed and dynamic nature of the technology in its space, she said. As it refreshes technology, new capabilities or gaps may have emerged, Woods noted.
"Due to our limited investment resources, our focus on acquisition agility also means that we seek partnerships with academia, industry, other government agencies or partners," she said. "This might be in the form of intellectual information or as some type of monetary partnership."
It is taking advantage of a variety of acquisition tools such as other transaction authority agreements, technical experimentation events and cooperative research-and-development agreements, she added.
As it pursues new technology, Special Operations Command wants to better engage with industry and has launched a new platform to collaborate with companies known as Engage SOF, or eSOF, Sanders said.
The new effort replaces SOCOM's Technology & Industry Liaison Office, or TILO. "One of the problems that we have had with TILO in the past is that it can be ... very linear.
It can be very hard to use — it's [even] hard for us to use," she said.
In the age of social media, people are now used to going on a website and chatting with a real person in real time, she said. While Engage SOF is "not quite a live chat, … it does provide a web-based tool that can allow that kind of interactive engagement," Sanders said.
Meanwhile, Special Operations Command is grappling with the effects of the COVID-19 pandemic, which has roiled the Pentagon and defense industry.
So far, SOCOM has been able to avoid serious disruptions, Smith said.
"As the pandemic was coming on, I would have assumed that there would have been major impacts," he said. However, minor issues that have appeared have only caused delays of a few weeks, Smith said.
"There have been some risks there but nothing substantial to date," he said. "[I'm] really impressed by the flexibility of the force to keep things on track."
The command is looking for "micro-cracks" in its acquisition efforts that may be starting to form, he added. One potential problem that is being watched closely is how the pandemic will affect test events. Such events require a greater amount of caution and care to undertake during the pandemic because personnel are often required to travel.
Additionally, there has to be a realistic operational environment that may violate social distancing rules and involve numerous organizations and stakeholders, Smith said.
Each organization involved — which includes independent test agencies, industry partners, the unit conducting the test and SOCOM's program offices — needs to agree that "the risk to the mission of not conducting this test outweighs the risk to the force," he said.
The service is considering how it can conduct such events safely, which may include requiring fewer participants to attend, or having them travel to the location by vehicle instead of a crowded airplane where the odds of exposure to the virus would be higher, he added.
— Additional reporting by National Defense Staff

Topics: Special Operations