COVID-19 NEWS: Pentagon Program Delays Continue to Persist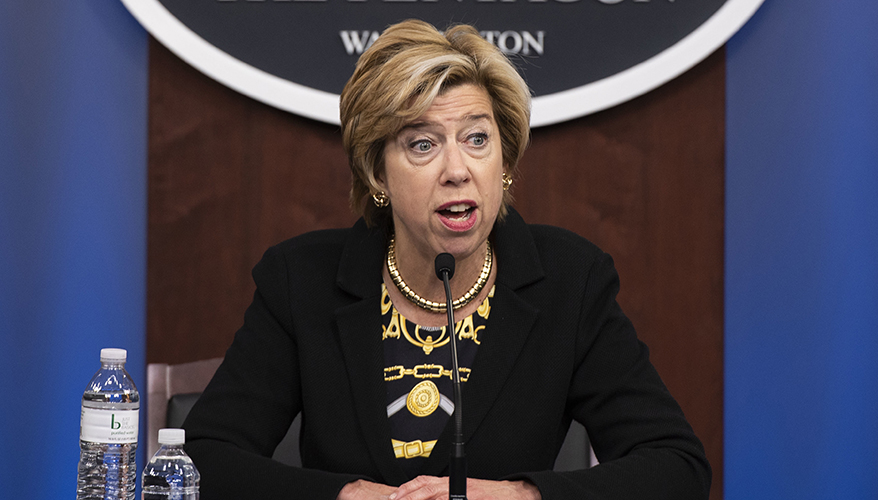 Lord
DoD photo by U.S. Navy Petty Officer 2nd Class James K. Lee
Although the industrial base is beginning to rebound from COVID-19 complications, the Defense Department still expects a several month setback on all programs, a top official said June 22.

"We continue to assess a three-month slowdown to all programs due to COVID-19," Undersecretary of Defense for Acquisition and Sustainment Ellen Lord said during a Pentagon press briefing. "I won't discuss any programs specifically, but we have seen inefficiencies across most programs. COVID-19 is shutting down defense manufacturing facilities and production lines, disrupting supply chains and distressing the financial stability of the companies DoD relies on to protect the nation."

Lord first announced delays in April, noting that aviation, shipbuilding and small space launch sectors have been impacted the most.
The three-month estimate was based on the April to June timeframe, when COVID-19 restrictions had the most impact on weapons programs, she said. However, companies are beginning to bounce back from these complications, she noted. Out of the 10,509 companies tracked by the Defense Contract Management Agency, two have closed and 267 have closed and reopened. Additionally, out of the 11,413 companies tracked by the Defense Logistics Agency, 31 are closed and 661 have closed and reopened.

"We see an enormous amount of recovery in the defense industrial base," she said. "It depends on location and what type of work is being performed, but there is enormous progress coming back."

The Defense Department has been taking steps within recent months to bolster the defense industrial base, she noted. For instance, the department obligated $472 million in Defense Production Act funding for medical resources and announced actions to allocate $320 million to help sustain and strengthen essential defense industrial base capabilities, she said.

Additionally, this month the Defense Logistics Agency launched the FedMall Small Business Corridor, which will enable small businesses to purchase personal protective equipment for their employees, she noted.

"The increased production will ensure the U.S. government gets dedicated, long-term industrial capacity to help meet the needs of the nation," she said.

Lord has also been in talks with the State Department about reopening manufacturing facilities in Mexico that are critical to the defense industrial base. The Defense Department has highlighted Mexico as one of the most important areas for airframe production.

"I wrote letters and actually talked to our State Department colleagues in Mexico about reopening, talking about the criticality of the defense industrial base," she said. "They were very, very cooperative and obviously want their facilities up and running in a safe manner."

Kim Herrington, acting principal director for defense pricing and contracting, has also issued 35 defense pricing and contracting memos to implement legislation and guidance on improving the industrial base during the pandemic, Lord noted.

"Those memos include guidance, allowing companies to continue to work, providing liquidity to the industrial base, implementing legislation benefiting industry, improving the speed of contracting activity and providing spending transparency," she said.
Topics: Defense Department