Editor's Notes: Creating a Robust Biosurveillance Network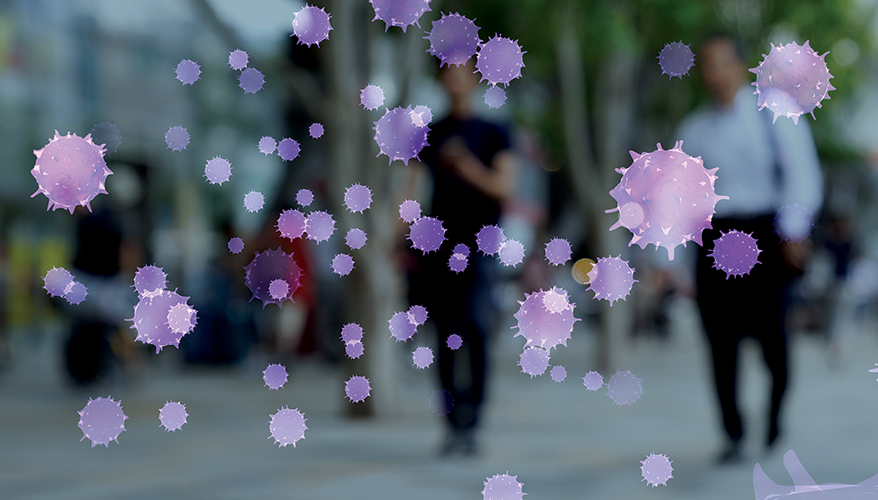 iStock photo-illustration
The Central Intelligence Agency reportedly knew as early as January that a potentially devastating pandemic was on its way to the United States.
Gee, thanks for telling us.
That bit of sarcasm isn't entirely fair to the CIA or the intelligence community writ large. It doesn't have a mandate to communicate to the public about what it does or doesn't know. Its responsibility is to report its knowledge — or its best guesses as to what's going on in the world — to the president and the intelligence committees in Congress.
Which is a crying shame in this case as the U.S. death toll from the COVID-19 pandemic continues to mount, along with the economic and psychological devastation. Maybe some of it could have been mitigated with more advanced notice.
There is of course those who fall back on the "public doesn't need to know everything" belief. And that is true. Some things need to be classified. But that is in matters of national security.
A pandemic is not a matter of national security but a matter of public health.
Let's break down the term "public health." The first and most important word in this case is "public."
No individual or entity should have the right to withhold information in matters of public health from the public.
In last month's "Editor's Notes" column, I wrote of the need for a real and robust biosurveillance system that spans the globe. There have been attempts to create such a network, but none that truly got off the ground. The effort has been likened to the global system of predicting weather.
Imagine for a moment that a hurricane was forming in the Atlantic and headed straight for the East Coast, but the federal government withheld that information from the general public. Absurd, of course, but why should knowledge of a possible pandemic be any different?
And that goes for manmade bioweapons, which do fall into the realm of national security. We had an example of this shortly after 9/11 when anthrax was being sent through the U.S. mail. The public servants who handled the mail had a right to know what they were encountering and the public needed to be aware of what a suspicious letter or package might look like.
The May column called for work on a global biosurveillance network to get underway as soon as the current crisis subsides, if not sooner.
Not being an expert in public health, it was satisfying to receive in my inbox a commentary written by four knowledgeable scientists deeply involved in biosecurity, who all agreed with this assessment. They are affiliated with Georgetown University, National Defense University, Army Futures Command, and the Advanced Regenerative Manufacturing Institute.
"Early recognition of infectious disease threats like COVID-19 requires a globally distributed array of interoperable hardware and software, fielded in sufficient numbers to create a network of linked collection nodes," they wrote. The full piece can be found on page 11.
Another example exists in the oil and gas industry. There is a global intelligence-gathering network constantly on the lookout for any policy or incident that might have any impact on the price of a barrel of oil. If rebels pop their AK-47s off near a well in Nigeria, or a pipeline in Canada springs a leak, the oil traders in Houston, Texas, hear about it in minutes.
As the years after 9/11 showed, the United States has a propensity to throw money at problems. And if that is to be the case again, a biosurveillance network should be the first and foremost place to invest in response to COVID-19.
Defense contractors needn't feel threatened as they have a lot to offer, and may have a lot of software and some hardware that can be taken off the shelf: sensors, artificial intelligence to crunch data, advanced manufacturing of medical equipment, and so on.
The Defense Department already has biodefense capabilities to thwart weapons of mass destruction, which is another sector worthy of a budget boost.
After this, it's hard to imagine even the worst nation-states developing contagious bioweapons. It should now be obvious that these bugs don't discriminate. They are equal opportunity killers and destroyers of economies. But terrorist organizations may still be motivated to unleash them. The apocalyptic Aum Shinrikyo cult in Japan would have gladly done so.
And it should also be clear, the U.S. military — just like everyone else — needs to know if a deadly pathogen is on the march — whether it is manmade or not.
Money will only go so far when it comes to building the biosurveillance network. All nations will have to participate: rich or poor, run by liberal democratic governments or unrepenting despots, the network will only be as strong as its weakest link. Diplomacy and a strong State Department will be needed to ensure all nations participate. Rising public anger at China — justified as it is — would only hurt the chances of a robust biosurveillance network if it is left out.
Most importantly, the information the network gleans cannot be filtered through politicians, authoritarian governments or intelligence agencies.
It needs to be operated by, through and for the benefit of the public.
Topics: Chem Bio Protection