BREAKING: Sikorsky-Boeing Defiant Aircraft Hits New Speed Milestone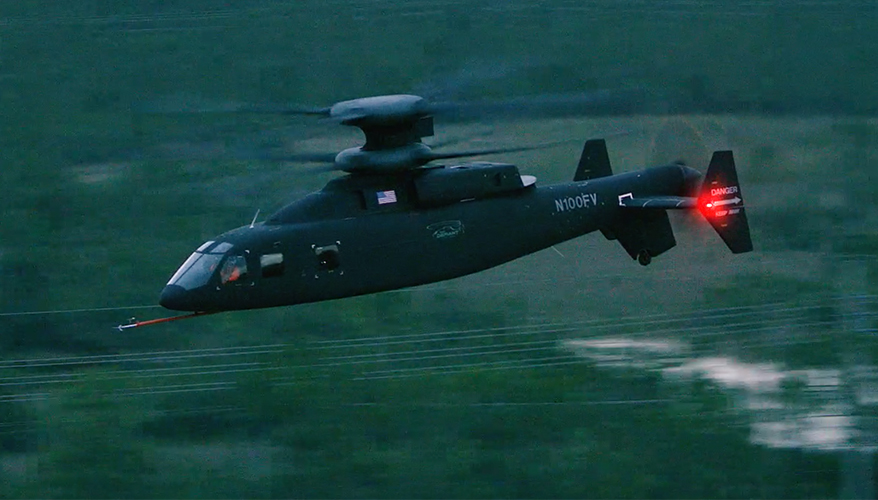 Sikorsky–Boeing SB-1 Defiant
Sikorsky-Boeing photo
The Defiant — a next-generation helicopter being developed under the Army's joint multi-role technology demonstrator program — has achieved a key milestone by reaching speeds greater than 200 knots, industry executives announced June 16.
The platform was built by a Sikorsky-Boeing team. It is being developed as a precursor for the Army's future long-range assault aircraft program, also known as FLRAA.

"We're seeing exactly the performance our analytical tools have predicted. This gives us even greater confidence as we continue to expand the speed envelope and maneuvers," Jay Macklin, director of future vertical lift business development for Sikorsky, told reporters. "Exceeding 200 knots is significant also because it's beyond any conventional helicopter speed, and we understand that speed and low-level maneuverability is critical to the holistic survivability in the future ... [operating] environment."

Sikorsky test pilot Bill Fell noted that during the flight test Defiant reached speeds of 205 knots while using less than 50 percent of the helicopter's installed propeller power.

"We're just adding to the survivability of these platforms by being able to remain low level … going speeds well in excess of 200 knots," he said. "Expect a lot more in the future because we have a lot more [propeller] power to apply to this machine."

The flight test took place June 9 at Sikorsky's Development Flight Test Center in West Palm Beach, Florida.

The Army wants the aircraft to achieve a minimum speed requirement of 230 knots. Fell said he believes the system will fly faster than 250 knots in a matter of months.

The Defiant is not the only platform being developed for the tech demonstrator effort, which is spearheaded by the future vertical lift cross-functional team at Army Futures Command. Bell has also built an aircraft for the initiative known as the V-280 Valor.
Future vertical lift is one of Army's service's top three modernization priorities as it prepares for great power competition with China and Russia.
As Sikorsky and Boeing continue to collect data about the Defiant during the ongoing COVID-19 pandemic, they are taking social distancing precautions to protect employees, Macklin said. The safety measures have caused minor impacts to the testing timeline but overall the flight tests have remained on schedule, he said.