Defense Industrial Base Rebounding From COVID-19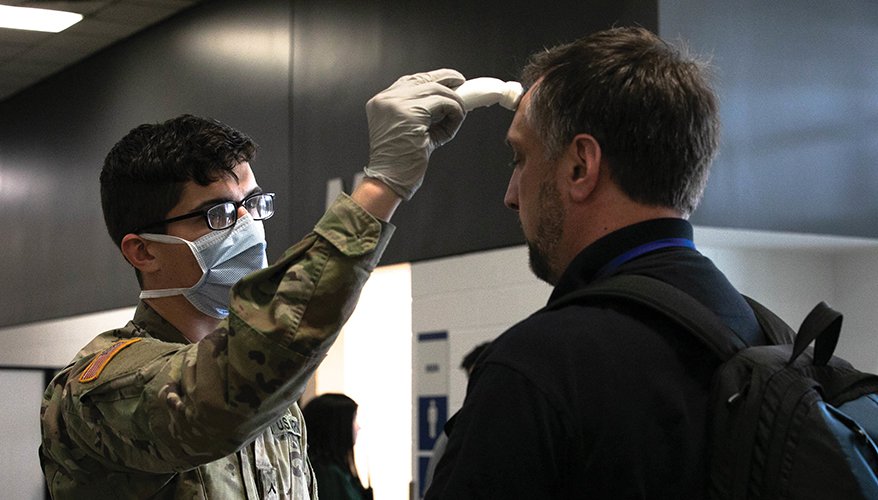 An Army soldier checks the temperature of civilian personnel.
Army photo by Pfc. Genesis Miranda
In March and April — as the number of COVID-19 casualties skyrocketed — the defense industrial base was being roiled. Production lines shuttered and suppliers closed as employees tested positive for the coronavirus. Numerous programs across the services faced delays and disruptions.
But as the country works to reopen and the rate of new COVID-19 infections drops, parts of the industrial base are largely rebounding, according to officials.
For the Navy, the virus led to disruptions across its shipbuilding programs, but shipyards appear to have turned a corner with productivity and employee attendance now on an upswing, said James Geurts, assistant secretary of the Navy for research, development and acquisition.
"As we've gone through the crisis, we have not had to shut down any of our shipyards — both private or public — and as I look at the case count, we are having [a] relatively flat number of cases and more folks coming back than getting infected," he said during a teleconference with reporters in late May.
So far, the service has been able to largely continue operations while working in the midst of the pandemic, he said. "Attendance slowed down for a little while, [but] we're seeing that attendance creeping back up," Geurts added.
For short periods of time, worker attendance dropped as low as 50 percent, he said.
Meanwhile, productivity among individual workers has remained high, he noted.
"What I was very concerned with is we would have the double whammy," Geurts said. The worry was that not only would low numbers of workers come into the shipyards, but those who did come would be less productive due to social distancing and other safety measures recommended by the Centers for Disease Control and Prevention.
However, "the shipyards have been very creative and inventive on how to maintain productive output per person," he said. "Now what we need to do is get the number of people where it needs to be so we can get the total productive hours" up to normal levels.
On the supplier side, the Navy had more than 200 suppliers close due to the pandemic, Geurts said at the time. However, it is now "seeing many more of those open than close."
The service has been tracking 10,000 companies and suppliers within what Geurts calls the traditional defense industrial base. Of those, about 250 have experienced some type of closure. Of those 250, all but 35 had reopened when Geurts spoke to the press. Geurts said he was not aware of any firm that had closed permanently because of COVID-19, but "that's something we're going to have to watch as we go forward here."
Despite the virus, some shipbuilders are now expanding their workforce. For example, Ingalls Shipbuilding recently held a drive-in hiring event for job seekers in Pascagoula, Mississippi.
"We are exploring innovative hiring techniques that provide greater accessibility to the many employment opportunities we have to offer," said Edmond Hughes, vice president of human resources and administration at Ingalls, in a statement. "This event allows us to efficiently interface with interested applicants while practicing safe social distancing."
Participants were able to speak with recruiters and shipbuilders without having to exit their vehicles.
Retired Air Force Gen. Hawk Carlisle, president and CEO of the National Defense Industrial Association, noted that one bright spot in the midst of the pandemic has been the ability of industry to largely keep its workforce employed.
"The defense industrial base has been kind of a safe shelter with respect to essentiality of work and in keeping people employed and staying on," he said during an online panel discussion hosted by the Center for Strategic and International Studies, a Washington, D.C.-based think tank.
At the beginning of the pandemic, the federal government designated the defense industry to be a critical infrastructure sector, allowing companies to continue working despite stay-at-home orders.
Meanwhile, the Army has also seen its industrial base recover from COVID-related shutdowns, said Bruce Jette, assistant secretary of the Army for acquisition, logistics and technology.
Major primes such as Boeing, BAE Systems and Lockheed Martin all had temporary shutdowns on their production lines but those are now back up, he noted.
At a supplier level, there was a modest number of shutdowns with 15 to 20 temporary closures since the pandemic began, he said. "As of right now I believe everybody is open," Jette said in late May.
Despite the closures, major Army weapon programs haven't derailed.
"Industry has made a significant adjustment in order to try and make sure that they continue producing on time and on schedule," he said.
The service only has one program where it knows it will have to make a significant change, Jette said. That involves the Intelligence Electronic Warfare Tactical Proficiency Trainer, which falls under the Army's program executive office for Simulation, Training and Instrumentation, according to an Army spokesperson.
"It's one of our smaller programs and … is tied to a small company," he said. For the Army's larger efforts, which include acquisition category 1 and acquisition category 2 programs, the Army remains on track for first unit equipped, he said, although there may be some adjustments to intermediate milestones and delivery schedules.
"We're making adjustments as necessary and then working with the companies to try and catch up," Jette said.
Industry has so far been extremely cooperative with the Army in keeping leadership up to date on any potential COVID-related issues, he noted.
"I have a 60-page report that gets updated on a daily basis of the status of the subs to the various major programs," he said.
But while some areas of the defense industrial base are seeing positive trends, the aviation side is still being clobbered.
"Aviation has had a more acute sensitivity to supplier disruptions, largely driven by the massive upheaval in the commercial aviation market," Geurts said. "That's where we're seeing some more immediate disruption."
Geurts pointed to Lockheed Martin's F-35 joint strike fighter as one aviation program that has been negatively affected by the COVID-19 pandemic.
In May, Lockheed announced a temporary alternate work schedule for its F-35 production line employees at its Fort Worth, Texas, facility. The company implemented a two-week-on/one-week-off schedule for personnel, said Marillyn Hewson, who at the time was CEO of Lockheed Martin. Hewson stepped down from the role in June, and became executive chairman of the company's board. James Taiclet, the former head of American Tower Corp., took over as CEO.
"We think this is a way that can help us … to keep the production line staffed and working, but slow it down slightly, and at the same time to retain the expertise that we need of this talented workforce," Hewson said during remarks at the Bernstein Annual Strategic Decisions Conference.
This will taper off production for a period of three-months and impact 18 to 24 aircraft, she said.
The decision to slow down production was a result of COVID-19 related supplier delays, according to a statement from Brett Ashworth, Lockheed Martin's F-35 spokesperson.
The company plans to return to normal production levels in the fall and "accelerate production when we return to pre-COVID-19 conditions."
To bolster its supply chain, in mid-May Lockheed announced it had accelerated $300 million to vulnerable small businesses that it works with, according to a press release. That was on top of an initial $450 million distributed previously.
Lockheed is also continuing to hire new workers across the United States despite the pandemic. It has so far brought on more than 3,400 new employees and will onboard 12,000 new personnel by the end of the year, according to the company.
Meanwhile, the U.S. government is working to facilitate foreign military sales that could help bolster industry during the pandemic.
R. Clarke Cooper, assistant secretary for political-military affairs at the State Department, said the defense trade has not yet been significantly affected by COVID-19.
"Nothing has not been touched or impacted. But what has not changed is the programmatic need," he told reporters during a briefing in May. "So far, none of our security cooperation partners, no state has sought or asked to cancel any particular contract."
Defense trade and export licensing is moving at the same pace and volume as it was before the onset of COVID-19, he said. Additionally, industry has continued to deliver on contracts and deliveries despite potential challenges.
"Our partners have actually told us they want to continue with pending sales," he said. "For now, there are no cessations of particular commitments. Some partners have even sought to continue more strategic planning, and actually looking forward on new and additional requests."
The State Department has implemented new temporary measures to ease the burden on industry, he said. For example, under International Trafficking in Arms Regulations, the agency is reducing registration fees to $500 for applicants in the Tier 1 and Tier 2 categories. This will save small- to medium-sized firms over $20 million over the course of the next calendar year, Cooper said.
The State Department also temporarily suspended the requirement for exporters to renew their registration annually in the period immediately following President Donald Trump's March 13 National Emergency Declaration.
Allowance for telework has also been established, as well as easing requirements on the sharing of technical data during remote work while balancing the need to protect national security, he added.
In May, the Defense Security Cooperation Agency announced possible foreign military sales to a number of countries including a $2.3 billion deal with Egypt for refurbished AH-64E Apache attack helicopters; a $556 million deal with the United Arab Emirates for more than 4,500 mine-resistant ambush-protected vehicles; and a $230 million deal with Hungary for 60 AIM-120C-7/C-8 Advanced Medium Range Air-to-Air Missiles Extended Range and spare equipment.
Industry is monitoring the effect the pandemic may have on foreign military sales. Kathy Warden, CEO of Northrop Grumman, noted that because of a decline in oil prices, partner nations in some areas, such as the Middle East, may have trouble paying for some equipment.
"We certainly are mindful of what is happening … and the impacts not only to a payment on existing programs, but what the future holds for new sales in that area," she said during the Bernstein conference. "It is something that we certainly are monitoring as we engage in new contracts."





Topics: Defense Department