COVID-19 NEWS: Prolonged Pandemic Could Threaten Army's Future Vertical Lift Programs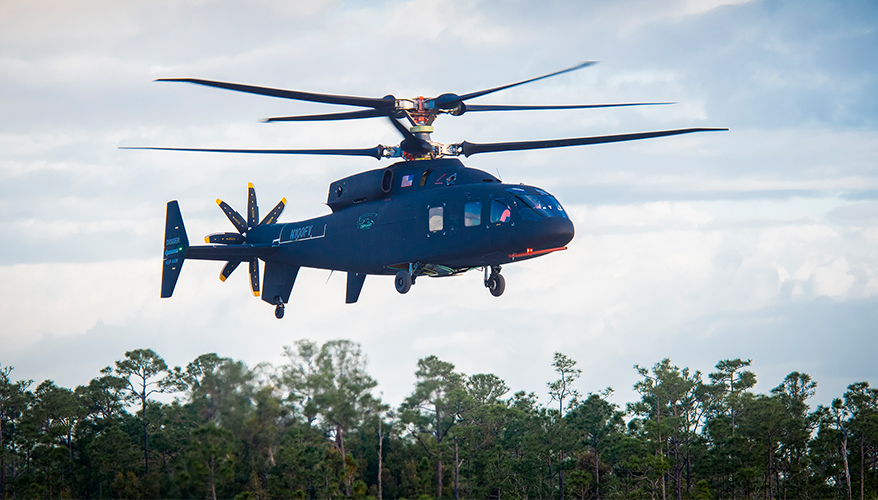 SB1 Defiant
Army photo
So far, the COVID-19 pandemic has not disrupted two of Army aviation's most high-profile programs, but if it lingers that could spell trouble, officials said May 7.
The future long-range assault aircraft and the future attack reconnaissance aircraft both fall into the Army's future vertical lift portfolio, which is envisioned as a family of new helicopters that will replace the service's aging platforms. The initiative is one of the Army's top three modernization priorities.
The future attack reconnaissance aircraft, FARA, fills a need for an armed scout platform, and the future long-range assault aircraft, FLRAA, will replace the Black Hawk.
In March, the Army picked Bell and Sikorsky to move forward on a competition for FARA, beating out a number of industry players.

"We have currently seen no impact [from COVID-19], … but just like anything else, as the facts and assumptions change, we may see some down the road," said Col. Gregory Fortier, project manager for FARA. "There are certainly concerns within Bell and Sikorsky with long-lead materials and shipping and the vendors and the second- and third-tier potential impacts."
The Army is having rapid and routine communications with industry almost daily as the COVID-19 pandemic continues. From the Army's perspective, the program looks "OK" through the summer time frame and into the fall, he said during a teleconference with reporters. However, "if this thing stretches six months to a year, then that's a different conversation," he added.

The schedule for FARA is extremely aggressive, but both Bell and Sikorsky should have some margin baked into their schedule, he said. The program is in a design phase for the rest of this calendar year, and is on a tight timeline to build aircraft by fiscal year 2023 for a flyoff, he noted.

The service has been watching the spread of COVID-19 "closely with our industry partners to make sure that we can identify potential risks out there that are on the horizon," said Col. David Phillips, project manager for FLRAA.

In March, the Army announced it had selected Bell and a Sikorsky-Boeing team for the FLRAA competitive demonstration and risk reduction effort, which will be held prior to a competition for a program of record. The other transaction authority agreements added up to $181 million, with the Sikorsky-Boeing team receiving $97 million and Bell $84 million.

Under the OTAs, the companies will deliver initial conceptual designs, requirements feasibility and trade studies using model-based systems engineering, according to the Army.

Because the program is currently in a digital engineering phase, most of its major vendors have been utilizing telework options during the pandemic, Phillips said.

The teams are "out there on different collaboration tools and they're working through this environment really well," he said. "Remote work can be just as effective."

However, the office is keeping a close eye on any potential risks, he said. "But today we haven't seen any impacts."

Overall, throughout the entire PEO Aviation portfolio, industry has done a good job of mitigating risk associated with COIVD-19, said Program Executive Officer Patrick Mason.

"Industry has certainly stepped up in all of these cases and worked through all of these challenges," he said. "They are overcoming those challenges to burn down the risk that they see within the supply chain to figure out how to work with us in a distributed manner so that we can make progress on these programs."

Meanwhile, earlier this week the Center for Strategic and International Studies, a Washington, D.C.-based think tank, released a report focused on the future vertical lift industrial base. The report, "Assessing the Industrial Base Implications of the Army's Future Vertical Lift Plans," found that companies supporting the Army's efforts will need to optimize and restructure themselves to meet the service's future needs.

Legacy helicopters are approaching their technological limits as well as the end of their production lines, said the report, which was written by CSIS analysts Rhys McCormick and Andrew Hunter. As that happens, the rotorcraft industry is seeing larger single points of failures at the lower tiers of its industrial base.

Foreign military sales may prop up production lines for another few years, but "the fate of those lower tier 'mom and pop' parts suppliers is a significant concern," the report said.

Those issues are exacerbated by fallout from the 2011 Budget Control Act, which resulted in the loss of 185,000 jobs in the defense aerospace subsector between 2010 and 2016, the report found.

"Taken together, these facts suggest that the rotorcraft industrial base of today may not be sustainable in the long term, and that it needs to be optimized and restructured to deliver FVL," the report said.

To meet the needs for future vertical lift, there will need to be a robust rotorcraft industrial base with few single points of failure, the report said. Additionally, companies will need to embrace new technologies that can rapidly deliver operational systems at affordable prices. These include advanced manufacturing, robotics, artificial intelligence, digital twins and data analytics.

"By leveraging these emerging technologies, industry and the Army can change how they design, manufacture and maintain aircraft," the report said.
— Additional reporting by Connie Lee