JUST IN: Pentagon to Launch X-37B Space Vehicle for New Missions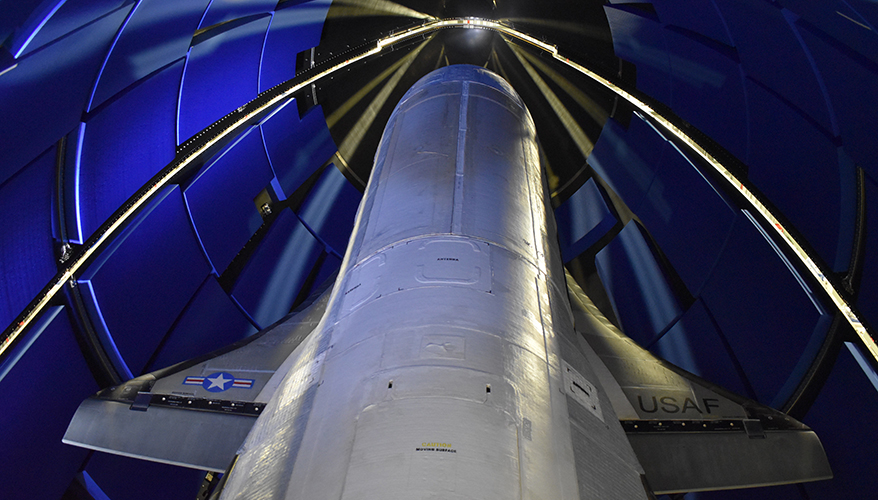 Encapsulated X-37B Orbital Test Vehicle for United States Space Force-7 mission
Space Force photo
The Air Force Rapid Capabilities Office is partnering with the Space Force to launch the X-37B Orbital Test Vehicle into space later this month for a number of missions, the Air Force secretary announced May 6.
"This important mission will host more experiments than any prior X-37B flight," including two NASA experiments, Barbara Barrett said during a webinar hosted by the Space Foundation, a Colorado Spring, Colorado-based non-profit.
The Boeing-made space vehicle will deploy the FalconSat-8, a small satellite developed by the Air Force Academy and sponsored by the Air Force Research Laboratory, to conduct several experiments on orbit.
"The Air Force's Rapid Capabilities Office has combined forces with the Air Force Research Lab and now the U.S. Space Force to execute a mission that maximizes the X-37B's unique capabilities," Barrett said.
One example of an experiment the vehicle will support is the study of the effects of ambient space radiation on seeds, Barrett said.
Another experiment, which was designed by the Naval Research Laboratory, "transforms solar power into radio frequency microwave energy, then studies transmitting that energy to Earth," she said.
The vehicle is managed by the Air Force, while the Space Force is responsible for the launch, on-orbit operations, and landing, the services said in a joint press release.
"This launch is a prime example of integrated operations between the Air Force, Space Force and government-industry partnerships," Air Force Chief of Staff Gen. David Goldfein said in the release. "The X-37B continues to break barriers in advancing reusable space vehicle technologies and is a significant investment in advancing future space capabilities."
This mission is the first for the X-37B where it will utilize a service module to host experiments. The module attaches to the vehicle and allows additional experimental payload capability to be carried to orbit.
The space vehicle, which was "previously cloaked in secrecy," is reusable and has completed five missions, spending a total of 2,865 days on orbit, Barrett said. It will be launched for its sixth mission on May 16 from Cape Canaveral Air Force Station in Florida.
The vehicle completed its fifth mission in October 2019, landing after 780 days spent on orbit, according to the press release.
The Space Force dedicated the flight to the front line workers who are combating the coronavirus pandemic, Barrett said.
Topics: Space