Armed Overwatch Aircraft on SOCOM's Shopping List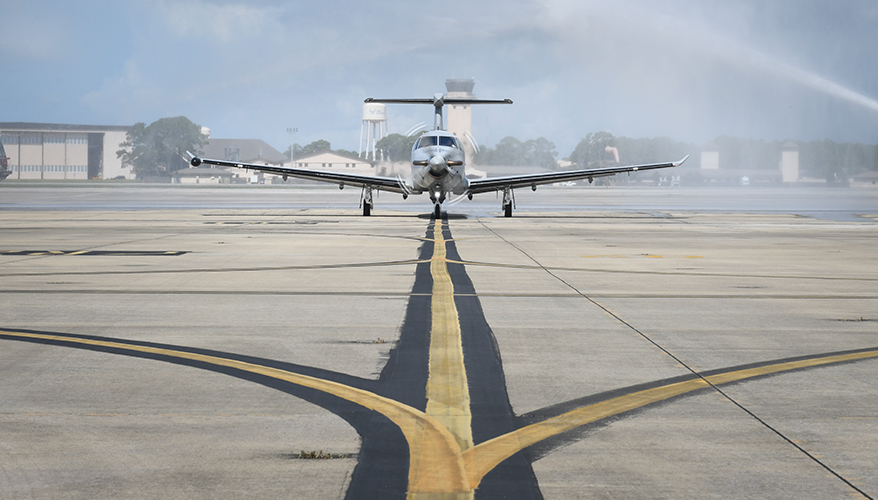 U-28A Draco
Air Force photo by Senior Airman Dennis Spain
In October of 2017, an infamous ambush near the village of Tongo Tongo, Niger, left four American and four local soldiers dead after taking enemy fire from militants from the Islamic State in the Greater Sahara.
The tragic event was "emblematic of the type of environment where we have people on the ground that need to be supported," said Lt. Gen. James C. "Jim" Slife, commander of Air Force Special Operations Command.
AFSOC is now pursuing a new fixed-wing aircraft program, known as Armed Overwatch, to provide a capability that could change the outcome of that type of ambush scenario in the future, he said.
The command is looking for a deployable and sustainable manned aircraft system that can fulfill close-air support; precision strike; and intelligence, surveillance and reconnaissance missions in austere and permissive environments, according to a SOCOM industry day announcement released in February.
While SOCOM has the acquisition authority for the aircraft, Air Force Special Operations Command is drafting and providing input into the program's requirements, Slife said during a media roundtable at the Air Force Association's annual Air Warfare Symposium in Orlando, Florida.
"They may change that, they may modify it," he said. But direction from leadership, including SOCOM Commander Gen. Richard Clarke, "up to this point has been to really kind of take the cue from AFSOC."
The command has been pondering what is required to fill capability gaps, Slife said. "What SOCOM needs is a platform that it can operate from austere regions and provide surveillance and precision fires in support of small disaggregated ground teams."
Special Operations Command has been toying with the idea of an Armed Overwatch platform for a decade or so, Slife said, but the concept really started to gain steam over the past three years.
"When Gen. Clarke took command in the early spring of last year, 2019, this was one of the things that he brought to the table," he said.
Driving SOCOM's vision for the aircraft is great power competition with Russia and China, which the National Defense Strategy identified as top threats, he said. High-end platforms that have aided special operators in counterinsurgency missions may be needed to take on advanced adversaries.
"As the larger joint force pivots towards great power competition and so forth, … we probably won't enjoy the same support necessarily for those small disaggregated SOF teams because there will be higher priority things that the airplanes that have been performing this kind of mission" need to do, Slife said.
As Special Operations Command continues to battle violent extremists, it needs an affordable aircraft that can give its operators the right amount of support, he said.
"Using F-22s to support small disaggregated SOF teams is probably not a cost-effective way to do that," he said. "So, what are the other ways that we can do it?"
SOCOM has been mindful to try and not be overly descriptive about its requirements for the platform because it wants industry to come forward with its best ideas, Slife said.
The command currently uses the U-28 Draco for manned ISR missions. While that aircraft has been effective, SOCOM will at some point move away from the U-28 to the Armed Overwatch system, he added. Commandos will still need close-air support during the transition.
"We use things like AC-130 gunships or A-10s or F-16s or a host of other platforms that can employ these precision fires. And so, the question is: 'How do we find a low-cost, simple airplane that can ... provide capability in both of these areas in a single airplane from a pretty austere operating footprint?" Slife said.
SOCOM envisions an adaptable system. One day it might be used heavily for ISR missions similar to the U-28. Another day it might perform like a light-attack airplane, he noted.
"The ability to kind of tailor the ... capability of the airplane based on what the mission requires is kind of a key part of what we're going to be looking for," he said.
The command is also thinking about the type of pilots it will need for the new aircraft, with fighter pilots potentially making the list.
"The question of how you provide precision fires … matters because if your idea is that the way you're going to provide that looks a little bit like the way a fighter is employed — strafing, dive bombing, high-G maneuvering, that kind of thing — then you might need a crew force that … has some fighter pilot expertise in it," he said.
However, until the command figures out what the platform will look like, Slife said there is no way to know if SOCOM will need to recruit fighter pilots.
"My intent would be to not exacerbate the Air Force's fighter pilot shortage by fielding something that requires a high degree of … fighter pilot expertise," he said. "I'm open to it, but … I don't want to create an additional demand signal that the Air Force would have to fill."
The command plans to purchase 75 Armed Overwatch aircraft, Slife said. That number is based on SOCOM's concept of force presentation, how many airplanes will be deployed at small sites and the amount needed to train the force.
"It's really just kind of a math problem as we look at ... how do we generate the force on a repeatable basis?" he said.
In President Donald Trump's fiscal year 2021 budget request, Special Operations Command asked for $101 million in procurement funding for Armed Overwatch, which would cover the purchase and fielding of five initial aircraft as well as initial spares and required support equipment. Over the future years defense program, it plans to spend $893 million to buy the planes.
The service also asked for $5 million in research, development, test and evaluation funding in fiscal year 2021 for the program, which would go toward development, integration, prototype demonstrations, testing of SOF-unique capabilities and air worthiness efforts, according to budget documents.
SOCOM plans to pursue technologies via rapid prototyping and rapid fielding mechanisms, when appropriate, and is targeting flight demonstrations in fiscal year 2021, according to budget documents.
"The demonstrations will inform a best value decision for [a] follow-on production contract," the documents said.
Following a prototype demonstration facilitated by other transaction authority, the command plans to issue a follow-on indefinite-delivery/indefinite-quantity contract with a five-year base ordering period and a two-year option ordering period for 75 aircraft with associated support, according to the SOCOM industry day announcement.
Operational test awards are scheduled to occur in the fourth quarter of fiscal year 2020, said Air Force Reserves Maj. Amanda Reeves, chief of operations for AFSOC's public affairs department. A timeline for procurement will be dependent on the platform selected, she said in an email.
Slife said he was confident the program was fully funded in the president's budget request.
"We think there are a host of vendors that have platforms that would allow us to get to a 75-airplane fleet within the funding that we have available," he added.
Special Operations Command held an Armed Overwatch industry day in early March, just missing a large swath of event cancelations prompted by the COVID-19 pandemic.
Representatives from 50 different companies attended, according to Navy Lt. Cmdr. Tim Hawkins, a spokesperson for the command. As of late March, there had been no notable impacts to the program due to the emergence of the novel coronavirus, he added.
It is expected that companies that participated in the Air Force's OA-X light attack experiments — which the service recently declined to move forward with in a program of record — will be interested in Armed Overwatch, said Richard Aboulafia, vice president of analysis at the Teal Group, an aerospace and defense market analysis firm based in Fairfax, Virginia. They include companies such as Sierra Nevada Embraer, Textron/Beechcraft and Air Tractor.
Aboulafia was a staunch critic of the Air Force's light attack effort, saying such platforms lacked survivability.
"There's a reason that absolutely no country, no air force in the developed world operates these planes, not a one," he said. Such aircraft — which fly slowly at low altitudes with light armor — make for easy targets, he added.
The countries that use such aircraft are typically ones that cannot afford anything better, Aboulafia said.
However, an Armed Overwatch platform could possibly come in handy for Special Operations Command, he said.
"You never know when you might find yourself in Chad and there's that mission that maybe is a little too distant for a helicopter and maybe a bit more target rich than you could deal with with drones," he said.
Such aircraft could only be employed in environments with very minimal air defenses, and where adversaries had no man-portable, anti-aircraft systems or anything heavier than 12.7 mm weapons, he said.
While 75 aircraft is "a stretch," it's unlikely that SOCOM will have trouble acquiring the platforms, Aboulafia said.
The command is known for relatively rapid acquisitions compared with other elements of the Defense Department.
The "procurement mechanisms at SOCOM are different and easier and they can generally get a small number of anything they want," Aboulafia said. If "you look at what's in their menagerie, it's pretty extraordinary and money isn't much of an issue. Procurement rules aren't much of an issue."
The aircraft themselves should be inexpensive, costing about $12 million to $14 million per plane, he added.
To increase survivability, it is feasible that SOCOM could look into adding an autonomy package to the aircraft, Aboulafia said.
"Some sort of mechanism that allowed people to operate it via remote control … would be good," he said. "It's going to take some time. … It might be a 10-year story, but it's conceivable."



Topics: Air Power, Special Operations, Special Operations-Low Intensity Conflict