VIEWPOINT: Adaptive Acquisition Framework — Ready, Set, Contract?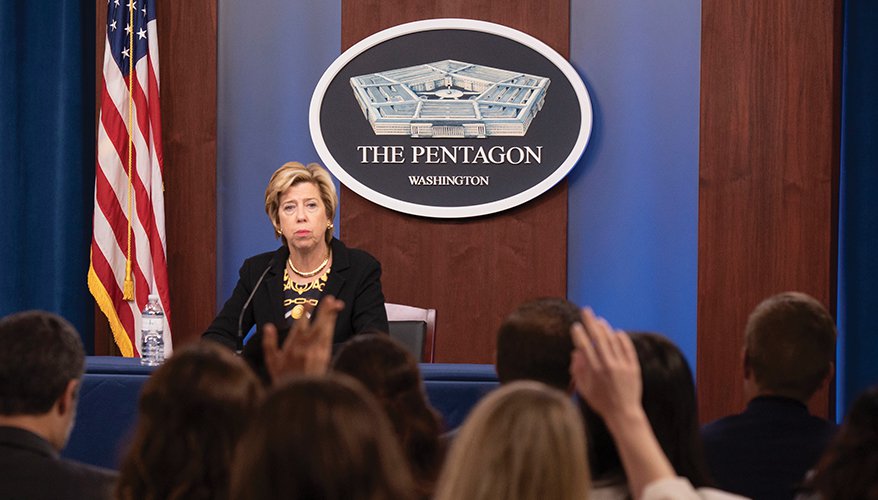 Undersecretary of Defense for Acquisition and Sustainment Ellen Lord
DoD photo by U.S. Navy Petty Officer 2nd Class James K. Lee
Undersecretary of Defense for Acquisition and Sustainment Ellen Lord has called the Adaptive Acquisition Framework "the most transformational change to acquisition policy in decades." Her statement is difficult to argue given the revolutionary nature of the framework's alterations to acquisition policy and the lack of truly transformational changes seen in acquisition policy and statute over the past 25 years.
For decades, Defense Department leaders have lamented the laborious, bureaucratic acquisition process and its hindrance to innovative breakthroughs within weapon systems programs.
Many defense technologies, once fielded, lose a non-trivial portion of their relevance due to acquisition delays, a concept identified by former Defense Secretary James Mattis in the 2018 National Defense Strategy. The document pointed to processes' non-responsiveness and a department over-optimized for exceptional performance, both of which come at the expense of providing timely capability delivery to the warfighter.
In response, Lord rapidly pushed out sweeping new guidance in the form of a six-pathway framework — the Adaptive Acquisition Framework — which is designed to put authority and agility back in the hands of program managers. With this newfound ability, executives will transition between pathways in order to speed delivery of capabilities to the warfighter.
Still, acquisition is not a solo sport. Program managers must rely on their team of acquisition professionals to embrace this new paradigm of speed, agility and risk management for this "transformation" to result in real change in capability delivery. But increasing speed, agility and risk sends a measure of anxiety through the vertebrae of the many contracting professionals who have focused on delivering contracts that are protest-proof and rigidly built to withstand the assaults of indistinct scope and performance.
Nonetheless, for the framework to deliver capabilities at the speed of relevance, contracting professionals at all levels must be willing to embrace this revolutionary change.
This change comes with a prerequisite to develop not only new and inventive processes, but an expanded tool box of soft skills necessary to bring about innovation, active management of risk, and corporate synergy to the contracting community that will result in high-speed, low-drag contracting.
The "Contracting Professional's Career Roadmap" is a nine-step list published by the Federal Acquisition Institute. It provides contracting professionals a succinct overview of gates through which a contracting professional must successfully pass in order to be effective. Curiously, the first stop on this path, "become familiar with the federal acquisition process," is not a contract-centric element. The federal acquisition process is not contracting, but contracting is a major subset. The process is the overarching method encompassing all relevant skills and functions by which the federal government acquires products and services.
Ironically, the second stop on the roadmap is "understand your role as a contracting professional" within this process. It was not by chance these items are numbers one and two on the path. That is because federal acquisition is a team sport, of which contracting is one player among many. As with any team sport, each player must understand his or her place and responsibilities within the team framework, otherwise the team will fail. The first thing a youth football coach should do is line up new players in formation — both offense and defense — so they can gain an understanding of where their position is in relation to all the other players. A single player lining up incorrectly could result in a penalty or failure for the team to properly execute the play.
Understanding where a manager fits in the overall formation is just as important in the acquisition team. Taking it to another level, each player also needs to understand how his play impacts his teammates. Commentators often praise a great player for their "knowledge of the game." It isn't just their knowledge of their specific responsibilities as a player, but the interrelation of how their play improves the play of those around them.
In federal acquisition, each team member must perform with that level of understanding in order for this new transformation to be successful. This may be even more imperative for contracting team members as the contracting processes tend to consume a significant portion of time while they deliberate source selection and performance risk.
Assistant Secretary of Defense for Acquisition Kevin Fahey identified a need to develop a culture of innovation and creative compliance, and enable critical thinking. In order to be innovative, creatively compliant and critical thinkers, department leadership wants acquisition teams to take calculated risks. As Gen. George S. Patton said, taking risks "is quite different from being rash."
One tool that transforms rash behavior to measured performance is risk management. To take calculated risks, contracting professionals will need to learn how to actively manage risks. Program managers routinely manage risks and, as a programmatic community, have become comfortable mitigating, accepting, transferring or avoiding risks within their programs.
Contracting professionals must learn and implement these skills as they execute contractual actions. No longer will the acquisition community idly await the perfect contract. Perfection late is perfection lost. Too often contract award timeliness was sacrificed in an effort to gain contractual perfection through overly cumbersome approval chains and non-value-added reviews.
This new Adaptive Acquisition Framework displays a patent willingness to put substantial trust in program managers by moving decision-making authority as close to the program manager as possible. For this new framework to prevail, there must be trust in contracting officers by moving authority for actions as close to the decision-maker — the contracting officer — as possible.
Timeliness has also been assaulted by excessive "documentation," which has been a watchword for the contracting community and for good reason. However, as with any good thing, it tends to be overdone. In some ways the acquisition community may have become overly obsessive and unreasonably compulsive with its documentation, and some streamlining may be in order.
Procedural changes to contracting are only a first step. The real gains may be seen in a closer coupling of the acquisition team functional communities. In today's continuously changing environment, requirements can no longer be developed in a vacuum only to be thrown over the fence to the next team. Requirement generators, program managers and contracting officers must integrate early and intimately in the requirements process to develop requirements, discuss possible options, perform market research, consider acquisition plans and jointly produce acquisition timelines. Contracting professionals often enter or are invited late into the acquisition process. Contracting organizations do it to themselves when they demand customers only turn over a requirement once it has been fully detailed with the finalized work statement, funding documents and cost estimates.
In today's rapidly changing environment, contracting professionals better serve customers by entering as early in the requirements generation process as possible. The team must come together so closely and early that it would be difficult for an outsider to identify where program management stops and contracting starts.
If the first time a contracting professional sees a requirement is when it has been fully documented in a formal work statement, an opportunity to bring value to the process has been lost. Additionally, synergies that come from synchronized market research and critical thinking amid the program manager, contracting officer and other acquisition team members are missed; and with it early considerations for competition, innovative contracting and/or small business participation because the requirement has been fixed making change too difficult or time consuming.
Failing to capture the synergistic effects of close coordination, contracting will struggle to regain any status as an innovation enabler, and may continue to be relegated to chasing acquisition timelines and contract perfection.
The Adaptive Acquisition Framework is an opportunity to inject innovation, creativity and critical thinking into the federal acquisition process by placing authority and agility into the hands of program managers. However, this transformational change to acquisitions will not create true transformation unless the players are willing to embrace the change. Program and product managers can only deliver capability as fast as their team supports.
Although the framework is program management focused, it also presents a challenge to — and opportunity for — the contracting community. As a critical component to the delivery of products and services, the contracting community must get on board with the new vision being promoted by leadership. It is a vision overdue given the speed at which technological capabilities are progressing.
More specifically, contracting professionals must understand that timeliness can no longer be held hostage by contractual perfection, overly cumbersome approval chains and non-value-added reviews. Perfection late is perfection lost. As a result, contracting professionals must become intimately integrated early into the acquisition process starting at the notion of the requirement. Otherwise, they risk being a deterrent to the innovation and creativity crucial in today's fast-moving environment.

Dr. William A. Schleckser is a professor of contract management at the Defense Acquisition University. He is Defense Department Level III certified in contracting and program management.
Topics: Defense Contracting