COVID-19 NEWS: Navy Seeing Rebound in Attendance, Productivity at Shipyards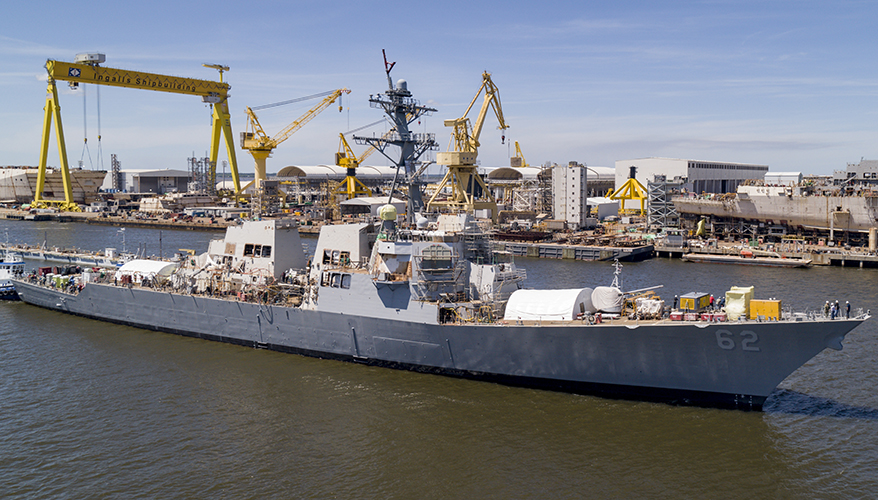 Navy photo
COVID-19 has led to disruptions across the Navy's shipbuilding programs, but shipyards may have turned a corner with productivity and employee attendance now on an upswing, said the service's acquisition chief May 20.
"As we've gone through the crisis, we have not had to shut down any of our shipyards — both private or public — and as I look at the case count, we are having [a] relatively flat number of cases and more folks coming back than getting infected," said James Geurts, assistant secretary of the Navy for research, development and acquisition.
So far, the Navy has been able to largely continue operations while working in the midst of the novel coronavirus pandemic, he said. "Attendance slowed down for a little while, [but] we're seeing that attendance creeping back up," Geurts added.
For short periods of time, worker attendance dropped as low as 50 percent, he said during a teleconference with reporters.
"You had this ... spike of uncertainty and we were prudent in being safe," he said. "We had some liberal leave policies and quite frankly, folks were dealing with kids at home unexpectedly, and all that."
However, more shipyard employees are steadily coming back, Geurts said.
Meanwhile, productivity among individual workers has remained high, he noted.
"What I was very concerned with is we'd have the double whammy," Geurts said. The worry was that not only would low numbers of workers come into the shipyards, but those who did come would be less productive due to social distancing and other safety measures recommended by the Centers for Disease Control and Prevention to mitigate the risks of COVID-19.
However, "the shipyards have been very creative and inventive on how to maintain productive output per person," he said. "Now what we need to do is get the number of people where it needs to be so we can get the total productive hours" up to normal levels.
There have also been positive signs coming out of the Navy's public shipyards, which so far have not had any new cases of COVID-19 in the last two weeks, he added.
On the supplier side, the Navy has had more than 200 suppliers close due to the pandemic in the past six to eight weeks, Geurts said. However, it is now "seeing many more of those open than close," he added.
The service has been tracking 10,000 companies and suppliers within what Geurts calls the traditional defense industrial base. Of those, about 250 of them have experienced some type of closure. Of those 250, all but 35 are open now, he said.
Geurts said he was not aware of any firm that has closed permanently because of COVID-19, but "that's something we're going to have to watch as we go forward here."
The service is closely tracking any delays or disruptions in the supply chain to better understand how that may affect future work, he said.
"While we haven't seen major impacts to current work yet on most of our shipbuilding programs, we are keeping a very close eye on downstream work to make sure that [if] a part we were expecting in September … doesn't show up, we understand how to adjust to that," he said.
So far, shipbuilding programs have not been as hard hit as aviation, Geurts noted. 

"Aviation has had a more acute sensitivity to supplier disruptions, largely driven by the massive upheaval in the commercial aviation market," he said. "That's where we're seeing some more immediate disruption."
The service is also worried about issues with command, control, communications, computers and intelligence platforms, he added. 
"We're trying to track all of it."
Topics: Navy News, Shipbuilding