U.K. Defense Export Market Faces 'Double Whammy'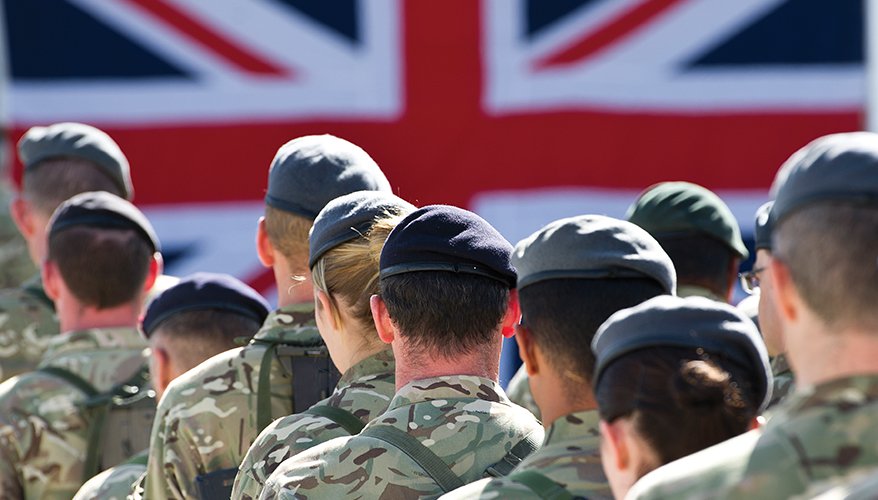 Ministry of Defence photo
Future U.K. defense exports may take a big hit as the United Kingdom grapples with not only the effects of Brexit, but the coronavirus, experts say.
Earlier this year the United Kingdom officially broke away from the European Union in what has become known as Brexit. However, the process of fully extricating itself, as well as brokering new trade deals with European nations, will take many months.
Brexit has coincided with the emergence of COVID-19, which first began in Wuhan, China, late last year. The virus is expected to have a major effect on U.K. defense exports, dealing a blow to the nation that had plans to bolster its sales by brokering new trade deals post-Brexit.
Last year, the future appeared brighter. In September, long before COVID-19 ravaged the globe and Brexit was still months away, Ben Wallace, secretary of state for defence for the United Kingdom, voiced optimism.
"We remain a world leading exporter," he said during remarks at the 2019 Defence and Security Equipment International conference, which was held at the sprawling ExCel Centre in East London. "The potential of our defense sector is limitless."
But now, experts warn that Brexit and coronavirus — which has turned the very same hall Wallace spoke at only months ago at the ExCel into a massive field hospital for coronavirus patients — may be a spoiler for growth.
The two events will be a "double whammy" for the United Kingdom, said Trevor Taylor, a professorial research fellow in defence management at the Royal United Services Institute, a U.K.-based think tank.
"In at least the short term — perhaps more than the short term — Brexit is going to damage the British economy," he said. "We also now have this COVID problem … [and] the economy's going to be damaged by that."
In terms of the island nation's relations with Europe, much of its defense work — particularly the aerospace sector — involves collaborative agreements with European companies, Taylor said. However, potentially heated discussions on trade as Brexit is worked out could damage political relations and make it more difficult for the United Kingdom to be acceptable to Europeans as a partner, he said.
"That, I think, is the chief risk," he said.
Based on the United Kingdom's most recent data, which was released last summer, the country was the No. 2 defense exporter in the world, with £14 billion in sales based on a rolling ten-year basis through 2018.
Between 2009 and 2018, the Middle East was the leading destination accounting for nearly 60 percent of British military equipment exports, according to the Department for International Trade's Defence and Security Organization. North America was the second highest region, accounting for 18 percent of U.K. defense exports. Europe accounted for 11 percent, the Asia-Pacific for 9 percent, and Africa and Latin America for 1 percent each.
However, it is likely that the United Kingdom will see itself fall behind as the No. 2 exporter globally, said Fenella McGerty, senior fellow for defence economics at the International Institute for Strategic Studies, a London-based think tank.
"The tricky thing ... with those statistics is the year range that you look at," she said. "It kind of depends on what years you look at, whether you look at deliveries or contracts and things like that."
For example, other organizations, such as the Stockholm International Peace Research Institute — which uses a different methodology — has put the United Kingdom as the sixth largest major arms exporter in the world between 2015 to 2019. Countries ahead of it include the United States, Russia, France, Germany and China.
Part of the U.K.'s ascent up the list in 2018 was due to the fact that it had "quite a stellar year in terms of defense exports," McGerty said.
Those included sales of the Eurofighter Typhoon aircraft, Brimstone missiles to Qatar and F-35-related sales, according to U.K. government documents. The United Kingdom produces numerous components for the joint strike fighter as a partner nation and has its own fleet of F-35B platforms.
However, "I would expect that the U.K. would fall back somewhat as these major programs didn't really come through as much in 2019," McGerty said.
That trend many continue in the future, she added. With the world facing economic crises, important export regions, such as the Middle East and North Africa, may be harder to sell to.
"It becomes a trickier market to sell into going into this next economic crisis, not least because of the drop in oil prices as well," she added.
While McGerty also views Brexit and coronavirus as double trouble for the United Kingdom, its departure from the European Union would have had less of an effect on arms sales had the virus not become an issue, she said.
"Major trading partners in the Middle East and North America wouldn't have been necessarily restricted from further defense trade," she said. "If anything, with the U.K. being out of the EU, there may have been greater flexibility in negotiating trade deals."
With COVID-19, the United Kingdom no longer has the security of those markets. "You would expect the overall value of defense exports to start to shrink," she said.
However, it won't necessarily have an immediate effect, she noted.
"Obviously, with the long-term nature of defense programs, there will be programs that the U.K. has already signed that will continue through this period, so you might see the dip in a couple of years," she said.
Theodore Bromund, a senior research fellow in Anglo-American relations at the Heritage Foundation, a Washington, D.C.-based think tank, said it is likely that some of the U.K.'s potential arms customers will have cuts in their defense budgets, ultimately reducing their ability to purchase weapons.
During the last financial crisis, defense budgets in Europe dropped considerably and only began to recover in the last few years because of Russian misbehavior, he added.
"COVID has the potential to have a vastly greater impact than Brexit," he said.
From his perspective, Brexit offers the United Kingdom some important benefits. For example, the country now has the autonomy to trade with any nation it wants and to broker free trade agreements, Bromund said. That includes the United States, which has historically had a "special relationship" with the United Kingdom. While negotiations for a free trade agreement were set to happen this year, coronavirus will surely delay them, he said.
"Given that negotiations haven't even started yet because of COVID, I think one would have to be very optimistic to expect an FTA by the end of 2020," he said. "It's not impossible. But in the absence of starting negotiations, I think one has to have negotiations started before one can be really optimistic that something would happen fairly soon."
The United States released its negotiation objectives last winter, and the U.K. released its objectives in March.
The U.S. objectives document said the United Kingdom's departure from the European Union could open up doors for business between the two countries.
"Multiple tariff and non-tariff barriers have challenged U.S. exporters in key sectors while the U.K. has been a member state of the EU and therefore a part of the common trade policy of the EU," the document said. "The U.K.'s decision to leave the EU creates a new opportunity to expand and deepen the U.S.-U.K. trade relationship."
In its negotiation objectives document, London said a free trade agreement "should support the further development of a close defence industrial partnership between the U.K. and the U.S. in the defence sector, recognizing that we are already each other's most important suppliers of imported defence equipment, and that this relationship both supports jobs and investment, and delivers world-class capabilities to our armed forces as they fight together in defence of our national interests."
Further, an agreement should reduce barriers to defense sales, "in particular by encouraging deeper and faster sharing of technology, and encourage investment in each other's industrial base," the document added.
The two nations already have a defense cooperation treaty, but some experts believe it has not worked as well as those who drafted it had hoped, Bromund said.
"What the U.K. is looking for, I suspect in the context of the U.S.-U.K. FTA, is essentially that the U.K. would be treated as fully inside the U.S. fence from a defense purchasing point of view, both buying and selling," he said. "If that happens then probably both sales to the United States and purchases from the United States or the U.K. would increase."
That, however, will depend on both the British and U.S. procurement budgets, he added.
A free trade agreement between the two nations could not have happened without Brexit, Bromund noted. "If the U.K. had not been in the European Union since '73, we would almost certainly have an FTA with them by now," he said.
The Trump administration has been very enthusiastic about a U.S.-U.K. free trade agreement, he said. However, with the 2020 election only months away, a new administration may delay action on the agreement.
"I tend to think that a U.S.-U.K. FTA makes so much sense that almost any administration would eventually come around to it," Bromund said. "But politics can impose a long and winding road on things, and it's quite possible that an incoming administration that wasn't the Trump administration would take a couple of years to come around to the idea."
Meanwhile, coronavirus could mean fewer defense imports from the United States for the United Kingdom.
"We already have a huge order book with the United States," Taylor said, and it will be tough to make the case for more U.S. equipment.
Between 2018 and 2019, the United Kingdom signed 23 new foreign military sales agreements with the United States that had a total value of $328 million, according to the U.K. Ministry of Defense. Major programs included $148 million for MQ-9 Reaper drone contractor logistics support; $93 million for Tomahawk land-attack missile support; $44 million for Phalanx weapon system upgrades; $13 million for Reaper training; $16 million for P-8A sonobuoys; and $14 million for F-18 pilot training.
Nearly 40 percent of U.K. defense equipment spending is on U.S. equipment, Taylor said.
If "you're concerned about your economy, increasing that is going to be quite a hard sell," he said. "We already buy very large amounts of stuff from the U.S."


Topics: International, Global Defense Market