VSOFIC NEWS: Special Operations Command Launches 'Engage SOF' Tool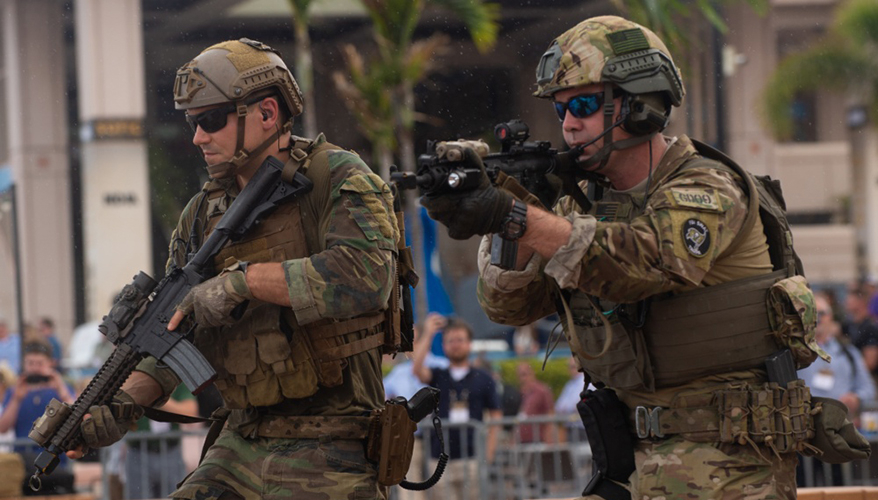 Photo by U.S. Air Force Master Sgt. Barry Loo
Special Operations Command has launched a new platform to collaborate with industry known as Engage SOF, or eSOF, the command's director of science and technology said May 12.
The new effort replaces SOCOM's Technology & Industry Liaison Office, or TILO, said Lisa Sanders.
"One of the problems that we have had with TILO in the past is that it can be ... very linear. It can be very hard to use — it's [even] hard for us to use," she said during the National Defense Industrial Association's annual Special Operations Forces Industry Conference, which is being held virtually this year due to COVID-19 safety concerns.
In the age of social media, people are now used to going on a website and chatting with a real person in real time, she said.
While Engage SOF is "not quite a live chat, … it does provide a web-based tool that can allow that kind of interactive engagement," she said.
The tool was developed by SOCOM's data engineering lab, she noted.
"It is live today," Sanders said. "Go to eSOF and submit an idea and we can interactively work through that."
 The tool can help users reach the entire SOF enterprise rather than just the S&T team, she added.
Contractors using the tool can have peace of mind that their company's intellectual property is safeguarded, Sanders said. The eSOF platform is firewalled off, allowing only government entities to see submitted information.
For those who have recently submitted a technology through the TILO process, Sanders said contractors won't need to resubmit using eSOF because the office plans on transitioning the information over. However, she encouraged those who have done so submit through eSOF anyway and "give us feedback on how that process goes. You should be able to drop something in eSOF within 10 minutes. It's a really simple tool," she said.

Meanwhile, the office's budget for fiscal year 2021 is being reduced compared to fiscal year 2020, according to Sanders' presentation slides. In fiscal year 2020, the office had $132.4 million. In fiscal year 2021, the office is requesting $131.6 million.
However, over the future years defense program the budget is remaining flat, Sanders said.

"Overall budgets are shrinking, but ... Special Operations Command has made a commitment to invest in our future, and my budget throughout the future defense plan — the five-year plan that's in place — is not shrinking," she said. "It's not growing, but it's not shrinking."

Sanders noted that the overall budget has grown substantially. Including both its core research and small business innovation research program, the S&T office has about $140 million per year. In the 2010-2012 timeframe, the office only had $40 million a year.

"This was really getting after the National Defense Strategy," she said. "A small investment in S&T has the potential of a payoff with … big capability growth."

With the money it has, the S&T office is looking for new capabilities including biotechnologies/human interface; network and data management; next-generation effects/precision strike; next-generation intelligence, surveillance and reconnaissance/tactically relevant situational awareness; hyper-enabled operator; and next-generation mobility, according to Sanders.

To get after new technology, SOCOM is hosting a number of technical experimentation events with industry, Sanders said. An event scheduled for July 13-17 at Texas A&M University is being moved to Avon Park, Florida, due to the ongoing coronavirus pandemic, she noted.

"Unfortunately, due to COVID-19, Texas A&M has made the determination that they are not going to open the campus ... in the timeframe that we have here," she said. "We are going to hold that event with the same focus at Avon Park, Florida. … It's a reserve base that we've used in the past and we'll be able to actually do an expansive unmanned aerial system activity there because there's a little bit more capability for UAS at Avon Park."

Other future technical experimentation events include one in Key West, Florida, from November 16-20 focusing on combat diver technology, counter diver technology and biotechnologies/human interface. There will be an event on March 22-26, 2021, in Muscatatuck, Indiana, focusing on next-generation ISR/tactically relevant situational awareness, biotechnologies/human interface and SOF lethality. From July 12-16, 2021, there will be a technical experiment in Little Creek, Virginia, focused on combatant craft technology, according to Sanders' slides. 

Meanwhile, the program executive office for command, control, communications and computers, or C4, is working to provide operators with adaptive, flexible and scalable communications, said head of the office Deborah Woods. To get at that, it is investing in new technologies such as edge computing coupled with smarter algorithms and data assets, she said.

The office's modernization priorities are focused on overmatch technology to support the National Defense Strategy while continuing to provide capabilities to support Special Operations Command's counter violent extremist missions, Woods said. 

The program office prides itself on acquisition agility, which is particularly crucial for its portfolio given the speed and dynamic nature of the technology in its space, she said. As it refreshes technology, new capabilities or gaps may have emerged, Woods added.

"Due to our limited investment resources, our focus on acquisition agility also means that we seek partnerships with academia, industry, other government agencies or partners," she said. "This might be in the form of intellectual information or as some type of monetary partnership."

It is taking advantage of non-traditional acquisition agility methods such as other transaction authority agreements, technical experimentation events and cooperative research-and-development agreements, she added.
 Overall funding in both procurement and RDT&E for the program office is decreasing, according to Woods' slides. In fiscal year 2020, PEO C4 had $315 million in procurement and $40 million in RDT&E. In the fiscal year 2021 budget request, SOCOM asked for $239 million for procurement and $36 million for RDT&E.

However, Woods noted this was because some programs are wrapping up. For example, on the research-and-development side, the development of a multi-mission payload was completed and is now transitioning to production. For procurement, the command has completed the fielding and development of a next-generation tactical communication radio, she added.
Topics: Special Operations, Special Operations-Low Intensity Conflict