EDITOR'S NOTES RESEARCH AND DEVELOPMENT
Army Tries to 'Find, Fix, Finish' Startups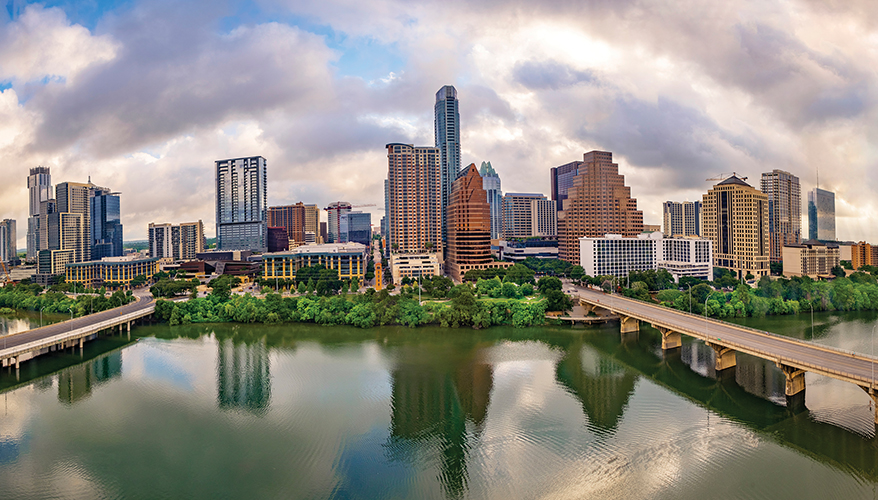 Austin, Texas.
iStock photo
AUSTIN, Texas — For the Army, the gleaming glass and steel skyscraper a few blocks from the Texas state capitol has to be considered a "target-rich environment."
Several floors of the building have been overrun with exactly what the service has spent the last few years hunting down — entrepreneurs and startups possessing that most elusive quarry: innovation.
This anthill of young go-getters might be a reason why Army Futures Command chose Austin as its headquarters. The city, best known for being the "music capital of the world" also wants to challenge Silicon Valley as the innovation capital of the world.
One place that is happening is within the skyscraper where The Capital Factory — a sort of one-stop gathering place for tech startups — has taken over several floors since it was founded 11 years ago.
"We're the only ones that have really tried to take an entire startup ecosystem and put it underneath one umbrella of a brand name," Gordon Daugherty, president of the company, explained to a roomful of National Defense Industrial Association members touring the facility recently.
Workspaces are popping up all over. Tech accelerators are a "dime a dozen," he said. Venture capital funds were once primarily found in California. The Capital Factory sought to put the three together under one roof.
More than 2,500 entrepreneurs called the building home in 2019. Its accelerator and venture fund portfolios have about 500 startups. The organization has hundreds of mentors to "wrap their arms around" the typical 21- or 22-year-old entrepreneurs just out of college who need both a guiding hand and some funds to get their ideas off the ground.
The Capital Factory only asks for 1 percent equity, Daugherty said. "And they live with us as long as they want, all the way until they crash and burn or until they exit — they sell the company or do an IPO."
But why in Texas? Why in Austin, a spot once primarily known as a college/government town and for its vibrant music scene. The answer gives some insight into why the Army has taken up some floor space in The Capital Factory. The Defense Innovation Unit and the Air Force's AFWERX also rent offices in the same building.
Texas by itself would be the 10th largest economy in the world if it were a separate nation, Daugherty explained. Located in a hub with Austin, are San Antonio, Dallas-Fort Worth and Houston. The latter two metropolitan areas are home to a host of billionaires and all their capital, including dozens of Fortune 500 company headquarters.
San Antonio is a military town and minority-majority city, and diversity to Daugherty is a hallmark of innovation. All these cities are an easy drive or flight from each other.
"If you're a startup that needs to partner with large enterprises as a strategic partner, a marketing partner, a distribution partner, you like to be close to them," he said.
The Army has taken up much of The Capital Factory's eighth floor. When the doors are open, young entrepreneurs are welcome to hang out and use the workspace there. That's just what Futures Command wants, Daugherty said. He estimates that the startups using the facilities garnered about $50 million in military contracts in the last couple years — mostly small business innovation research grants.
The command's face-forward is the Army Applications Lab, where the service hopes to lure in newbies developing dual-use technologies it can use for its missions.
Inside, a pair of Army lieutenant colonels wearing blue-jeans and button-down shirts told the NDIA members how they intend to do this.
Tim Crane is a Special Forces officer who last served in the Rapid Equipping Force, and Tim Sugars spent 11 years in Army acquisitions before receiving orders to report to Austin.
For Crane, he's doing exactly what he was trained to do in special ops and what he actually did in Afghanistan, namely, build a network of people. The lab is aiming to be "a functioning concierge service" for those who have ideas that can benefit the Army.
"The Army has, historically, had a very bad time innovating, or having a relationship with industry where we can work in a truly open, innovative environment and work out a problem instead of being overly prescriptive," said Crane, who is the lab's director of commercial operations.
The year-old organization doesn't have Google-like money to invest in startups. It can't by itself change Defense Department acquisition policies. But it can try to be more transparent and accessible to the startups.
The lab is still in its infancy. It's still "getting its reps in" to find what works, Crane said.
Sugars, who serves as the director of program integration, said a lot of what he does is taking requirements documents and problem statements and rendering them into two to four sentences.
"We are talking about young men and women a year or two out of college. They don't understand these requirement documents. They barely know that the DoD is all about. We have got to speak their language," he said.
Topics: Army News, Research and Development