COVID-19 News: Virus Hurting Army Small Businesses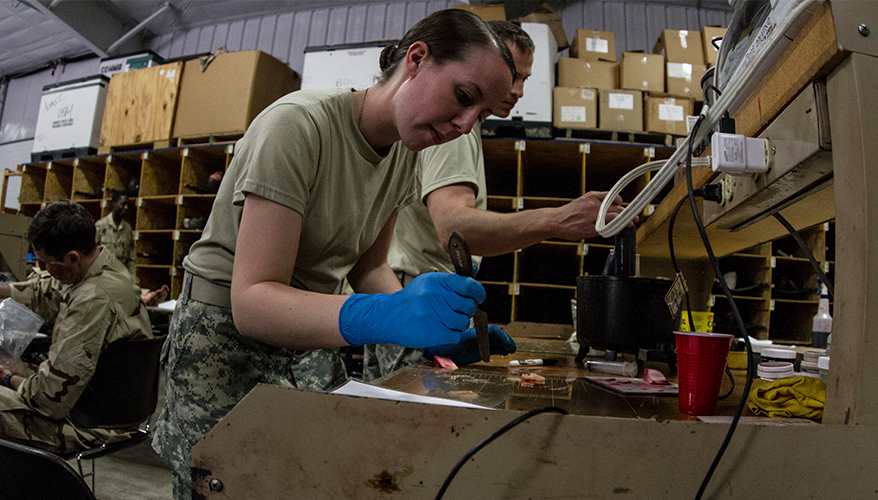 An Army Reserve soldier at a factory in Fort McCoy, Wisconsin.
Defense Dept. photo by MSG Brian Hamilton
The COVID-19 pandemic is putting particular stress on the Army's second- and third-tier suppliers, said the service's secretary April 30.
The Army is racing to ensure its manufacturing supply chain is able to stay afloat amid economic challenges posed by the virus, said Ryan McCarthy.
"Some of these are small companies [that have] 15,000 people, and you get a couple people sick, you shut the whole company down," he said during a virtual event hosted by Brookings Institution. The supply chain will "be a challenge for us months and months ahead."
The pandemic is also hurting overseas manufacturing in areas such as Mexico, Europe and East Asia, where the Army has little influence, he noted. The service is working with the State Department to figure out how to keep overseas workers employed and keep the supply chain running, he said.
"We are limited in our ability to affect them and get them back to work," McCarthy said. "It presents challenges that are far beyond our reach and ... influence, so we're going to have some real heart-to-hearts with manufacturers going forward."
Despite these issues, the Army is continuing to prioritize modernization, he said. Army Chief of Staff Gen. James McConville said the service is moving forward with weapons assessments, noting that it was recently able to conduct a successful hypersonic weapons test. As part of its plan to keep up with great power competition, the service is pursuing 31 new signature systems.
"Over half of our procurement budget is going towards these new weapon systems," McCarthy said. "We've got to put them into formation. Much of our iron is 50 years old. That probably is the prime area where we put the most energy."
Meanwhile, the Army is collaborating with other organizations in
search of a vaccine.
There are 10 to 15 top potential vaccine candidates worldwide that are in various stages of maturity, McCarthy said during a Pentagon briefing the same day. To speed up the timeline, the service plans on investing in the ones that seem to be moving the fastest, he noted.
"We can double down and invest in the fastest horse, if you will, in this 15 candidate race, and then that compresses the timeframe that will ultimately get you to the answer and bring a vaccine to life," he said. "You'll hear ranges on how fast it can go."
Some of these vaccines are currently in human trials, with the bulk of the work slated for summer and early fall, he noted.
"It's moving faster than probably any point in history because of the extraordinary collaboration that's going on today," he said.
However, this may involve accepting some risks in the process, McConville noted at the briefing.
"You can save time by taking risks," he said. "You may get ready to produce something, and that horse may not get to the final race and that may not be the most efficient use of money, but by taking risks, you can really move things very, very quickly."
Topics: Army News