WEB EXCLUSIVE: Army Abruptly Terminates Squad Advanced Marksmanship Trainer Contract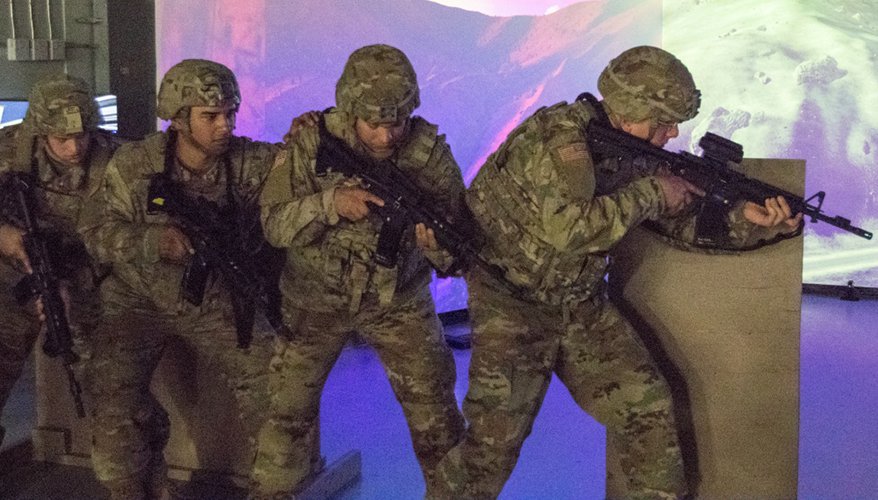 Soldiers training with the Squad Advanced Marksmanship Trainer (SAM-T).
Army photo by Sgt. Phillip Tross
In a surprise move, the Army has ended a program that was using high-fidelity simulators to train soldiers in small arms skills.

The Army through its service-run media had been touting the Squad Advanced Marksmanship Trainer — a stopgap system intended to be used until 2023 — as a means to boost soldier lethality. But an Army headquarters spokesman told National Defense on April 24 in an email that the multi-year contract was being ended and money redirected to other training-and-simulation programs.

The magazine received a tip from a reader that SAM-T had fallen victim to the Army's so-called night court proceedings, where leaders are looking at every Army program to find funds that can be redirected to its top six modernization priorities. The Marine Corps was also a partner in the program.

The Synthetic Training Environment — its series of high-fidelity simulators that are still under development — has its own cross-functional team under Army Futures Command to guide its acquisition. National Defense asked the Army why the night court would end the SAM-T training-as-a-service contract early since it fell under soldier lethality, one of the top modernization priorities.

"Army training systems are periodically evaluated in a multitude of areas to include realism, adaptability, sustainability and value. Decisions to continue or cancel Army programs are announced following careful and deliberate consideration of available data and consultation with subject matter experts," a service spokesman said.

"The SAM-T was an interim proof of principle capability that the Army leased to assess small unit and marksmanship training technology. It was never a formal acquisition program and never supported an official Army training strategy. As the Army continued to develop its priority training system — the Synthetic Training Environment or STE — funds formerly intended for the SAM-T lease were redirected to the STE," the spokesman said.

The statement did not say when the training on SAM-T would formally come to an end. The Army took more than two weeks to respond to the inquiry.

The Army and Marine Corps had originally planned to field Squad Advanced Marksmanship Trainer systems in up to 28 locations under a training-as-a-service contract, and had set them up in at least nine Army bases as of January, according to Army official media. Some 25,000 soldiers and Marines had used the trainers.
Maj. Gen. Maria Gervais, deputy commanding general of Combined Arms Center-Training and director of the Synthetic Training Environment Cross-Functional Team, told Army Magazine at the Association of the United States Army annual convention in October that SAM-T would be in place at 28 locations through about 2023, when a more advanced immersive training system was expected to be in place.
SAM-T allowed teams of four to five soldiers or Marines to go through the simulators untethered using special goggles and replicas of weapons such as M4 and M9 rifles and Glock 19 pistols.
"The SAM-T was developed by the Synthetic Training Environment Cross Functional Team — located in Orlando, Florida — and the Close Combat Lethality Task Force, in an effort to address the erosion of close-combat capability skills identified in the fiscal year 2018 National Defense Strategy," a story published on the Defense Department's official website said.
The system is based on Meggitt Training Systems' FATS 180MIL, an immersive simulator that uses three borderless 16-by-19 flat or curved screens and a surround-sound system for added realism, according to company literature. Oak Grove Technologies served as SAM-T's prime contractor.
Spokespeople for the two companies on April 27 declined to comment on the Army's statement.
Topics: Army News, Training and Simulation