Marines Return to Sea Only to Battle Corrosion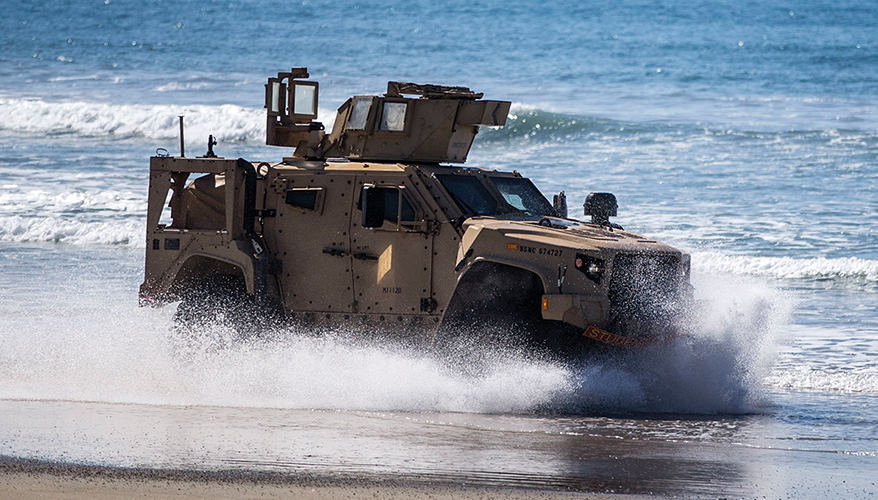 Marine Corps photo by Lance Cpl. Drake Nickels
AUSTIN, Texas — After years of fighting in desert-like conditions in Afghanistan and Iraq, the Marine Corps earlier in the decade was tasked with returning to its maritime roots. And with a renewed emphasis on fighting peer competitors, it is also being called on to integrate more closely with the Navy.
The Marine Corps now is facing a once familiar enemy: rust.
Corrosion was recently identified as the service's top science-and-technology problem needing to be solved by officials serving under Program Executive Office Land Systems.
"What can we do to keep the rust off the vehicles?" Andrew Rodgers, program manager for motor transport at the Marine Corps, asked at the National Defense Industrial Association's Tactical Wheeled Vehicles Conference in Austin, Texas, recently.
"We operate around beaches, which is a very aggressive environment," he said. Marines are routinely asked to extend the original service lives of their ground vehicles. They start off at 15 years, and then can be extended up to half a century, he noted.
"We need to do everything possible to keep up the lifecycle of these vehicles," he said.
Gene Morin, product manager for the joint light tactical vehicle at the Marine Corps, said the service has received 500 of the new platforms, which are all being deployed. So far, corrosion in the maritime environment has been one of the big issues. Most of the Corps' JLTVs are aboard ships or being used near sea spray, he added.
Another issue that has emerged after the service returned from desert operations is the durability of ballistic glass on its vehicles.
Marines need "survivable and affordable transparent armor. This has been the bane of my existence for the past five or six years," Rodgers said.
Desert sand caused pitting and other wear and tear that forced the service to swap them out at least once per year. That was fine in the days of supplemental wartime funding, but not so great now that money is tighter. The service is looking for ballistic windshields and windows that can last ideally 60 months, Rodgers said.
Members of industry who have some "out-of-the-box" ideas on how to solve these problems should contact PEO Land Systems, added Rodgers, who was asked how much funding the Marine Corps has to put toward new ideas to help battle rust and weak windshields.
Well, none, he admitted. But if an idea has promise, they will find money for it, he added.
Topics: Marine Corps News