Pandemic: Coronavirus Rattles the Defense Industrial Base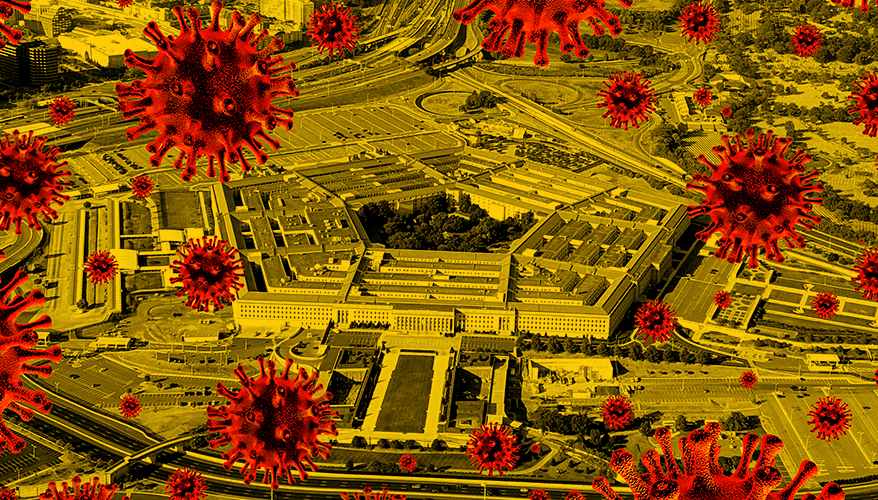 Photo-illustration, iStock photos
As COVID-19 swept across the United States in March and April and wreaked havoc on the daily lives of Americans, the Pentagon and defense industry were faced with an unprecedented crisis that forced them to take action to mitigate the impact on major programs and the supply chain. It's too early to tell what the long-term impact will be, officials and other experts say.
Companies are faced with two somewhat competing challenges of protecting their workers through social distancing and other measures while also meeting their obligations to the Defense Department.
"The short-term impact is a restriction on the supply chain. In many cases, an inability to deliver on a contract, deliver on capabilities, just because you're at a slower pace and you have to follow all the [safety] procedures … so you can't do things as rapidly," said Hawk Carlisle, president and CEO of the National Defense Industrial Association.
"There's clearly an impact, and I think it's going to continue to be a challenge."
As state and local governments began shutting down all "non-essential" businesses in their jurisdictions to slow the virus' spread, the Pentagon was faced with the possibility that weapons makers and others in the military supply chain wouldn't be allowed to go to work.
In response, the federal government declared the defense industrial base to be a critical infrastructure sector, and Undersecretary of Defense for Acquisition and Sustainment Ellen Lord sent a memo to contractors making clear what was expected of them.
"Companies aligned with the essential critical infrastructure workforce definition are expected to maintain their normal work schedules," she said. "If your contract or subcontract supports the development, production, testing, fielding or sustainment of our weapon systems/software systems, or the infrastructure to support those activities, [your efforts] are considered critical infrastructure. If your efforts support manning, training, equipping, deploying, or supporting our military forces, your work is considered critical infrastructure."
Lord later told reporters her move was driven by concerns she was hearing from industry that state and local governments had different shelter-in-place rules and guidelines, with some even issuing misdemeanor citations to employees trying to get to work.
Facilitating the flow of money to contractors has also been a concern for the Pentagon. It increased progress payment rates for contracts from 80 percent of cost to 90 percent for large businesses, and from 90 percent to 95 percent for small businesses.
The department also moved to expedite payments to prime contractors, and directed them to expedite their payments to subcontractors. Additionally, it sought to make Small Business Administration emergency loans available to firms in distress.
Nevertheless, program hiccups are inevitable, officials acknowledge.
Kim Herrington, acting principal director for defense pricing and contracting, sent a memo to acquisition executives about how to deal with the extraordinary situation.
"The effects of COVID-19 will affect the cost, schedule and performance of many DoD contracts," he wrote. "Many contractors that ordinarily work side-by-side with the DoD workforce may be unable to access their work sites, and most contractors are coping with employees who are unavailable for work due to quarantine and state and local requests to restrict movement of their personnel."
Pentagon contracts contain clauses that excuse performance delays and cost increases if the failure to perform is beyond the control and without the fault or negligence of the contractor, he noted. In that scenario where there is an allowable delay, the contractor is entitled to an "equitable adjustment" of the contract schedule, and may also be entitled to an equitable adjustment to contract price.
However, Herrington said requests for equitable adjustment must still be considered on a case-by-case basis, withholding blanket protections to industry during the crisis.
Carlisle said allowable delays and equitable adjustments are a key concern for industry.
"Contractors are coming in with what they're not able to do and why they're not able to do it. And obviously COVID-19 and following CDC guidelines is the driver for that," he said. However, "it is cumbersome to do it contract by contract," he noted.
The Cowen Washington Research Group said it could lead to bureaucratic headaches.
"While we expect companies will ultimately not be penalized for COVID-19 delays, we expect they will take time to work through," Roman Schweizer, managing director for aerospace and defense, wrote in a newsletter. "It will be up to the contracting officer to determine whether negative performance was strictly the result of COVID-19 or a combination of other factors, some of which the company might be responsible for. This [request for equitable adjustment] process could affect thousands of DoD contracts."
Meanwhile, the pandemic has sparked near-daily calls between the Pentagon's office of industrial policy and the top defense industry association's such as NDIA to elicit feedback. Acquisition leaders have also been on the phone with CEOs to gain greater situational awareness about the impact on the industrial base.
The Defense Department has also set up emergency acquisition task forces to keep an eye out for problems and address needs throughout the supply chains, and developed "heat maps" for data analysis.
"We show the number of … coronavirus positive tests, as well as state and local shelter-in-place rules and guidelines," Lord explained. "All of this information can help us with predictive solutions and planning when overlaid with the location of our industry partners."
Big data analytics firm Govini developed its own heat map, which it published to aid planners.
Assistant Secretary of the Air Force for Acquisition, Technology and Logistics Will Roper said his office has been "organizing for battle."
"Aside from keeping our own programs on track, we've got to be standing by and ready to move significant funding if external agencies or our own department ask it of us," he told reporters. "We have shifted into a wartime acquisition posture."
Assistant Secretary of the Army for Acquisition, Logistics and Technology Bruce Jette noted that his office's task force is keeping an eye on all of the 800-plus acquisition programs that the Army oversees, and he receives a long list each day documenting potential issues. The service is looking 30, 60 and 90 days out as it shapes its plans.
Assistant Secretary of the Navy for Research, Development and Acquisition James "Hondo" Geurts said he has "tactical" and "strategic" teams reporting on what's happening on the ground in industry and thinking of ways to adapt if necessary.
The Navy is awarding some contracts earlier than planned to provide funding to firms and facilitate their planning.
"We are moving — and in many cases by several months — efforts to the left," Geurts said. "As individual suppliers and industrial operations deal with their local situation, they can do it knowing that they've got work ready to go … as soon as they're ready to go at their capacity."
That will enable companies to go ahead and put orders in with suppliers and create more flexibility to deal with delays and disruptions, he noted.
"They know the work is coming, the employees know the work is coming, the lenders know the work is coming, and the work is actually sitting there" when the recovery period begins, he explained. "If I award the job two months early, theoretically that allows me two months of disruption, plus we will accelerate recovery."
The accelerated contract awards don't just apply to primes, he noted, but also small business, startups, academia and other organizations that perform critical research and development.
"We cannot let this crisis impede our continued push for ensuring we have the right technology in the hands of our sailors and Marines five or 10 years from now," Geurts said.
Roper said the Air Force is also looking to award contracts as early as possible.
However, not all of the services are adopting this approach.
"As for future contracts, we're somewhat sticking to our schedule," Jette said.
Carlisle said there is approximately $160 billion that has been authorized and appropriated by Congress but has not yet been obligated to individual contracts.
"I know there's some work to do, that it's not easy, but industry would like to see that money," he said. "If they have a program ready to go, if there's a way they can expedite the obligation of those funds, it will also help."
The spread of COVID-19 has forced some factories to shut down temporarily. One of the most high profile examples was Boeing's closure of plants in Washington state where KC-46 tankers and P-8 maritime surveillance planes are built.
Small business is the biggest concern and the most vulnerable part of the industrial base because those companies have fewer resources available than primes to weather disruptions and economic misfortune, officials say. While small, they are critical nodes in the supply chain.
"When you get into the smaller suppliers … if that shop has to shut down because somebody may have been potentially infected, that kind of takes that supplier out for a couple weeks," Geurts said. "We've seen some of those lower level suppliers have to shut down for a little while."
Jette said the Army is facing a similar challenge.
"If I've got a small company that's a critical supplier, if they're just-in-time supply and they suddenly have someone who gets COVID and all of a sudden the whole workforce has to go out, that can become a significant problem," he noted.
There is also concern that some firms might go belly up or drop out of the supply chain permanently. The Defense Department hopes to use the tools it has at its disposal to keep them afloat.
"I hear stories of second-, third- and fourth-tier suppliers that we're worried about going out of business, worried about how they would keep paying their salaries," Geurts said.
"If they're not there it won't matter when we're ready to recover. We need to make sure they're healthy and ready to roll as we accelerate out of recovery."
NDIA has been conducting a confidential survey of small businesses to determine the effects of the pandemic. As of press time, more than 450 small businesses responded. Of those respondents, 55 percent are businesses with less than $5 million in annual revenue and 70 percent have fewer than 50 employees.
About 30 percent of respondents expect overruns on fixed-price contracts as a result of the COVID-19 disruptions on the order of 10 to 20 percent. Around 62 percent have seen disrupted cash flow as a result of the crisis, and 54 percent can't work on a contract because of a shelter-in-place order.
Meanwhile, there is also concern that damage to the commercial aviation sector and other non-military industries by the novel coronavirus could impact defense.
"There's a lot of overlap between the defense supply chain that supports a lot of defense industry activity and the commercial aviation supply chain," said Andrew Hunter, director of the defense-industrial initiatives group at the Center for Strategic and International Studies.
About 70 percent of the supply chain comes from lower-tier suppliers, he noted. "I would say a majority of that supply chain expenditure is going for largely commercial-type products."
"We've got issues that are starting to develop," he added. "Two, three, four months out, I think we could have real issues in the supply chain."
The passage of the $2.2 trillion stimulus bill known as the Coronavirus Aid, Relief and Economic Recovery, or CARES, Act could mitigate that problem, experts say.
"There's going to be assistance provided to industry and hopefully that will mitigate a lot of the possibility of real ruptures in supply chains including the commercial aviation supply chain," Hunter said. However, it still remains to be seen how effective the aid will be.
Jette noted that the Army's acquisition arm has been leveraging small businesses that are fundamentally commercial.
"With the significant decrease in commercial activity, that's making it difficult particularly for small and medium companies to be able to keep up with their original government orders — which haven't slowed down — when so much of their workforce is impacted by the COVID and the commercial business sector has been shrinking for a while," he said.
The $2.2 trillion stimulus bill included about $10 billion for the Defense Department. Officials said the Pentagon is looking for opportunities to use authorities in the Korean War-era Defense Production Act to help prop up commercial industry by filling in their production lines with military orders.
Acquisition leaders say it's too soon to tell if major acquisition programs will go off the rails as a result of the pandemic.
Part of the difficulty of forecasting is that the situation is constantly changing, Geurts noted.
"It's going to have both a time dimension and geography dimension, and so it will remain a fluid situation," he said.
Design and engineering efforts have not experienced much disruptions thus far, Geurts said.
However, major industrial operations have experienced varying degrees of slowdowns due to social distancing and other safety guidelines that are being followed at shipyards and other locations, he added. "There's certainly some inefficiencies right now in terms of having to space work out."
Gen. John "Mike" Murray, commanding general of Army Futures Command, which is spearheading the service's top modernization efforts, said testing of some systems has been delayed due to social distancing requirements. Some modernization projects are now being pursued in a virtual setting.
Adding concurrency to programs may be one way to enable them to catch up with their original schedule if they fall behind, he noted.
Roper said the disruptions to Air Force programs in the early weeks of the crisis haven't been as severe as he expected.
Jette sounded an optimistic tone about the service's major acquisition efforts.
"In general we are still remaining fairly close to being on track," he said. "It doesn't mean that [problems with] individual programs or individual issues haven't arisen, but at this point … we think in the long run that we can resolve any of the challenges we have at hand."
Topics: Defense Department