ROBOTICS AND AUTONOMOUS SYSTEMS
Army Setting Stage for New Unmanned Platforms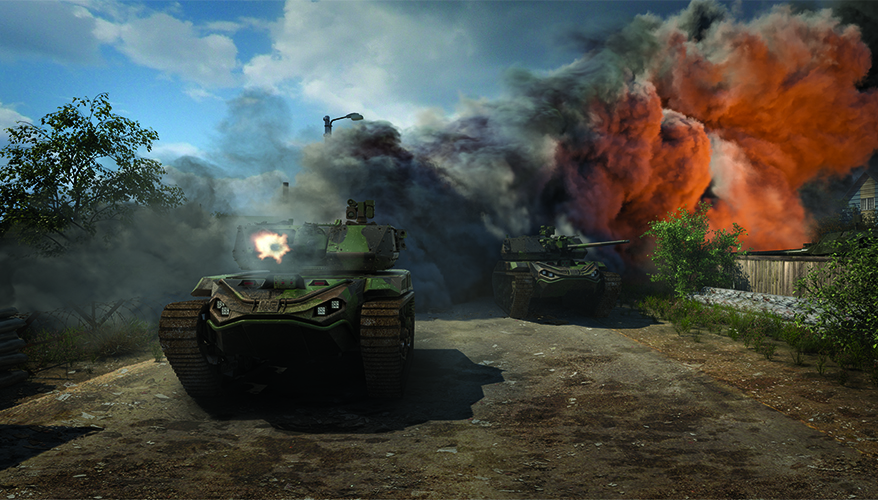 Ripsaw M5
Textron artwork
The Army is about to kick off a multi-year series of experiments as it moves toward establishing a program of record for robotic combat vehicles that could roam future battlefields.
One of the key benefits of these types of platforms, also known as RCVs, is keeping soldiers out of harm's way.
"Fundamentally, a robot is supposed to do the three Ds — dumb, dirty and dangerous tasks," said Maj. Cory Wallace, robotic combat vehicle requirements developer for the Army's next-generation combat vehicle cross-functional team.
Moving through potential minefields or ambush sites are just some examples of these types of operations.
"If you're going into a … situation where it's unknown, much better to put some type of unmanned vehicle in first and get a look around and then you can follow in with manned capability," Army Chief of Staff Gen. James McConville said during a recent meeting with reporters.
The service's RCV campaign of learning will include three live experiments between now and fiscal year 2024 that will increase in complexity and scope over time. Virtual testing will support each live event.
"We're learning lessons very, very cheap in a virtual experiment," Wallace noted. "We can refine platform requirements and we can learn some of the lessons for the tactics, techniques and procedures … in a very cost-effective way that we then can spiral into the live" events.
Phase 1, a platoon-level experiment, was slated to kick off in the March-April timeframe at Fort Carson, Colorado. Surrogate RCVs that are modified M113 armored personnel carriers will be accompanied by control vehicles known as Mission Enabling Technologies Demonstrators, or MET-Ds.
The MET-Ds — which are modified Bradley Fighting Vehicles — will host a variety of technologies created by Army Combat Capabilities Development Command such as sensors, autonomy and drive-by-wire kits that could be integrated onto future or legacy platforms, according to Christopher Ostrowski, associate director of experimental prototyping. Personnel in each control vehicle will manage a pair of RCVs during the event.
"We have taken an armored combat vehicle and turned it into a two-man crew operation, and then we have added two RCV operators to each in the back," he said. "We're going to exercise a range of operations to include teleoperation and autonomy via the experiment." Someday, Strykers, joint light tactical vehicles or optionally manned fighting vehicles could serve as control vehicles.
Phase 1 will focus on a cavalry scout platoon enabled by two MET-Ds controlling a total of four RCVs.
"They're going to conduct some really rudimentary reconnaissance tasks that are fundamental to every cav scout platoon — screen, route reconnaissance, area reconnaissance — and then we're also going to have a demonstration with a special operations unit," Wallace said. "I can't really get into what particular unit it is, but the special operations folks will also check to see if this technology is viable to them."
Phase 2, a company-level experiment, is slated to start in the spring of 2022. It will include four additional MET-Ds controlling eight more RCVs provided by industry.
In January, the Army announced its intention to award other transaction authority agreements to QinetiQ North America and Textron Systems to build four light and four medium prototype RCVs, respectively. The companies won a competitive downselect.
QinetiQ will be leading the systems integration work with a modified Expeditionary Modular Autonomous Vehicle, or EMAV, developed by its partner
Pratt Miller.
"We're going to be providing the vehicle and the hardware and a lot of the underlying software that makes that vehicle tick, but the top-level autonomy is government-owned autonomy software that they will continue to develop and refine," said Jon Hastie, QinetiQ North America's director of unmanned systems products. "This is a modular system with an open systems architecture that they can continue to layer new technologies and new capabilities on top of."
The EMAV can reach speeds over 30 mph, weighs 7,000 pounds and can carry 7,000 pounds of payload.
A platform built from the ground-up as a robotic system provides design advantages over manned platforms that have been converted to unmanned systems, he said.
"If you look at the EMAV, it's a flat deck vehicle, which means we can strap anything to it pretty easily," Hastie said. "We can put whatever we want on it, so it's providing that modularity."
The platform has extensive power offload capability because it is a diesel-electric hybrid. It can power equipment such as radios, radars, computers, or even potentially directed energy weapons, he noted. Additionally, it can operate in a run-silent mode using the battery pack for reduced noise signature, he said, while offering increased run time and better efficiency.
Textron's Ripsaw M5 RCV-medium can reach speeds of 40-plus mph, has a combat weight of 10.5 tons and a payload capacity of 8,000 pounds.
It will also have diesel-electric drive and be equipped with sensors developed by partner FLIR Systems that will provide 360-degree situational awareness. FLIR's SkyRaider unmanned aerial system can also be deployed from the vehicle tethered or untethered, said Sean Baity, director of engineering at Textron.
"It allows the persistence and the resilience of a tethered platform, but also the ability to allow that UAS to expand the reach and coverage available to the remote RCV operator," he said.
A FLIR-developed small unmanned ground vehicle can also be deployed from the Ripsaw, he noted.
"There's tremendous opportunity in terms of how do you effectively deploy robots within a maneuver force," Baity said. "We really have provided a solution, M5, built around the idea of flexibility, modularity — because we know that the mission and the best effective way to use this platform is not only yet to be formed and really codified or established within the Army, but it also has so much potential in such a wide range of applications."
The M5 is the fifth-generation version of the Ripsaw, which was developed by Howe & Howe Technologies. Textron acquired the company last year.
"It will really be that Swiss army knife of future combat vehicles where … the vehicle can be changed or modified" for any mission, said Howe & Howe Senior Vice President Mike Howe.
During the phase 2 experiment, the light and medium RCVs will be involved in company-level offensive and defensive operations that are more complex than reconnaissance, Wallace said.
The insights gleaned can be applied to higher level units, he noted.
"We can't take the lessons we learned from a platoon-level exercise and then scale it to a brigade level, but we certainly can do that with a company," he said.
The service will try to conduct a hasty breach using robotic assets, and also employ a remotely operated chemical detection package.
At that point, the initiative will reach a crossroad.
"At the end of phase 2, we're going to take a pause and we're going to decide if the technology we saw in phase 2 is what we deem as a minimally viable product. And if that's the case, we're going to transition to a program of record," Wallace said.
RCV-light and RCV-medium programs of record would start in fiscal years 2023 and 2024, respectively, with an engineering manufacturing and development phase.
However, if the Army determines that the systems from phase 2 require further maturation before the service moves to a program of record, it will ask industry to provide purpose-built platforms for phase 3 in fiscal year 2024.
"The requirements we gave industry for phase 2 are roughly 10 to 20 percent of the must-haves for the RCV. The purpose-built is going to be about a 90 percent match for our draft requirements," Wallace said. "It is our way of de-risking the requirements … for the actual program of record."
Regardless of the decision about a program of record, phase 3 will include a "wet gap crossing."
"What that translates to in plain speak is crossing a body of inland water, whether it be a lake or river, because a wet gap crossing is something we feel falls into the three Ds," Wallace said.
The service will also upgrade the systems from the previous round.
"We're going to have contractors take the phase 2 platforms … and we're going to spiral in a bunch of new software specifically focused on autonomy. We're going to de-risk lethality systems. And we're also going to de-risk modular mission payload integration," he added. "All those improvements we make will then be spiraled back into the programs of record."
As part of phase 3, the Army will also put a drive-by-wire kit on mobile protected firepower platforms as a surrogate for an RCV-heavy variant until the service is ready to pursue a prototype.
Some observers see that type of vehicle as a potential eventual replacement for the Abrams tank.
"The RCV-heavy is arguably the hardest problem to solve," Wallace said. "For example, if it's going to be a decisive lethality wingman, it needs to be able to fight as well as a manned tank crew. So how do we make a turret that has the same kind of lethality on a platform that a tank has, but has an autoloader that can load rounds just as fast as a human tank crew?"
Another challenge is that the vehicle will likely be much lighter than legacy tanks.
"If an Abrams is weighing between 70 and 80 tons these days, how do we provide that same level of survivability and protection on something that weighs approximately 25 to 30 tons?" he said. Active protection systems are a potential solution, he noted.
"Before we sign the government up to move into a program of record, we need to do our due diligence to mature those key technologies and enable senior leaders to make an informed decision" about how to pursue an RCV-heavy, he added.
The Army will hold another open industry competition for any future RCV program of record.
"We are completely committed to including as much competition as possible," Wallace said.
The service plans to pursue a more traditional acquisition approach for the program rather than OTA agreements, but still move relatively fast.
The aim is to have first unit equipped in fiscal year 2028, but that date could shift.
"We're going to need to work with industry to determine if that's going to be possible," Wallace said.
The maturity of autonomy technology will be a factor in meeting that timeline.
"We're going to continue to spiral in more and more autonomy as we go forward," he noted. "Right now, we're in the realm of what we call augmented tele-op. By phase 2 we're relatively confident that we'll be reaching the cusp of semi-autonomy. But we need to make sure that we're able to reduce the cognitive burden of the operator for these to be value-added within a formation. So based on where autonomy is at and based on where industry is at, it's going to dictate if we can achieve that goal."
In terms of weaponry, RCV-lights in a future program of record will be expected to be capable of defeating softer targets like infantrymen and trucks, but primarily serve as an "expendable" reconnaissance vehicle, he said.
The RCV-medium will carry more firepower to defeat more challenging threats, while the RCV-heavy "brings everything it needs to the party to deliver decisive lethality" against a wide range of targets, he added.
The Army is also interested in other types of payloads such as electronic warfare, counter-UAS and smoke-generation capabilities.
"We are always on the lookout for advanced reconnaissance sensors … to be able to perform the reconnaissance mission at farther distance than we are today," Ostrowski said.
Unmanned aerial systems capable of being launched from RCVs could be a key enabling technology, he noted.
Howe sees robotic combat vehicles as the wave of the future.
"I think in 10 years much of the battlefield, if not all of the battlefield, will be comprised of RCV-type vehicles that allow the soldier to create that standoff and still maintain a sense of lethality but at reduced risk to them," he said. "It's 100 percent the future of the U.S. Army as well as all the armed forces."
A key question is how much autonomy these vehicles will have in performing their missions.
"I don't necessarily see the notion that we're going to have robots that are out there and fighting on their own without any type of person in the loop," McCon­ville said.
The adoption of artificial intelligence and other enabling technologies could leave military personnel in more of a decision-making role, he added, where machines do most of the work and humans decide whether to authorize the release of ordnance.
McConville noted that robotic systems have limitations, including a lack of critical human attributes.
"They don't feel anything," he said. "That's why you always want people in the loop, at least in my eyes."
Army Secretary Ryan McCarthy noted during a meeting with reporters that machines now have the advantage of being able to crunch large amounts of data in seconds or less.
However, they can't provide context for decision-making as well as humans can. Capability advancements will have ethical implications, he suggested. "It will just be a struggle for policy decision-makers … once the technology matures and the Terminator can go out on the battlefield and kill somebody."
Topics: Robotics and Autonomous Systems