COVID-19 NEWS: Navy to Accelerate Contract Awards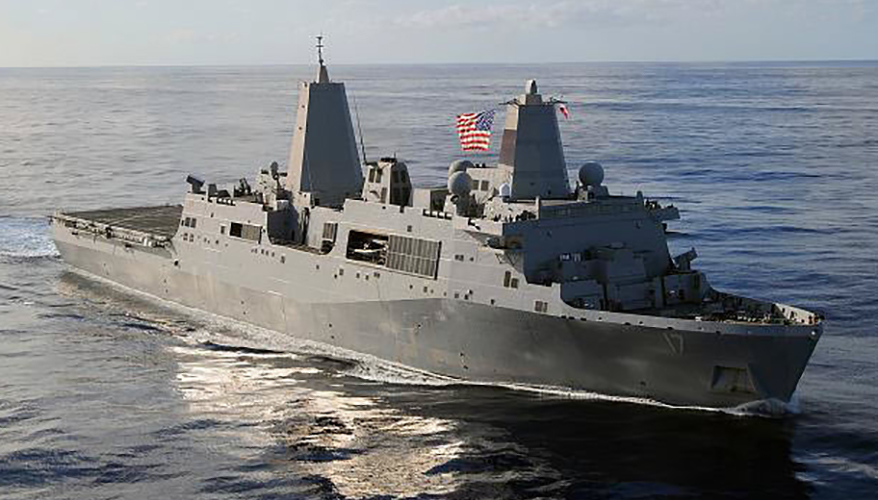 USS San Antonio (LPD 17)
Navy photo
The Navy will award some contracts earlier than planned to mitigate the impact of the COVID-19 pandemic on the defense industrial base, a top service official said April 1.
As an example of the increased urgency, the sea service will award contracts for the LPD-31 amphibious transport dock as well as landing craft utility ships in the coming days, Assistant Secretary of the Navy for Research, Development and Acquisition James "Hondo" Geurts told reporters during a teleconference.
The contracts will be awarded for initiatives that have already been authorized and appropriated by Congress.
"We are moving — and in many cases by several months — efforts to the left," Geurts said. "As individual suppliers and industrial operations deal with their local situation, they can do it knowing that they've got work ready to go … as soon as they're ready to go at their capacity."
That will enable companies to go ahead and put orders in and create more flexibility to deal with delays and disruptions, he noted.
"It allows us to … ensure these companies have the work, they know the work is coming, the employees know the work is coming, the lenders know the work is coming, and the work is actually sitting there" when the recovery period begins, he explained. "If I award the job two months early, theoretically that allows me two months of disruption, plus we'll accelerate recovery."
The accelerated contract awards don't just apply to primes, he noted, but also small business, startups, academia and other organizations that perform R&D.
"We cannot let this crisis impede our continued push for ensuring we have the right technology in the hands of our sailors and Marines five or 10 years from now," Geurts said.
The service is taking other steps to bolster the industrial base including resolving some previous withholds, adjusting contracting terms and allowing billing to occur at a faster rate.
Last week the shipyards pushed hundreds of million of dollars out to the supply base to improve cash flow, he noted.
The pandemic is already causing disruptions to programs.
"It's going to have both a time dimension and geography dimension, and so it will remain a fluid situation," Geurts said.
The crisis is not expected to impact service providers as much as major industrial operations, he noted.
Design and engineering efforts have not experienced much disruption thus far, although modifications have been made for telework and other safety measures, Geurts said.
Major industrial operations have experienced varying degrees of disruptions, he added. "There's certainly some inefficiencies right now in terms of having to space work out."
Officials are keeping an eye on potential hiccups with transportation and distribution networks, as well as the availability of raw materials.
The Navy is especially concerned about lower tiers of the supply chain, which are the most vulnerable to work stoppages and cash flow challenges.
"When you get into the smaller suppliers … if that shop has to shut down because somebody may have been potentially infected, that kind of takes that supplier out for a couple weeks," Geurts said.
The service has already seen lower-level suppliers have to shut down temporarily, although some have come back online. The Navy will continually assess whether suppliers will be able to deliver on time, he noted.
There is also concern that some firms might go belly up or drop out of the supply chain permanently, and the Navy hopes to use stimulus funding and other measures to keep them afloat.
"I hear stories of second-, third- and fourth-tier suppliers that we're worried about going out of business, worried about how they would keep paying their salaries," Geurts said. "Our ability to move and accelerate work into the defense base, and then have that be pushed out to the suppliers is absolutely critical because if they're not there it won't matter when we're ready to recover. We need to make sure they're healthy and ready to roll as we accelerate out of recovery."
Topics: Navy News