Eagle vs Dragon: How the U.S. and Chinese Navies Stack Up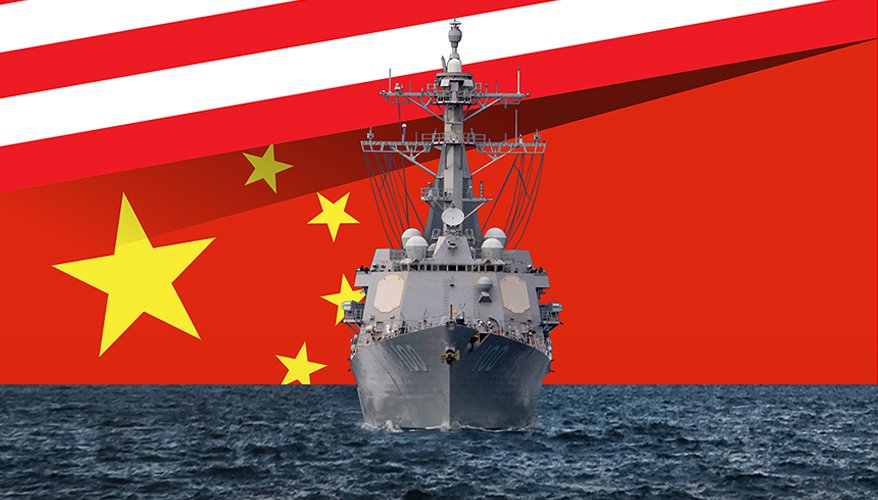 National Defense photo-illustration with iStock, Navy photos
The United States has been the world's leading maritime power for decades. However, the U.S. Navy could find itself in China's wake if current trends continue, analysts say.
Washington and Beijing are now locked in great power competition.
"The biggest challenge for U.S. national security leaders over the next 30 years is the speed and sustainability of the [People's Republic of China] national effort to deploy a global navy," said retired Capt. James Fanell, who previously served as head of intelligence for the Pacific Fleet.
The modernization of the Chinese navy, also known as the PLA Navy, has been underway since the 1990s, and its fleet has greatly expanded.
In its annual report on China published last year, the Defense Department stated that its Asian rival has more than 300 surface combatants, submarines, amphibious ships, patrol craft and other specialized vessels.
In 2019, China had a 335-ship fleet, about 55 percent larger than in 2005, according to a recent Congressional Research Service report titled, "China's Naval Modernization: Implications for U.S. Navy Capabilities — Background and Issues for Congress."
"There is no doubt that they've been investing hugely in this," said Nick Childs, senior fellow for naval forces and maritime security at the London-based International Institute for Strategic Studies. "In recent years, they've been outbuilding everybody."
To put it in perspective, during a recent four-year period the naval vessels that Chinese shipyards produced were roughly equivalent in tonnage to the entire U.K. Royal Navy or the Japanese Maritime Self-Defense Force, according to Childs.
Meanwhile, the U.S. Navy has 293 ships in its battle force, just two more than it had 15 years ago. Its leaders aim to increase the fleet to 355 vessels, but analysts say that isn't feasible unless there is a massive increase in the shipbuilding budget or a change in the mix of the fleet architecture toward less expensive platforms such as unmanned systems.
"Given the past 20-year trajectory of PRC naval ship construction, the PRC's expressed desire and ability to continue to increase its spending on naval shipbuilding, the cost advantages its shipbuilding industry enjoy compared to foreign naval shipyards and Chinese shipbuilders' continued trend of indigenous technical mastery of complex designs and systems integration, I expect the PLA navy will continue to surpass the U.S. Navy in the number of warships built for the foreseeable future," Fanell said during remarks at the Hudson Institute last year.
Fanell estimated that by 2030, the Chinese fleet will have a surface force of over 450 ships and a submarine force of about 110 boats. However, predicting its future size and structure is challenging because the government is opaque about its ambitions, other analysts say.
"The planned ultimate size and composition of China's navy is not publicly known," O'Rourke said. "In contrast to the U.S. Navy … China does not release a navy force-level goal or detailed information about planned ship procurement rates, planned total ship procurement quantities, planned ship retirements and resulting projected force levels."
But it's clear to experts that the nation's maritime capabilities are improving. China is rapidly retiring older, single-mission warships in favor of larger, multi-mission vessels equipped with advanced anti-ship, anti-air and anti-submarine systems, sensors and command-and-control networks, according to a 2019 Defense Intelligence Agency report titled, "China Military Power: Modernizing a Force to Fight and Win."
In his CRS report, Naval Specialist Ronald O'Rourke said Chinese ships, aircraft and weapons are now comparable in many respects to those of Western navies.
However, when it comes to aircraft carriers, the United States is still dominant, analysts say.
China currently has only two carriers. The Liaoning entered service in 2012. The nation's first fully indigenously built carrier, the Shandong, entered service in December.
The former is conventionally powered, has an estimated full-load displacement of 60,000 to 66,000 tons, and reportedly can accommodate an air wing of 30 or more fixed-wing platforms, according to O'Rourke. The Shandong features some design improvements and may be able to operate a larger air wing of 40 aircraft.
The vessels, lacking catapults, launch fixed-wing planes using an inclined "ski ramp," he noted.
"By comparison, U.S. Navy aircraft carriers are nuclear powered — giving them greater cruising endurance than a conventionally powered ship — have a full-load displacement of about 100,000 tons, can accommodate air wings of 60 or more aircraft … and launch their fixed-wing aircraft … using catapults, which can give those aircraft a range/payload capability greater than that of aircraft launched with a ski ramp."
A third Chinese carrier is under construction, and a fourth may begin construction as early as 2021. These future vessels may have a displacement of 80,000 tons to 85,000 tons and be equipped with electromagnetic catapults rather than a ski ramp, which will improve the range and payload capability of the fixed-wing aircraft.
China reportedly plans to develop a carrier-capable variant of its J-20 or FC-31 fifth-generation stealth fighters, as well as a carrier-based stealth drone, O'Rourke noted.
"Chinese aircraft carriers could be used for power-projection operations," he said. However, "in a combat situation involving opposing U.S. naval and air forces, Chinese aircraft carriers would be highly vulnerable to attack by U.S. ships and aircraft. But conducting such attacks could divert U.S. ships and aircraft from performing other missions in a conflict situation."
Childs said Beijing appears to be aiming for at least a six-carrier fleet, while Fanell predicted it will eventually acquire 10 or more.
The United States currently has 11 nuclear-powered aircraft carriers, and is acquiring new Ford-class platforms, which are designed to enable a 33 percent increase in sortie generation rate relative to legacy vessels. The lead ship, the USS Gerald R. Ford, is undergoing post-delivery test and trials. Follow-on ships John F. Kennedy, Enterprise and
Doris Miller are scheduled to be delivered in 2024, 2028 and 2032, respectively.
The service plans to deploy stealthy, fifth-generation F-35C fighter jets on its carriers, as well as an unmanned aerial tanker known as the MQ-25 Stingray.
Meanwhile, China's submarine force, most of which are diesel-electric powered, could threaten U.S. carriers or other ships. The Defense Intelligence Agency has estimated that by this year Beijing's fleet would increase to about 70 boats.
It includes nuclear-powered attack submarines, or SSNs, such as the Shang class, and ballistic missile boats, or SSBMs, in the Jin class.
China's subs are armed with anti-ship cruise missiles, wire-guided and wake-homing torpedoes, and mines, and each Jin-class boat is expected to be armed with 12 JL-2 nuclear-armed ballistic missiles, according to O'Rourke.
Fanell said with new production facilities, China may soon be able to launch two SSNs and one SSBNs annually, giving it as many as 24 SSNs and 14 SSBNs by 2030.
However, he acknowledged that "some may scoff at this estimate" and consider it inflated.
The U.S. Navy currently has 69 submarines. It recently signed a contract for a block buy of nine Virginia-class, nuclear-powered attack submarines that will be equipped with the Virginia Payload Module to boost each vessel's Tomahawk cruise missile carrying capacity by about 75 percent.
It is also pursuing a new class of 12 nuclear-powered ballistic missile subs, the Columbia, to replace the aging Ohio class. Each boat will carry 16 Trident II nuclear weapons.
The lead ship is scheduled to be on patrol by 2031.
In the meantime, the Chinese are steaming ahead with building surface combatants.
The Pentagon's China report noted that Beijing "remains engaged in a robust surface combatant construction program, producing new guided-missile cruisers (CG), guided-missile destroyers (DDG) and guided-missile frigates (FFG) which will significantly upgrade the [PLA Navy's] air defense, anti-ship and anti-submarine capabilities."
The first Renhai-class cruiser, which reportedly displaces between 10,000 and 13,000 tons, was commissioned into service in January.
Luyang III class destroyers, which displace about 7,500 tons, are equipped with phased-array radars and vertical-launch missile systems that are broadly similar to those on U.S. Navy cruisers and destroyers, O'Rourke said. The ships have been in serial production and the 23rd vessel was launched in December.
The PLA Navy is also building a new class of corvettes called the Jiangdao at a fast clip, O'Rourke noted. The first was commissioned in 2013, and dozens have already entered service.
In September, China launched the first of a new class of amphibious assault ships called the Type 075 that has an estimated displacement of 30,000 to 40,000 tons, compared to 44,000 tons for the U.S. Navy's America class.
"Although larger amphibious ships such as the … Type 075 would be of value for conducting amphibious landings in Taiwan-related conflict scenarios, some observers believe that China is building such ships as much for their value in conducting other operations, such as operations for asserting and defending China's [territorial] claims in the South and East China Seas," O'Rourke said.
The U.S. Navy is bringing new vessels of its own online.
The DDG-1000 Zumwalt-class destroyer, which will displace about 15,600 tons, has a unique design to make it stealthier to enemy radar. It can carry a hefty load of missiles, and its energy storage capacity is expected to enable the vessel to carry high-powered lasers or electromagnetic railguns.
"We changed the mission set for that platform from a land attack destroyer to a surface strike mission, and we're incorporating that capability on that platform as we go forward," Program Executive Officer for Ships Rear Adm. Bill Galinis said at the Surface Navy Association's annual symposium.
Final delivery of the lead ship was slated for this year following combat systems activation. It is scheduled to achieve initial operating capability in September 2021. However, the program has been trimmed to just three vessels, far less than the original goal of building 32.
The multi-mission Arleigh Burke-class DDG-51 destroyer program is in serial production with 21 ships currently under contract. The upgraded Flight III variant will include a more advanced radar for air-and-missile defense, and the baseline 10 Aegis weapon system. First delivery of the Flight III is slated for fiscal year 2023.
The service's littoral combat ship comes in two variants, the Freedom and the Independence, each with a displacement of more than 3,000 tons. Nineteen have been delivered and 16 more are on contract. The Navy is now arming the platforms, which were originally intended for near-shore operations, with new missiles and other capabilities to enhance their lethality against a peer competitor such as China.
Looking ahead, the service has plans for a new multi-mission frigate known as FFG(X). A contract award for design and construction of the vessel — which is expected to be equipped with the advanced Aegis weapon system — is slated for this year.
The Navy also aims to award a contract for a new large surface combatant in the coming years.
"We're going to continue to refine the requirements on that … [and] look at the capabilities that we want to bring into that," Galinis said. "Think bigger, longer-range weapons, more computing power, more electrical power on that ship."
Meanwhile, the second of the America-class "big deck" amphibious assault ships, the Tripoli, was scheduled for delivery this year. The vessel was designed to carry the F-35B short takeoff/vertical landing stealth fighter.
Although manned platforms will remain a key component of the nations' fleets, officials and analysts see unmanned systems as the wave of the future. They are expected to be less expensive and keep sailors out of harm's way. Robotic vessels could be used for a variety of missions, including intelligence, surveillance and reconnaissance, and offensive strike operations.
"It will be something that serious naval powers will have to address in the future because the technology is enabling new capabilities," Childs said. "If you're not part of that game, then you're going to be seriously handicapped."
Last year Beijing launched a prototype of a multi-role robotic surface vessel called the JARI, according to a story in the South China Morning Post, citing a Chinese defense industry publication.
The so-called "mini Aegis destroyer" is to be equipped with advanced radar and other electronic systems, a 30 mm cannon, air-defense weapons, and a variety of munitions including anti-ship missiles and anti-submarine torpedoes. It will be able to reach speeds of 42 knots and have a range of 500 nautical miles, according to the report.
Meanwhile, the U.S. Navy is pursuing a family of small, medium and large unmanned surface vessels and unmanned underwater vessels, also known as USVs and UUVs, respectively.
Some small UUVs are already out in the fleet and operating today, and can be deployed from surface vessels for missions such as counter-mine warfare.
The service is pursuing bigger systems, such as the extra-large Orca, that can be pier-launched.
"On UUVs we're a few years ahead of where we are on USVs," Rear Adm. Doug Small, program executive officer for integrated warfare systems, said at the SNA symposium.
Testing and experimentation with large USV prototypes like the Sea Hunter is ongoing. The platform has demonstrated an ability to sail from Hawaii to California with limited human intervention.
Large robotics ships are expected to be fielded later in this decade. But more work remains to be done, Small said.
"This is not 15 years out … [but] we need to get through the prototype phase first, and that's where my focus is," he said.
Seth Cropsey, director of the Hudson Institute's Center for American Seapower, said the service is moving too slowly with this revolutionary technology.
"It has enormous potential for complicating an enemy's problem, for multiplying the force that we're able to apply not only in East Asia, but everywhere around the world," he said.
But platforms aren't the only part of the equation when it comes to measuring naval power, experts note. Weapon systems — enabled by sensors, communications networks, well-trained sailors and sound operating concepts — are also critical. China and the United States are both developing and fielding new missiles and other advanced weaponry, and the race is on to see who can pack the most punch.
So which country's navy is lord of the seas?
"U.S. and other observers generally assess that while the United States today has more naval capability overall, China's naval modernization effort … has substantially reduced the U.S. advantage, and that if current U.S. and Chinese naval capability trend lines do not change, China might eventually draw even with or surpass the United States,"
O'Rourke said. "In the South China Sea, some observers are concerned that China has already drawn even with or even surpassed the United States."
Rival Navies Aim to Pack Heavier Punch
Both the United States and Chinese navies are beefing up their weapons arsenals to avoid being outgunned if their great power competition turns hot.
China is believed to be fielding advanced anti-ship ballistic missiles, including the Dong Feng-26 with a maximum range of about 2,160 nautical miles, said Ronald O'Rourke, a naval specialist at the Congressional Research Service.
"Observers have expressed strong concerns about China's ASBMs, because such missiles — in combination with broad-area maritime surveillance and targeting systems — would permit China to attack aircraft carriers, other U.S. Navy ships, or ships of allied or partner navies operating in the Western Pacific," he said in a recent CRS report titled,
"China's Naval Modernization: Implications for U.S. Navy Capabilities — Background and Issues for Congress."
The U.S. Navy has not previously faced a threat from highly accurate ballistic missiles capable of hitting moving ships at sea, he noted.
Beijing's military also has an extensive inventory of anti-ship cruise missiles including some advanced ones such as the YJ-18.
"The relatively long ranges of certain Chinese ASCMs have led to concerns among some observers that the U.S. Navy is not moving quickly enough to arm U.S. Navy surface ships with similarly ranged ASCMs," O'Rourke said.
The Navy is pursuing new munitions of its own, including Block 5 Tomahawks, a modified Standard Missile-6, the Long-Range Anti-Ship Missile and the Naval Strike Missile.
The Defense Department recently announced that it has fielded a low-yield, submarine-launched ballistic missile nuclear warhead, the W76-2, on its boomers.
Other next-generation weapons, such as directed energy, are headed to the fleet.
"Lasers are here to stay," said Rear Adm. Doug Small, program executive officer for integrated warfare systems. "We're already making installations on some ships — smaller, lower power systems. We're certainly hoping that [the Office of Naval Research] is going to put out some higher power lasers, and we are well on the path to integrating lasers as a warfighting capability on our ships."
Both the U.S. and China are also working on hypersonics — highly maneuverable weapons that can travel at speeds greater than Mach 5 and pose a new challenge for enemy defensive systems.
Top Pentagon officials see it as a potentially gamechanging technology, and are warning that the Chinese have been conducting far more hypersonic tests than Uncle Sam.
Last year, the Navy unveiled plans to refurbish its Launch Test Complex at China Lake, California, to improve air- and underwater-launch testing capabilities for the conventional prompt strike program. The service plans to conduct flight tests of a hypersonic glide body this year.
Seth Cropsey, director of the Hudson Institute's Center for American Seapower, said the technology could shift the balance between the United States and China if there's a significant lag between when one side fields it and the other follows suit.
In a recent message to servicemembers, Acting Secretary of the Navy Thomas Modly said, "When it comes to hypersonic weapons, our command today must be 'all ahead full.'"
China's Home Field Advantage Creates Logistical Challenges for U.S. Navy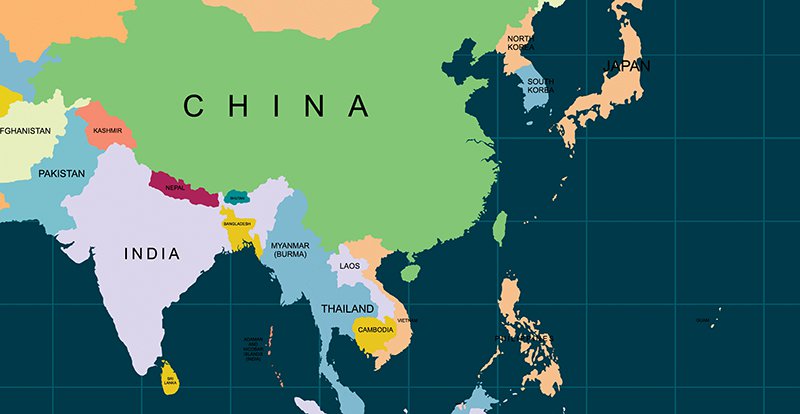 While the naval modernization race between the United States and China has global implications, the biggest potential flashpoint is the Asia-Pacific region.
Michael Swaine, a senior fellow at the Carnegie Endowment for International Peace and a Chinese security studies specialist, anticipates a long-term competition.
"The greatest strategic challenge that Beijing's naval modernization will pose for the U.S. and its allies over at least the next decade will occur in the Indo-Pacific, and especially in the Western Pacific within the first and second island chains," he wrote in a paper last year titled, "The PLA Navy's Strategic Transformation to the 'Far Seas': How Far, How Threatening, and What's to Be Done?"
"This amounts to a fundamental shift in the maritime power environment within that critical region from one dominated by U.S. military power to something approaching an unstable balance between the U.S. and allied forces on the one hand and Chinese forces on the other," he added.
Geography would be a critical factor during any major conflagration in that area of operations, analysts say. The U.S. Navy has global responsibilities, and much of its fleet is based on the Atlantic Coast or other locations far from Asia. Chinese forces, on the other hand, aren't stretched as thin, and they would also enjoy homefield advantage.
"Only a certain portion of the U.S. Navy might be available for a crisis or conflict scenario in China's near-seas region, or could reach that area within a certain amount of time.
In contrast, China's navy has more-limited responsibilities outside China's near-seas region, and its ships are all homeported along China's coast at locations that face directly onto China's near-seas region," said Ronald O'Rourke, a naval specialist at the Congressional Research Service.
In a conflict inside the first island chain, U.S. naval forces would also generally have much longer supply lines to maintain, he noted in a recent CRS report titled, "China's Naval Modernization: Implications for U.S. Navy Capabilities — Background and Issues for Congress."
Nevertheless, U.S. observers should "stop hyperventilating," Swaine said, and take steps to balance against Chinese threats.
That could include a more dispersed pattern of force deployments, greater numbers of anti-ship and anti-aircraft missiles, less reliance on forward-deployed aircraft carriers, and a greater reliance on unmanned systems, submarines and anti-submarine warfare capabilities, he suggested.
"The U.S. is not going to build its way out of the current deepening naval confrontation with China," Swaine said. "It will need … a denial-oriented naval posture in the Asia-Pacific and a level of technological sophistication second to none."
Topics: International, Maritime Security, Navy News