VIEWPOINT GLOBAL DEFENSE MARKET
Viewpoint: China Chipping Away at the West's Defense Market Share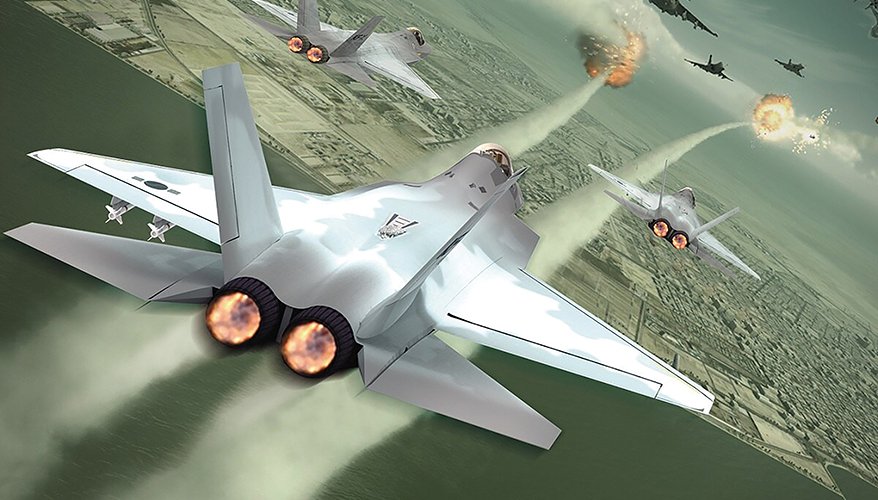 KF-X fighter rendering
Korea Aerospace Industries image
For several decades Chinese arms manufacturers produced low-cost weapon systems that could not match the sophistication of the long-dominant Western arms manufacturers in the United States and Europe.
However, recent advances in defense equipment have enabled Chinese defense contractors to compete more effectively while retaining lower prices, making Chinese arms an increasingly attractive choice for customers worldwide. Opportunities for future Chinese arms sales — which could total more than $275 billion over the next decade — include many niche footholds through which China can further chip away at the market share of Western defense contractors.
As Chinese firms continue expanding their ability to compete in the defense marketplace, Western contractors need to be aware of the factors that may attract customers to China such as: constrained defense budgets; strong interests in supporting local defense industrial bases; imperatives to diversify arms suppliers; and growing gaps between customer political positions and the West.
Buying Chinese becomes even more appealing when coupled with China's willingness to finance arms sales with large loans, which place few restrictions on end use of its weapons.
Many customers who have considered purchasing weapons from Chinese contractors have small military procurement budgets that could not support the high cost of Western equipment. Cash-strapped customers, such as those in South America and Southeast Asia, face either volatile economies or competing national economic development priorities, both of which can divert funds from defense budgets and constrain procurement of imported arms.
Chile provides a good example of government funds being diverted to other priorities. Chile recently repealed its "Copper Law," which mandated that the state-run mining company Codelco send 10 percent of its export sales to the military. In the past decade, the Copper Law directed more than $12 billion to the Chilean military, but lower copper prices have hurt Chilean government income, decreasing the funding available to re-invest into the upkeep of Chile's mining sector and limiting the funds available to route to the national economic and social safety net. By repealing the Copper Law, Chile will divert funds from the military to these other parts of the government budget and the mining sector.
Currency fluctuations can also have a significant effect on defense budgeting. For countries like Argentina, Brazil and Indonesia, which have seen their currencies lose significant value, the subsequent loss in purchasing power can significantly constrain the ability to import military equipment. Argentina is one of the more extreme cases, with the peso dropping from about nine pesos to the U.S. dollar in 2015 to nearly 60 pesos to the dollar at the end of 2019. Not only does this make it more difficult for Argentina to pay for imported equipment, it has also led an expansion in personnel spending, as Argentina understandably must prioritize paying its personnel before importing equipment.
Even smaller currency fluctuations can have large effects. The Indonesian rupiah lost about a fifth of its value against the Korean won between 2016 and 2018. During this time, Indonesia encountered severe difficulty funding its share of the KF-X fighter for which South Korea was leading development. This loss in value of the rupiah contributed significantly to Indonesia's decision to stop payments to South Korea, and the two countries are still re-negotiating the terms of their cooperation on the development of the KF-X.
Other customers may turn to China to help support local defense industrial interests, whether that means importing foreign expertise or supporting jobs in the defense industry. Some countries like South Africa and Turkey have well established local defense industrial bases that support thousands of jobs and millions of dollars in export revenue, but low orders or difficulty acquiring foreign technology has jeopardized the health of these industrial bases.
With advances in technology, China can now export high-tech defense expertise that would be valuable to other defense industrial bases. For instance, South Africa's Denel has long been plagued by financial issues, due to low orders and a shrinking portfolio of weapons and equipment. Denel signed a memorandum of understanding with China's Poly
Group in 2016 regarding cooperation in maritime systems, an area Denel has not been able to address with its own products.
By contrast, Turkish defense contractors, such as TAI and Roketsan, have been greatly expanding their portfolio of weapons, aspiring to become a significant weapons exporter.
But the Turkish S-400 purchase and souring relations with the West have jeopardized Turkey's ability to import key subsystems needed for its products. Turkey is now seeking new partners to continue developing its defense industrial base. The country occupies a key position in China's Belt and Road Initiative, and it is the target of a wide range of infrastructure and technology investment from China.
High-level meetings between defense officials of the two countries have been increasing in frequency. Moreover, China already has some history of cooperation with the Turkish defense industry, with Turkey's Yildirim missile based on the Chinese B-611 missile that Turkish firm Roketsan produced under license. There appears to be fertile ground for
Turkey to reach out to China as a key partner in advancing and expanding its defense industrial base.
Diversification of defense suppliers is another broad trend most notably exemplified in the Arabian Peninsula with Qatar and Saudi Arabia. As a result of Qatar's isolation led by Saudi diplomatic action, Qatar bought 72 fighter jets from the United States, France and the Eurofighter consortium — far more than the dozen French Mirage fighters operated by the Qatari Air Force. Meanwhile, Saudi Arabia has seen some suppliers, like Germany and South Africa, block arms exports to Riyadh.
The German block came as a result of Saudi Arabia's ongoing war in Yemen, while the recent South African block stemmed from a dispute over transfer of South African arms to third parties. Politics has proven to have the potential to severely disrupt arms sales, even when the customer has pressing security needs.
Regardless of the reasons for stopping an arms sale, customer countries are hedging by establishing relationships with multiple defense suppliers. Outside of the Arabian Peninsula, Egypt, Indonesia and the Philippines have all expressed interest in diversifying their sources of defense equipment, including from China.
The trend to diversify defense suppliers is linked to the desire to ensure a steady flow of arms in the event of an armed conflict. Nearly $1.2 billion in sales of Chinese unmanned aerial systems to various customers in the Middle East who are actively engaged in hostilities comes as the result of the United States' reluctance to sell similar drones. This includes a significant Saudi purchase estimated at $700 million, encompassing extra costs for technology transfer and local production. Even if the United States were to reverse its reluctance to sell such technology, future Saudi production of Chinese drones also means that Chinese contractors can continue to sell weapons, spare parts and support services for those aircraft in the future.
Considering the wide use of Chinese drones in the Middle East, the Saudi manufacturing facility for the CH-4 could even be the manufacturing site for future CH-4 sales in the region, or basis for a support facility for CH-4s operating in the Middle East.
The long-standing effects of switching defense suppliers can be better seen in Indonesia where Western countries largely supplied the Indonesian military under President Suharto from 1967 to 1998. In 1999, the United States imposed an arms embargo on Indonesia after human rights abuses in the 1999 East Timor Crisis; the timing could not have been worse, as an insurgency in Aceh province intensified following Suharto's fall the previous year. A few years later, the Indonesian military ordered its first fighter aircraft from Russia's Sukhoi in 2003. Even though the embargo was lifted in 2005, it continued to order Sukhoi fighters, which now form a significant portion of the Indonesian air force. Russian contractors also won subsequent contracts for weapons to go on the Sukhoi fighters, spare parts and maintenance services.
Although Western contractors are likely to remain dominant for the foreseeable future, Chinese arms manufacturers may chip away at Western market share by breaking into growing niches of the defense marketplace. These niches are opening thanks to the increasing sophistication and low prices of Chinese arms, combined with various budgetary, industrial and political factors that affect customers around the world.
Chinese companies may not win every defense contract that they pursue, but there is ample market space with customers that face some combination of the above factors. Western defense contractors will need to be keenly aware of the confluence of these factors in order to identify the customers and opportunities that will pit them against stronger Chinese competition.

Aaron Lin (alin@avascent.com) is a research associate at Avascent, where he tracks international defense market trends and maintains Asia-Pacific data in the Avascent Analytics Global Platforms & Systems database. To download the full white paper, "New Customers for Chinese Weapons: Opportunities for Chinese Arms Exports in the Western Defense Marketplace," visit http://bit.ly/2sIDBiU.
Topics: International