Army's Gray Eagle Prepping For Multi-Domain Operations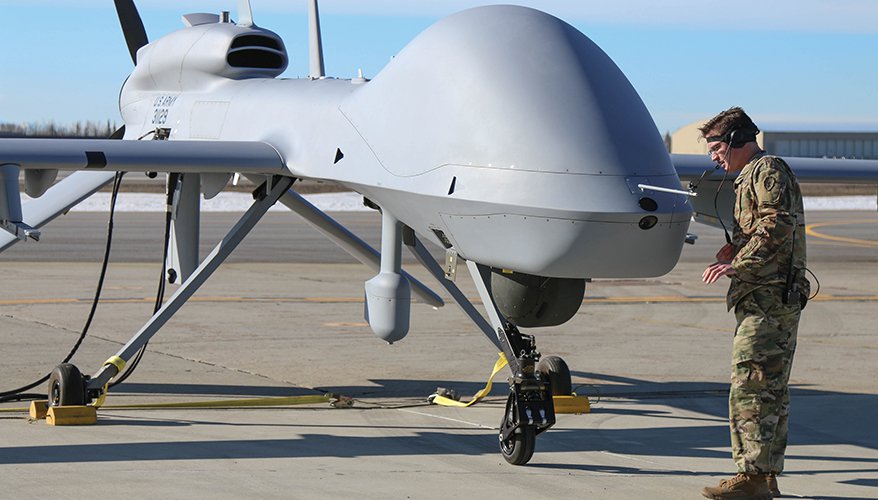 A soldier inspects the airframe of an MQ-1C Gray Eagle.
Army photo
General Atomics Aeronautical Systems is upgrading the Army's long-endurance, medium-altitude Gray Eagle drone so it can be a big player in future multi-domain operations.
As an armed unmanned aerial system with a maximum speed of 150 knots, the Gray Eagle is a multipurpose platform that provides capabilities such as reconnaissance, surveillance, intelligence, target acquisition, communications relay and electronic warfare.
The service completed operational testing and began fielding the extended range variant in 2018 and 2019. The service has an Army acquisition objective of 204 aircraft, according to fiscal year 2021 budget documents.
General Atomics, the program's prime contractor, is now upgrading the system so it can counter adversaries in multi-domain operations. MDO is an Army warfighting concept meant to set the stage for fights against near-peer adversaries and multiple types of threats. The concept is helping the service shape its modernization efforts and is set to become official doctrine. By 2028, the Army hopes to have a force ready to fight in more contested environments.
"As increased threats arise in Pacific and European theaters, the modernized Gray Eagle ER will provide resiliency and survivability by taking advantage of the latest satellite communications technologies," said Chris Pehrson, the company's vice president of strategic development for Defense Department customers.
To help the service reach this goal, General Atomics is holding a series of multi-domain operations demonstrations to show how the Gray Eagle can be a key player in the process. During a demo in November, the UAS used a Lynx Block 30A long-range synthetic aperture radar/ground moving target indicator, to detect targets up to 46.6 miles away, according to a company news release. Imagery provided by the system also provides precise coordinates to assist long-range precision fires platforms.
Additionally, the company has a plan to control demonstrations using scalable command-and-control software on a laptop, which is expected to eliminate the need for a ground-control station or vehicle. This is "drastically reducing the system's logistical footprint and supporting the Army's vision for interfaces to the aircraft from across the battlefield," the company said.
A second demonstration was held in January and a third is scheduled for June, Pehrson said. The events are being held at Yuma Proving Ground, Arizona.
"The demos are designed to highlight the unmatched capability of the Gray Eagle [extended range] to support a wide range of missions, payloads and effects against near-peer threats," he said in an email. "As a low-risk, low-cost option, an MDO-equipped Gray Eagle ER [complements] Army Futures Command initiatives to provide a stand-off platform equipped with stand-in effects."
The demonstrations also include integration of additional long-range sensors and communications packages, according to the company. The Gray Eagle will serve as an air-launched effects, or ALE, "mothership" and carry a variety of systems. Air-launched effects are drones that can perform tasks such as intelligence, surveillance and reconnaissance or multi-function electronic warfare.
"The launching and controlling of ALEs from [Gray Eagle extended range] could potentially increase the survivability and effectiveness of current and future manned aviation systems with intelligence, targeting, communications, jammers, decoys and kinetic effects," the news release said.
In December the company announced it was awarded modernization contracts to upgrade the Gray Eagle's avionics, datalinks and software. The improvements have an open-architecture concept so it can take on government-owned software and rapidly integrate long-range sensors.
"The Army is investing in the Gray Eagle system because they get a tremendous performance increase as a return on their investment," David Alexander, the company's president, said in the release. The platform "provides the U.S. Army with a UAS that adjusts to the changing threat environment and mission needs with unmatched endurance."
Payload improvements are expected to assist future Army platforms — such as the future attack reconnaissance aircraft and the future long-range assault aircraft — by filling capability gaps, Pehrson said. The systems, which are part of the service's future vertical lift program, will one day replace the UH-60 Black Hawk, AH-64 Apache, CH-47 Chinook and OH-58 Kiowa helicopters.
"As an enduring system in the aviation portfolio, GA-ASI believes Gray Eagle ER can operate from safe sanctuary, maintain extreme persistence, and has the size, weight and power to deliver winning effects on the battlefield," he said.
The upgrades include a new datalink software solution, which is expected to be 40 percent cheaper and 30 pounds lighter than previous components, he noted. The equipment has a volume of 1.5 cubic feet and a power consumption of 900 watts.
The improvements will help the Gray Eagle work beyond the reach of adversaries' air defenses due to its long-range radar, intelligence and targeting systems, Pehrson said.
These can help the Army detect, identify, locate and report targets for its long-range precision fires missions.
These capabilities are also expected to be complementary to the service's long-range precision fires efforts, which is one of the Army's top six modernization priorities. The service has been directing money towards these initiatives in its future years defense program.
Tom Karako, director of the missile defense project at the Center for Strategic and International Studies, said the service is looking for enabling technology that will assist its long-range precision fires systems rather than just focusing on improving its munitions.
"Whether it's Gray Eagle or other things, it shows that the Army is thinking seriously about the full kill chain, not just long-range rockets and missiles," he said.
However, the service is simultaneously trying to develop more systems with longer ranges, he noted. For instance, the Army has the extended-range cannon, the Army tactical missile system and the long-range hypersonic missile.
"As the Army says, they want their howitzers to look like rockets, they want their rockets to look like missiles and they want their missiles to go farther," he said. "As we begin to grapple with the need to counter, penetrate and disintegrate the adversaries' [anti-access/area denial] bubbles, range is going to be a piece of that so that we can do so from a stand-off position."
When pursuing capabilities that can help the service complete the kill chain, the Army must keep several things in mind, Karako noted.
New platforms are "going to have to have some degree of cost-effectiveness, redundancy and mass, because the other side is … not going to let us fly one explicit platform around," he said. "We're going to have to have these things be resilient."
Although the multi-domain operations demonstrations are internally funded, the Army is interested in finding additional payload systems and sensors for the Gray Eagle extended range, according to a request for information released by the General Services Administration in January.
"The MDO support equipment will include capabilities to detect, identify, locate, report and share information on enemy threats," the RFI stated. "The MDO support equipment will be payloads on the MQ-1C Gray Eagle UAS having software and hardware that will be common, open, modular and scalable."
Some of the capabilities and features at General Atomics' demonstrations address those mentioned in the notice, while others were based on a continuing dialogue with the Army acquisition, requirement and concept development communities, Pehrson said.
The RFI said the service is looking for items such as radar warning receivers, electronic intelligence payload systems and synthetic aperture radars/moving target indicators. The systems should be interoperable, the notice stated.
"Multi-domain operations support equipment are payload systems and sensors to be integrated onto MQ-1C Gray Eagle UAS to penetrate defense-in-depth anti-access and area denial environments, sense, identify and geolocate enemy threat radar and communication systems that are encompassed in the integrated air defense systems," the notice said.
Equipment should be at technology readiness level 6 or higher, meaning it is ready to be integrated onto a Gray Eagle for a demonstration within 18 months.
Additionally, General Atomics is examining ways to increase the drone's strike range. In August, the company held a demonstration using a Dynetics GBU-69B small glide munition. The event was held in California in collaboration with the Army and Dynetics, an information technology company headquartered in Huntsville, Alabama, according to the announcement.
"The increased stand-off range of the SGM enhances Gray Eagle ER's survivability and mission effectiveness when operating in contested airspace," Alexander said in the release.
The weapon's light weight is also expected to help the Gray Eagle carry more munitions at one time. It can reach farther ranges when launched at maximum altitude, "which means it can effectively engage threats in a multi-domain operations environment while staying out of the engagement zones of threat weapons," according to the company.
The Army plans to continue modernizing the Gray Eagle in 2021, according to budget documents.
"This modernization effort will enable multi-band communication for beyond-line-of-sight data transmission, replace obsolete processors and improve system processing, and increase both throughput and memory capability," the budget justification documents said.
The Army did not respond in time to a request for comment.
Topics: Army News, Robotics, Robotics and Autonomous Systems