Navy Vows Better Outreach for Trainer Development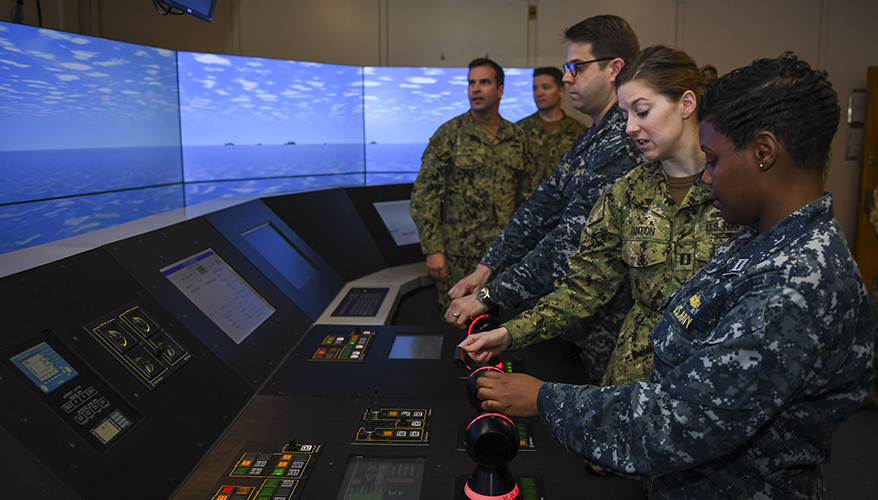 Navy photo
The Navy program charged with developing high-tech training systems for sailors wants to do a better job communicating its needs to industry.
Bob Kerno, surface training systems program manager, acknowledged that it hasn't always been easy for vendors to put ideas in front of his organization in the past. It needs help with cybersecurity, interoperability and rapid insertion of new capabilities into its trainers.
"One of our goals is to make PMS 339 available to industry to talk so they can help us with these challenges," he said at a briefing at the Surface Navy Association's annual conference in Arlington, Virginia.
"Maybe in the past it has been a difficult pathway to do that, but we're here to try to make it so we can take advantage of the technologies — whether it's gaming or other areas — to get to the sailors," he said.
"We are open to having [companies] come in separately and brief us and talk to us about their capabilities. And if those capabilities match up with where we are going with our requirements, then we can refer them to whatever [acquisition] method we are using," he added.
PMS 339 is building or maintaining more than 300 trainers at 15 different sites throughout the world. It also develops requirements and technology with user input, then maintains feedback mechanisms to see how systems can be improved.
Opportunities include the Marine Skills Training Program, which is seeking to consolidate all such skills within the Surface Warfare Officers School. It has some $500 million budgeted for the program through fiscal year 2025, Kerno said.
Part of that will be the fielding of an integrated navigation seamanship and ship-handling trainer over the next five years. The renewed emphasis on steering is a result of the two Navy ship collisions that occurred over the span of three months in 2017. The Navy is re-inventing the way it teaches navigation skills.
"As a result of the collisions and a result of the comprehensive review, determinations were made to revamp [the surface warfare officer] and enlisted navigation training continuum," he said.
The courses include ancient skills such as using paper charts and doing celestial navigation with sextants, he added. Sailors may have to operate in GPS-denied environments.
Vice Adm. Richard Brown, commander of naval surface forces for the Pacific Fleet, said the service has set up a maritime warfare officer tactical training working group led by the Naval Surface and Mine Warfighting Development Center.
"This group is charged with determining the skills required for each tactical milestone in a surface warfare officer's career, and how these skills will be trained to, developed and assessed so that we fully prepare officers and warfare commanders for tomorrow's fight," he said in a speech at the conference.
The service has built combined integrated air-and-missile defense/anti-submarine warfare trainers, or CIAT, in San Diego and Norfolk where watch-teams of Aegis combat systems are immersed in the same types of environments they might encounter when underway at sea, Brown said.
There will be opportunities for training and simulation companies going forward as the Navy wants to continuously upgrade these systems.
Topics: Navy News, Training and Simulation