Raytheon Completes First Antenna Array For New Radar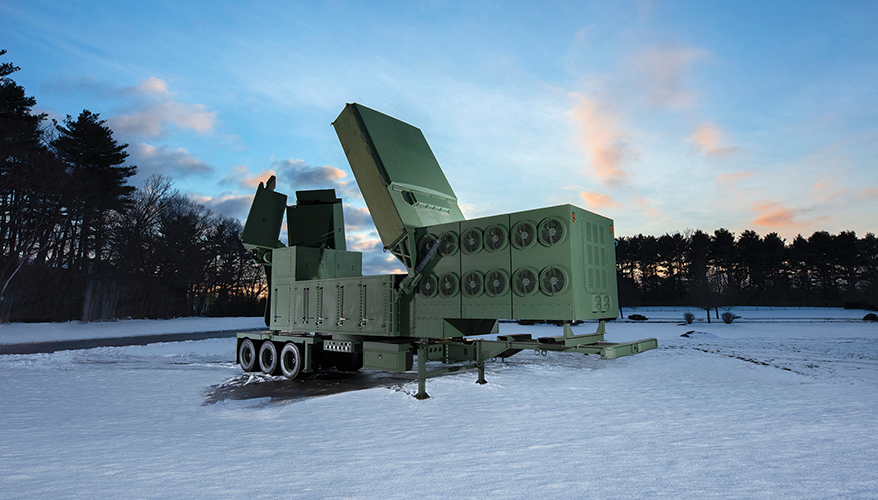 Full-scale model of Raytheon's lower tier air-and-missile defense sensor
Raytheon photo
Raytheon has built the first radar antenna for its new lower tier air-and-missile defense sensor, a company executive said.
Bob Kelley, director for business development and strategy for integrated air-and-missile defense, said the company is putting the antenna "through a series of tests in an indoor test facility where we measure the output [radio frequency] area, we make sure that it's operating and performing correctly and make any adjustments that need to be made."
Following the adjustments, the company will mount the antenna on a precision-enclosed shelter and test it outdoors with "targets flying against it," Kelley said.
The technology will boost capability for ground-based air defense relative to legacy systems.
The Army awarded the company a $383 million contract last year for six radars for the next-generation system.
The radar will have three fixed arrays that will provide 360-degrees of support for detecting and tracking, Kelley noted.
The platform is powered by gallium nitride, a material that is a "far more efficient [and] far more powerful transmitter than what's on the Patriot radar today," Kelley said. "You're going to see really more than double the performance of the Patriot radar that's out there today."
Two other antenna arrays are currently in production. The company will begin overall testing with just one main array but will be adding the others in the near term, Kelley said.
Raytheon is on track to deliver the six production units in the third quarter of fiscal year 2021. The military plans to rigorously test the system and field it to the Army in 2022, he said.
The service is utilizing Section 804 rapid prototyping authorities to speed up the program, he noted.
"It is a rapid pace but right now we are … working very closely with the U.S. government on this," Kelley said. "We are on schedule and on track to make the timelines that the government is looking for."
Topics: Battlefield Communications