BREAKING: Boeing Unveils Future Attack Reconnaissance Helo Concept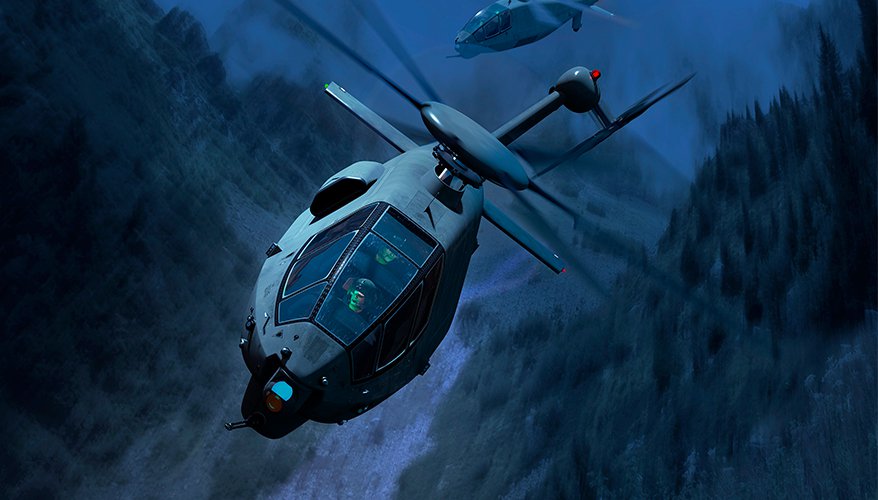 Boeing image
Boeing is offering a new, clean-sheet design helicopter for the Army's future attack reconnaissance aircraft, or FARA, program, the company announced March 3.

The platform — which is currently nameless — features a thrust compounded single-main rotor with a six-bladed rotor system, a single engine, tandem seating, a modular cockpit with a reconfigurable display and a fly-by-wire design.

"This is a perfect opportunity to go after a clean-sheet approach," said Shane Openshaw, FARA program manager at Boeing. It "meets the requirement and gives us an opportunity to innovate within that trade space on a clean-sheet design and not be constrained by an existing design to come to a solution," he added.

Openshaw noted that the company has recently seen success with other new design offerings such as the MQ-25 Stingray aerial refueling drone and T-7A Red Hawk trainer aircraft.

However, despite a clean-sheet design, the company is not inventing anything new, he told reporters during a teleconference.

"We are taking mature technologies and capabilities and we're improving upon them and integrating them," he said.

One example is the main rotor system. That technology was first built and tested during the YUH-61 Vertol helicopter competition, he noted.

Boeing is "using the mature technology and improving upon it and integrating it into a new configuration," he said. "The manufacturing processes and capabilities of technology that have evolved since then made that particular type of rotor system much more viable and much more capable in the platform that we've developed."

The company also took lessons learned from its other attack reconnaissance platforms such as the Apache and Little Bird systems as it designed its FARA offering, he said.

Openshaw declined to disclose specifications for the aircraft such as speed and range, but said the system is anticipated to meet Army requirements. The service wants the platform to reach a cruise speed of at least 180 knots at 4,000 feet in 95-degree temperatures.

FARA is part of the Army's future vertical lift modernization effort, which is envisioned as a family of new helicopters that will replace the service's aging platforms.

The program is meant to fill an important need for a scout platform after the divestment of the OH-58D Kiowa Warrior. That mission set is currently being performed by AH-64E Apache attack helicopters paired with Shadow unmanned aerial systems.

Last spring, the Army awarded other transaction authority agreements for prototypes to five companies for design work: Boeing, Bell, Sikorsky, Karem Aircraft and an AVX Aircraft Co.-L3Harris Technologies team. Since the award, Karem announced that Northrop Grumman and Raytheon Corp. had joined its venture. Bell also revealed it is working alongside Collins Aerospace Systems.

The Army is planning to downselect to two vendors sometime this month. Those chosen will build prototypes for a flyoff that will take place in fiscal year 2023.

In President Donald Trump's 2021 budget request, the Army asked for $514 million for FARA, which fills "a critical capability gap for a lightweight attack/reconnaissance aircraft while significantly increasing speed, range, survivability and lethality," according to budget documents.

Fiscal year 2021 funding completes the final design phase. Two vendors will be chosen to design, build and test an aircraft during a competitive prototype phase in preparation for rapid acquisition and fielding, the budget documents said.

Boeing designed its offering with sustainability and supportability in mind, Openshaw said.

The company is "implementing a maintenance-friendly design with access to key components and high reliability components to reduce the amount of workload and costs associated with sustainment of the aircraft," he said.

It is also working on autonomy packages that will give the Army the option for unmanned flight, he added.

"This will be an optionally piloted aircraft by Army requirements," he said. "Their goal is to take this from what will initially be a two-pilot aircraft and ... have the capability to evolve to a one-pilot capability and ultimately optionally piloted."

When the aircraft only has one pilot the workload associated with that particular crew member will be handled via an onboard autonomous capability, Openshaw said.

"This is not remotely piloting this aircraft, but a truly autonomous capability will be built into the ... the aircraft from the get-go," he said.

Boeing's FARA offering in its prototype phase will have "all the hooks necessary" to support basic autonomous flight capability, Openshaw added. For example, the prototype could potentially start, taxi, take off, perform its mission, return, land, taxi and shutdown autonomously.

"If we were to exercise that capability in the prototype phase, it would certainly be with a safety pilot or safety pilots onboard, but the capability that will be in the aircraft from a fly-by-wire and mission processing and vehicle processing perspective would be able to accomplish at least that level of autonomy," he said.