ROBOTICS AND AUTONOMOUS SYSTEMS
U.S., Australia Make Progress on Robotic Jets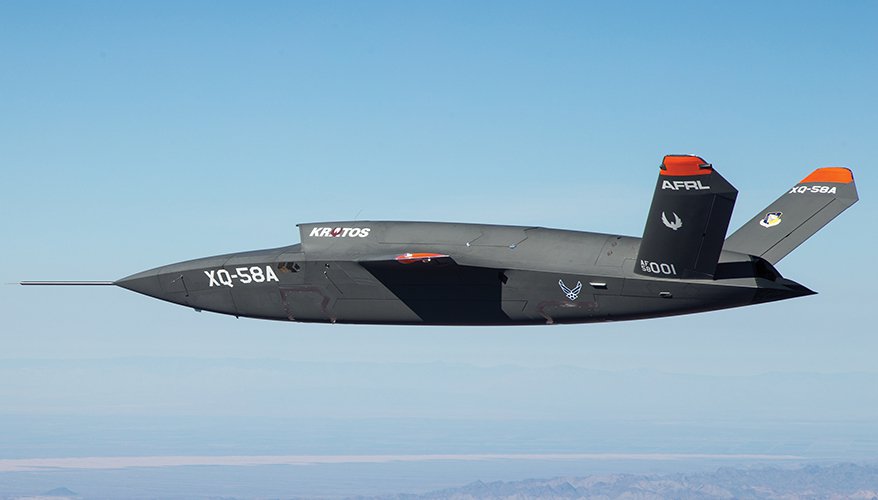 XQ-58A
Air Force photo
The U.S. Air Force and Royal Australian Air Force are making progress with efforts to develop unmanned jets that can serve as "loyal wingmen" for manned counterparts. Under the concept, robotic systems can accompany fighters as decoys, weapons carriers or sensor platforms.
The U.S. Air Force's effort is dubbed the XQ-58A Valkyrie demonstrator, which is an unmanned, long-range, "high subsonic" aircraft, according to the service. The platform is being developed by Kratos Defense and Security Solutions and falls under the Air Force Research Laboratory's low-cost attritable aircraft technology portfolio.
"We've been flying very regularly since March of 2019 as we demonstrate the system and evaluate different mission capabilities, and effectively perform different mission scenarios in these flights," said Steve Fendley, president of Kratos' unmanned systems division.
The system's first flight lasted for over an hour at Yuma Proving Ground, Arizona, the Air Force said in a news release. The service will hold multiple flight tests over two phases to test the system's functionality, aerodynamic performance and launch and recovery systems.
The most recent flight test was in January, according to Kratos. The company was awarded a $40.8 million cost-share contract from the Air Force Research Lab in 2016 to develop the design.
Kratos developed Valkyrie from a clean-sheet design, and is intended to be a low-cost, affordable solution for tactical unmanned aerial systems operations, Fendley said. This year, the company is focusing on integrating mission systems into the aircraft. The system is 27 feet long and runway-independent, according to Kratos.
In October, the company found an anomaly, which was fixed in time for the January flight, Fendley said. The problem occurred with the aircraft's parachute recovery system.
The system is not included in the final operational design, he noted.
"We completely redesigned that part of the system," he said, noting that the previous one had been provided by subcontractors. "We took that part over … and demonstrated it successfully. It worked perfectly in our last flight."
Kratos has already begun manufacturing the vehicles ahead of an expected Air Force production contract award. The company is working on 12 aircraft and opened a new production facility in Oklahoma City, Oklahoma, over a year ago. Planes are scheduled to begin rolling off the line in the first quarter of 2021, Fendley noted.
"My expectation is by the time we get to even completing the first airplane, we will likely have more orders than we have built airplanes, at that point, based on our current forecast," he said.
Although the company is waiting on Air Force production agreements, the company has received Defense Department contracts for Valkyrie mission system integration and demonstration testing in the meantime, Fendley said.
Kratos has "high faith" in the loyal wingman concept, and the company is confident that it is possible to build an unmanned, attritable vehicle within a reasonable cost range, he noted.
Mike Wipperman, the Air Force's XQ-58A program manager, said the service hopes to build an aircraft for $3 million or less.
Fendley said: "The most important thing that we've learned is, we can, in fact, build and deliver an unmanned, attritable aircraft that is in the cost range that satisfies the attritable requirement and still meet the subsonic performance range that you need to be able to be an effective loyal wingman."
In April, the Valkyrie will be participating in a Defense Department demonstration by serving as the communications link between an F-35 joint strike fighter and an F-22 Raptor. The Valkyrie will be equipped with critical communications equipment for the event, he said.
Meanwhile, "as a part of that flight demonstration, we're performing the translation function between those two, something that the military has been looking to do for some number of years," he said.
The Air Force is looking at the feasibility of using attritable aircraft that can take the brunt of an adversaries' attacks. However, Wipperman said the service is still fleshing out specific details on how unmanned aircraft can be used in missions.
"Ongoing modeling and simulation efforts continue to provide insights for vehicle utility in operation, but no definitive mission has been released since [a low-cost attritable strike demonstrator] is a research-and-development program and not an operational system," he said in a written statement. "Due to the aircraft's demonstrated success, many discussions have started about how to continue to provide examples of operational capability."
Its true test will be deployment and demonstration of repeated usage without sustainment through depot maintenance, he said. "An objective of attritable aircraft is to greatly reduce [operational-and-sustainment] costs."
Boeing Australia is also working on a research-and-development effort with the Royal Australian Air Force through the loyal wingman advanced development program. The company's aircraft is called the airpower teaming system, or ATS, which is about 38 feet long and can fly over 2,000 nautical miles, according to the company.
Jerad Hayes, director of autonomous aviation and technology at Boeing defense, space and security sector, said the aircraft will be able to support a broad range of missions.
"It is an ideal aircraft to support force training requirements and can be used independently or in support of piloted aircraft," he said in an emailed statement. "ATS is designed to have 5th-generation flight characteristics, enabling cooperative operations with existing assets in the same flight regime."
Plans include building three prototypes, which will be used to demonstrate operational concepts.
However, "Boeing has the capability to rapidly build additional aircraft should the need arise," Hayes said. First flight is scheduled for this year in Australia, he said, declining to provide specific dates.
So far, the company has learned that the loyal wingman concept can augment existing capabilities, he said. This will require a platform that is limited in cost. Operators should also be able to make changes to the platform to adjust for different missions.
"Embedded in this mindset is use of model-based design and development, advanced manufacturing techniques and designing a system for operational flexibility," he said.
Boeing declined to provide specific information on the platform's sensors and payloads, but Hayes noted that they can be swapped out quickly to meet different needs.
"In general, the airpower teaming system 'baseline' aircraft is one that each customer can tailor via the ATS' modular design, where sensors/payloads can be swapped out quickly for varying mission needs," he said. "This ultimately results in variants that provide exactly what each customer wants — using local industry capabilities as applicable — for the specific missions they have."
To demonstrate the platform's mission flexibility, the company created a "digital" twin of the aircraft that has been flown under various scenarios to test missions systems performance, he said.
Boeing is also incorporating artificial intelligence capabilities into the aircraft. These are critical because autonomous platforms need to be able to fly independently and safely while working alongside manned counterparts, he noted.
"The artificial intelligence algorithms and behaviors not only have to be created but also extensively tested in the lab and in the field," Hayes said. "In Australia, that work is well advanced."
The company has fielded a team of 15 autonomous testbed aircraft to explore and refine autonomous control algorithms, data fusion, object detection systems and collision avoidance behaviors.
"Some of those testbeds are high-performance jets that have flown up to [186 miles per hour] in teamed flights to test our autonomy and AI technologies," he said.
The company has two goals for the aircraft, developing prototype unmanned "loyal wingmen" to see how these could support future missions and providing key lessons toward future production of its airpower teaming system, Hayes noted.
Potential uses for the aircraft include tactical early warning and intelligence, surveillance and reconnaissance, he added.
"It is an ideal aircraft to support force training requirements, and can be used independently or in support of piloted aircraft," he said. "Its modular design has enough payload capacity to perform a range of missions, and the platform can be fueled and reconfigured to rapidly reconstitute mission capability in the field."
Boeing finished the platform's major fuselage structural assembly, and the next milestone will be "weight on wheels," which is when the fuselage structure is moved from the assembly jig to the aircraft's landing gear to continue systems installation and functional testing, Hayes said.
Fifteen other Australian companies are also working on the aircraft, according to Boeing. For example, BAE Systems Australia is providing flight control computers and navigation equipment and RUAG Australia is providing the landing gear system.
Topics: Air Power, Robotics and Autonomous Systems