VIEWPOINT MARITIME SECURITY
Jones Act Crucial to Ensuring American Maritime Security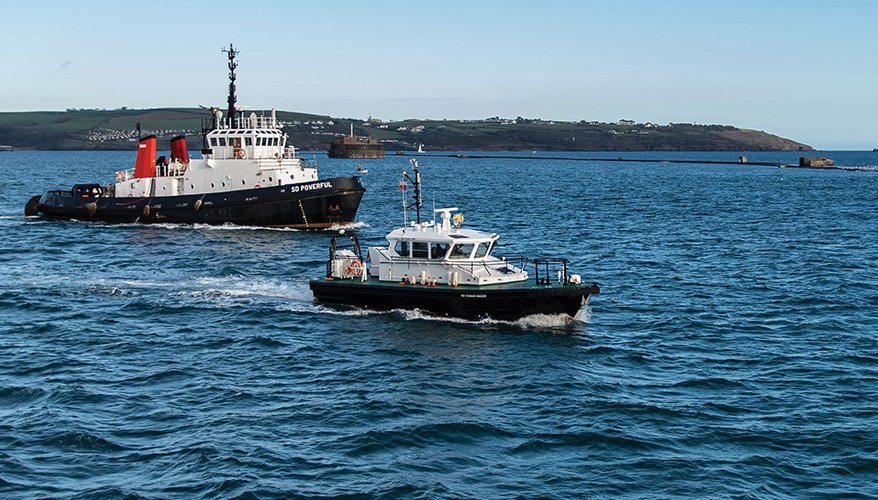 Navy photo by Lt. Izaac Hite
Many Americans don't regularly encounter a tugboat, towboat or barge in their daily lives. But these vessels quietly navigate America's rivers, coasts and Great Lakes, safely and efficiently moving over 760 million tons of commodities every year that drive our nation's economy.
In the process, they support over 300,000 jobs — nearly half of the 650,000 jobs supported by the U.S. maritime industry as a whole.
Even less well-known is the extent to which these vessels that deliver fuel for our homes and cars, building materials for our towns and roads and food for our tables, are also critical to keeping our nation safe.
The tugboat, towboat and barge industry regularly supports Defense Department logistics needs, moving cargo to support military readiness including ground vehicles, bulk jet fuel and marine diesel fuel. The Navy's larger ships, while formidable in battle, are not designed to turn on a dime or maneuver through busy ports on their own — they require tugboats to perform ship-assist maneuvers to help push, pull and guide them into port safely.
And, as the recent Center for Strategic and Budgetary Assessments study, "Strengthening the U.S. Defense Maritime Industrial Base," notes, the domestic commercial vessel fleet serves as the largest source of mariners for U.S. surge sealift operations. None of this critical logistical support should be outsourced to foreign entities.
The crews operating domestic commercial vessels are also proven, reliable partners in support of the U.S. Coast Guard's homeland security mission. These mariners are deeply familiar with their operating environments and the Coast Guard counts on them to serve as "eyes and ears" and report suspicious activity on the waterways. In addition to seeing something and saying something, these mariners also act to save lives — from rescuing passengers and crews from vessels in distress to helping evacuate 500,000 people from Manhattan in the immediate aftermath of the 9/11 attacks, the largest maritime evacuation since Dunkirk.
The tugboat, towboat and barge industry is able to make these contributions because of the Jones Act, the law requiring that cargo shipped between U.S. ports be transported on vessels that are American-built, American-owned and American-crewed. This year marks the 100th anniversary of the Jones Act in its modern form. Similar policies have existed since our nation's founding. Yet a few vocal critics of this commonsense law seek to make this the year that it is weakened or repealed to open domestic routes to foreign vessels and crews. To heed their calls would undermine not only American prosperity, but U.S. national security as well.
Without the Jones Act to keep this vital domestic maritime sector under American control, there would be serious vulnerabilities in our national security landscape.
The Coast Guard's already challenging, high-stakes mission of securing the nation's waterways would be vastly more difficult if not for the Jones Act. By preventing foreign vessels and crews from sailing domestic routes, in close proximity to critical infrastructure like locks, dams, utilities and refineries, the law sharply reduces the presence of potentially high-risk vessels navigating our waters.
There would also be geostrategic consequences to abandoning the Jones Act. The 95,000 miles of U.S. coastline and 25,000 miles of navigable waterways are a key reason for the nation's superpower status. Adversaries and strategic competitors know this and would eagerly seize the opportunity to establish a foothold in the U.S. maritime industry if we were shortsighted enough to allow it.
As the CSBA report notes: "Without the Jones Act's requirements, foreign companies could buy domestic carriers that operate smaller vessels and barges that ply U.S. rivers and intercoastal waterways."
What kind of challenge could that pose for the United States? Consider China, a major player in global maritime and a formidable strategic competitor. According to the CSBA report, China's "government and corporations own the world's largest commercial shipping fleet. … Through the [Belt and Road Initiative], the Chinese government has also slowly but systematically gained port access around the world for commerce, logistics and naval operations." Notably, this activity has caught the attention of Adm. Craig Faller, commander of U.S. Southern Command, who recently testified in Congress in reference to China's growing influence in Latin America and the Caribbean.
"I look around the region and I see China working on multiple port deals, IT infrastructure, dams, mining, logging, fishing. … And I look at the port access that they're pursuing in El Salvador, Jamaica, Bahamas. I ask myself the question, 'Why would China want to buy an island and lock up a 99-year lease for most of the coast of El Salvador, right here within a two-hour flight of the continental United States?' They're trying to achieve positional advantage right here in our neighborhood. And that's alarming and concerning to me. And it drives the sense of urgency with which I look at this competition," Faller said.
Why would the United States ever want to create a pathway for a foreign power to establish a presence in the U.S. domestic maritime industry that positions it to disrupt critical commerce or military readiness?
The U.S. tugboat, towboat and barge industry is indispensable to safeguarding our security in today's complex and rapidly changing world. To give up the Jones Act would be to weaken a significant line of defense on which the nation's prosperity and security rely.

Jennifer Carpenter is president and CEO of The American Waterways Operators, the national trade association representing the U.S. tugboat, towboat and barge industry.

Topics: Maritime Security