U.S. Reintroduction of Landmines Sparks Controversy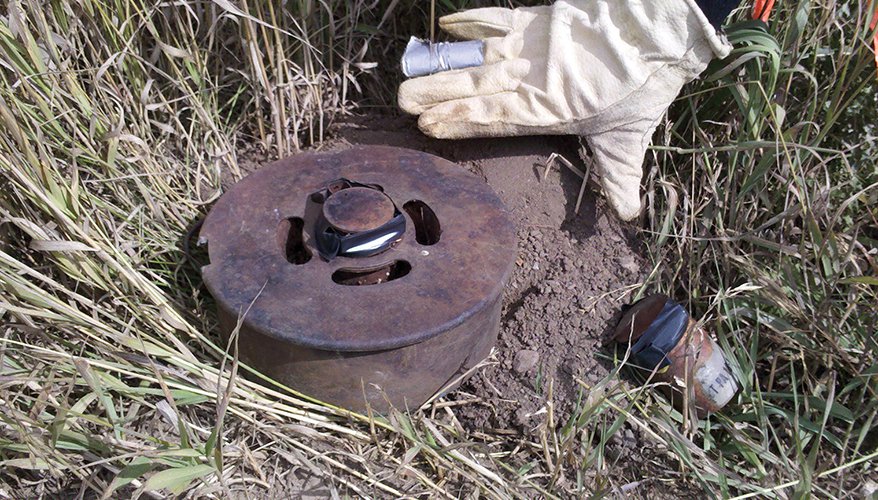 A landmine being located and later disposed of by detonation.
Army Corps of Engineers photo
When the Trump administration announced plans earlier this year to reintroduce antipersonnel landmines into the U.S. inventory of weapons, it triggered a predictable reaction across the political spectrum.
Supporters hailed the move as a necessary step to enhance force protection, particularly in an era that sees China and Russia re-emerging as strategic adversaries. Detractors question the need for a weapon system that addresses a threat that could be confronted in other ways, which also could harm the innocent years after hostilities end.
While the directive effectively reverses a policy put in place by President Barack Obama, the Pentagon's related official statement says the change does not end U.S. compliance to the 1996 United Nations disarmament treaty known as Certain Conventional Weapons Amended Protocol II.
On Jan. 31 — one day after the White House made the change public — the Pentagon issued guidelines to each service and combatant commands. The use of antipersonnel landmines would be used "only if they have compliant self-destruction mechanisms and self-deactivation features, and they are detectable by commonly available mine-detection equipment." Moreover, these mines would be designed to self-destruct within 30 days or less.
Exactly how the process of bringing antipersonnel landmines back into use would progress remains to be seen. Their manufacture and acquisition ended in 2014 and the existing inventory — some 3 million antipersonnel mines — is aging and will likely be useless within the next decade to 15 years. Meanwhile, the decision has launched a groundswell of activity among activists and organizations that are hard set against the resumption of their use.
"I don't understand why the Trump administration would do this, because we haven't been using them anyway," said Ken Rutherford, a political science professor at James Madison University and co-founder of the Landmine Survivors Network. "We don't have landmines in the United States. It's not our kids, our civilians, who are getting hurt by these things."
Likewise, the decision has its supporters.
"The previous [Obama administration] U.S. policy on landmines went against the advice of the military, and not for military reasons," said Theodore Bromund, senior fellow for Anglo-American relations at the Heritage Foundation. "The Trump administration has now reverted that policy to that of the George W. Bush administration, and that policy was correct."
Their use dates back at least as far as the Napoleonic Wars. Landmines have remained part of the battlefield landscape throughout virtually every U.S. and international conflict since. When the presence of what were then known as "torpedoes" became a problem for Civil War Union Gen. William T. Sherman during the 1864 March to the Sea, he ordered Confederate prisoners of war to walk ahead of his troops along paths where they likely had been placed.
Ever since, the debate about where the balance between their strategic efficacy and humanitarian toll has persisted.
Human Rights Watch, a New York-based advocacy group, was a founding-member organization of the International Campaign to Ban Landmines. Their research revealed that legless or otherwise maimed people in war-torn countries like Cambodia, Angola and Afghanistan were not an uncommon sight. Their injuries came from one source — minefields, said Mark Hiznay, associate director for the organization's arms division.
"People faced a stark choice when they had to tend the herd or gather the firewood. To do that, they had to cross the minefield," he said. "The only solution that we foresaw for ending this problem was to ban the use of the weapon — that weapons should not be used in a way that discriminated between combatants and non-combatants."
While the U.S. agreed to the 1996 U.N. agreement regarding certain conventional weapons, it never signed the international landmine ban treaty that emerged from a convention in Ottawa a year later. The Obama administration's 2014 policy change stated that the United States would no longer use antipersonnel landmines anywhere but on the Korean peninsula.
The policy essentially enhanced a similar one put forth by the immediately previous Bush administration, said Paul Hughes, a retired Army colonel and special advisor and director of overseas safety and security at the Washington, D.C.-based U.S. Institute of Peace.
"When Bush 43 came into office, Deputy Secretary of Defense Paul Wolfowitz said that the U.S. military would appropriate somewhere in the neighborhood of a couple billion dollars to this effort — it could even be higher," Hughes said.
The United States also committed to destroying the stockpiles of the weapons that were not required for the defense of Korea. The subsequent actions under Obama placed the nation on a path to signing the mine-ban treaty, Hughes said.
As of today, the United States is one of 34 countries that have not signed the Ottawa treaty — a list that includes major military powers, Hiznay said.
"Many of them are behaving like they've joined the ban. China and Russia are not producing anymore [antipersonnel landmines]. A whole host of countries are taking these steps," he said.
The countries that have signed on, Hiznay said, are those most significantly affected by the weapons — Afghanistan, Cambodia and Angola included.
"The whole objective of this exercise is to stop the humanitarian problem of people losing their arms and legs to mines, by preventing more mines from going into the ground," Hiznay said.
Rutherford pointed out that the United States became the first country in the world to unilaterally ban the export of antipersonnel landmines, and the last domestic production of the weapons ended in 1997.
"I would argue that we have done more than many countries [that] signed the ban themselves, in part because the treaty calls for cleanup," as well as assistance for victims, Rutherford said.
Bromund believes the issue must be viewed within a context that weighs benefits versus humanitarian concerns. Civilians in combat zones face risks from every weapon on the battlefield — not just landmines — he said. Unlike rogue states, the United States follows a military doctrine that mandates use of all weapons in accordance with the best possible practices.
"There is no weapon on Earth that can be guaranteed to never cause harm to civilians," Bromund said. "The question is, can the weapons be used in a responsible way, by responsible military authorities?"
The issue of exactly how many innocents are hurt by landmines is subject to debate. The International Campaign to Ban Landmines, a coalition of non-governmental organizations, estimates that the weapons kill or maim between 15,000 and 20,000 innocent persons every year. Bromund cites evidence he has gleaned from anti-mine advocates that indicate the figure is significantly smaller.
"The question of civilian casualties to landmines has been wildly exaggerated," Bromund said. "Using only sources from landmine-ban advocates themselves, the total global casualties to conventional landmines in 2018 was 332 people. That's casualties as deaths and injuries."
If anything, the era since landmine use became curtailed by the Ottawa treaty has proliferated rather than mitigated their use, Bromund said.
"The era has seen an absolute surge in the use of IEDs [improvised explosive devices] by terrorists and insurgents," Bromund said. "So, what the ban people are in fact asking for is that the U.S. prevent the use of a weapon which deactivates and causes no harm to civilians 99.9 percent of the time."
Insurgents' IEDs, meanwhile, are unconstrained as they cause vastly more civilian suffering, Bromund said.
"This places all the burden of disarmament on the United States, and none ... on the world's autocracies, dictatorships, terrorists and insurgents," Bromund said.
Hughes believes that antipersonnel landmines would serve little purpose as anti-insurgency weapons in combat theaters such as those in the Middle East. He makes the distinction between the IEDs insurgents use and the so-called "dumb" landmines that the policy change addresses. IEDs, Hughes said, function like the U.S. M18 Claymore mines — in that they have to be detonated by the user. The conventional antipersonnel landmines in question are detonated by contact from anyone unfortunate enough to step on them.
Conventional dumb landmines are deployed into areas of interest by artillery.
"If I were a commander on the ground ... and we find a maneuver force out there moving around, I don't want them to go down a particular valley. So I seed the entrance to that valley with a couple of salvos of these mines," Hughes said. "They're laying there on the ground. They can be seen. And you don't want to go near those suckers."
Ideally, the deployed landmines would force the enemy into a "kill sack" the commander would set up, where artillery, machine guns and mortars could destroy the advancing adversary, Hughes said.
That tactic has not been used in Afghanistan or Iraq to his knowledge, Hughes said.
Problems also arise simply because landmines delivered by artillery do not land in predictable patterns, Hughes said. Even carefully placed and plotted landmines such as those used by warring countries in Central America are not foolproof. Should the landscape change, such as it did in Central America after Hurricane Mitch ripped through the region in 1998, even the best efforts to determine mines' whereabouts in advance would go for naught, he said. Likewise, Egyptian citizens still occasionally find mines planted by British and German combatants during the 1942 Battle of El Alamein.
The plan to reintroduce landmines with self-destruct capability mitigates some but not all of these concerns, Hughes said. While self-deactivation virtually eliminates the concern that someone would step on a landmine years later, he said, the ordnance itself still is considered UXO — unexploded ordnance. The necessity still exists, therefore, for trained teams to go in and remove them, or detonate them where they are situated.
"Those are very brave people who do this business," Hughes said. "They're real heroes of mine."
Whether or not the decision to reintroduce antipersonnel landmines is a good one, the interest in developing suitable alternatives remains. Rutherford believes advancing technologies provide the answers.
"We have air drones, technology [that determines] movements, infrared, mobile-unit software in some really bad parts of the world that have more power behind them, historically, than whole divisions and companies," Rutherford said.
Even in potential future hotspots like the frontiers that separate friendly forces from potential Russian and Chinese adversaries, ban proponents believe landmines would provide little if any advantage.
"If you get to that level [of conflict], many other weapons would be in play much earlier," said Jeff Abramson, a senior fellow at the Washington-based Arms Control Association, an advocacy group. "From a military standpoint, it's just really difficult to see where the need for these weapons exists. The administration's argument is that there has been [a] new study saying there is a critical gap against near-peer competitors, where these weapons would need to be used. At face value, that's very hard to believe."
Bromund envisions a different scenario.
Cannot the Russians and Chinese defuse landmines? Of course they can, but it takes time, Bromund said. "The point of landmines is not so much to inflict casualties ... as to shape the battlefield, and slow the initial onrush of an advance, to allow the U.S. and its allies time to respond."
Topics: Fuze, Land Forces