CORONAVIRUS NEWS: Pentagon to Utilize Defense Production Act Authorities to Combat COVID-19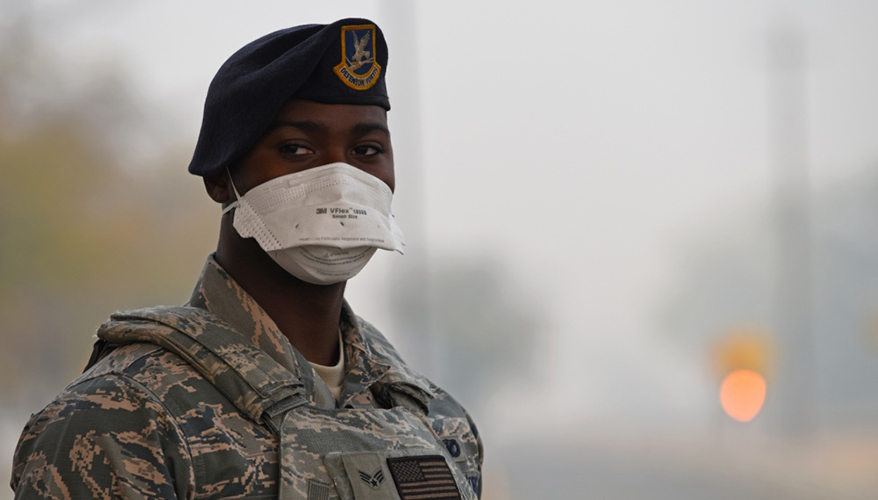 Air Force photo by Tech. Sgt. Shawn Bryant
The Pentagon will leverage authorities in the Defense Production Act to try to bolster the supply chain during the novel coronavirus pandemic, defense officials said March 25.
Jennifer Santos, deputy assistant secretary of defense for industrial policy, said two key elements of the Defense Production Act, or DPA, are in the purview of her office and are currently being used to strengthen the defense industrial base.

Title I "provides the authority to priority-rate defense contracts and to allocate materials in a way that best meets warfighter needs," Santos said during a press briefing at the Pentagon.
Title III "provides the DoD a means to partner with industry to strengthen commercial domestic industrial base capabilities essential to national defense," she said.

Under these authorities, the Pentagon can provide economic incentives to its industry partners to aid in a timely delivery of essential resources and equipment as the nation confronts the COVID-19 outbreak, Santos noted.
President Donald Trump last week said he was invoking the 1950 Defense Production Act, which gives the executive branch the authority to issue directives to private industry to boost the supply of critical materials and items during a war or national emergency. As of press time, Trump did not appear to have used the law to issue any specific directives to industry to deal with the COVID-19 pandemic.

Trump seemed to contradict the Pentagon on Tuesday when he tweeted saying that the Defense Production Act has been invoked, but not yet used.
Reporters asked Undersecretary of Defense for Acquisition and Sustainment Ellen Lord about Trump's remarks.

"I don't want to speak for the president, but I think he is talking about broadly using DPA to, in fact, take over private industry," Lord said. "That's what he has clearly said he is not going to do."

"The White House is very judiciously looking through what sub-segments of DPA they will use," she added.

A new Defense Production Act task force was recently established to coordinate an interagency effort. Santos' deputy, Scott Baum, principal director of industrial policy for the Defense Department, is leading the the task force at the Federal Emergency Management Agency.

"There [he] will actively work with industry and our government partners to ensure Title I and Title III are utilized where needed in concert with the whole of government approach to combat coronavirus," Santos said.

Under Title III, which allows for an infusion of funding into companies so they can meet urgent demands, the Pentagon is currently working with the Department of Health and Human Services, which issued a contract to five companies over the weekend to manufacture N95 masks, Santos said. Health care workers are facing shortages of the personal protective equipment.

Lord said the Pentagon would also consider utilizing the Defense Production Act to start building medicine and manufacturing plants to wean the United States off Chinese supplies.

"Everything is on the table," she said. "We are looking at, short term, using immediate capacity and capability that exists and then augmenting manufacturing sites, research sites that exist right now."

The invocation of the act is giving the military the opportunity to strategically focus its efforts, Lord said. "We are working short term and we are working long term and that is in conjunction with the services, especially the Army, [which] has enormous capability relative to medical research." Army scientists are currently working on a number of potential COVID-19 vaccines.
Lord said the Pentagon already has existing contracts in place for ventilators. It is now a question of whether or not the suppliers can deliver.
"We have a lot of long-term contracts, standing contracts for ventilators," she said. "We have standing contracts for most of our equipment that we release against, so it's a question of what the ability is to fill those contracts."
When pressed for more specific details about how contracts and authorities are being leveraged, Pentagon officials said they would provide them to reporters in the coming days.
Topics: Defense Department, Defense Contracting