Air Force Banging Drum for Arctic Partnerships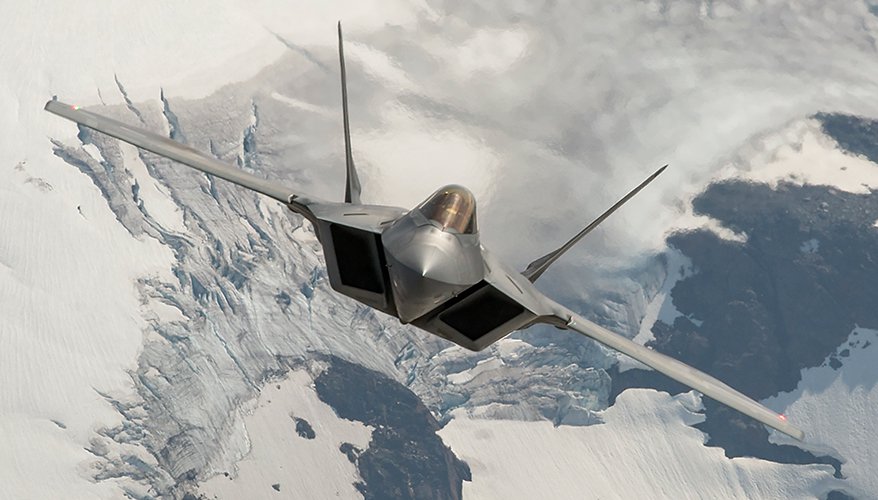 An F-22 out of Joint Base Elmendorf-Richardson, Alaska, conducts training.
Air Force photo by Staff Sgt. James Richardson
ORLANDO, Fla. — With great power competitors Russia and China trying to gain footholds in the Arctic region, the United States needs to increase its partnerships with allies in the High North, the secretary of the Air Force recently said.
"One region pivotal to defense of America's homeland — the Arctic — exemplifies the need to deepen and strengthen our international relationships," said Barbara Barrett.
Historically, the Arctic has served as a strategic buffer for the United States in much the same way the Pacific and Atlantic oceans have previously protected the country from attack, she said during remarks at the Air Force Association's annual Air Warfare Conference in Orlando, Florida. However, today, the Arctic is the probable enemy approach to the homeland.
"The Arctic is ground zero for missile defense in an era of great power competition focused in the Northern hemisphere," she said.
Russia, for example, has staked a claim in the region and is refurbishing abandoned airfields and old infrastructure while building new bases and developing an integrated network of defenses, Barrett said. Meanwhile, China — though not an Arctic nation in terms of geography — has linked the region with its Belt and Road Initiative and has strategic ambitions in the High North.
"America is resolute in defending and protecting international norms of access and navigation as Arctic resources and sea routes gain importance," she said. "It is in the best interest of the United States to maintain a region of stability, common rules and steady governance."
A free and accessible Arctic supported by allies and partners is crucial, Barrett said.
"That's why maintaining strong defense relationships with Arctic nations who are willing to cooperate is critical," she said. "We stand with Canada, Iceland, Norway, Finland, Sweden and Greenland via Denmark."
Barrett — who formerly served as ambassador to Finland — said she once flew in a Finnish air force F-18 fighter jet to observe firsthand the country's defense of Europe's longest border with Russia.
"Russian threats may keep Finland out of NATO membership, but they partner with us and they fly American-made F-18s," she said.
Meanwhile, the Arctic is a critical mission area for the Air Force, she noted.
"Civilian airmen operate the Alaska Radar System that scans the horizon 24/7 and [are] the first line of defense against aggression over the pole," she said.
The Alaska Air National Guard also conducts search-and-rescue operations with Air Force Guardian Angels parachuting from helicopters and HC-130s, Barrett said.
Additionally, the service operates F-22 fighters and C-17 transport aircraft from Joint Base Elmendorf-Richardson, Alaska, along with KC-135s out of Eielson Air Force Base, Alaska.
Topics: Air Force News, Air Power