CORONAVIRUS NEWS: Coronavirus Makes Air Force Worry About Supply Chains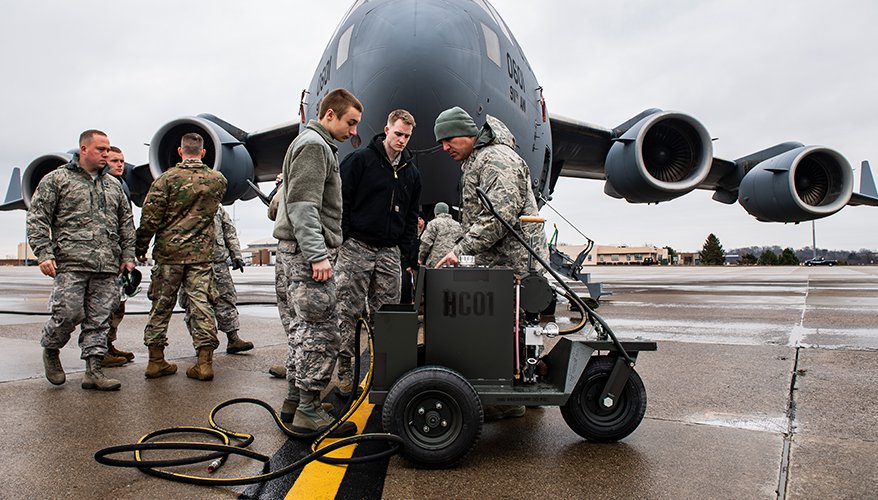 Airmen prepare to service a C-17 Globemaster III
Air Force Photo
The Air Force is concerned that its supply of spare parts and other critical items could be disrupted by the coronavirus, the service's top officer said March 18.

The disease, also known as COVID-19, has infected more than 180,000 people worldwide and killed more than 7,000, including upwards of 100 in the United States. The outbreak has upended the daily lives of Americans, including the shuttering of businesses, forced teleworking, travel restrictions, bans on large gatherings, and "social distancing" measures to limit the spread of the virus.

Undersecretary of Defense for Acquisition and Sustainment Ellen Lord and service leaders such as Assistant Secretary of the Air Force for Acquisition, Technology and Logistics Will Roper are keeping an eye on the industrial base and how it might be affected by the global pandemic, Air Force Chief of Staff Gen. David Goldfein said in a teleconference with reporters.

"To date we have not seen a limitation that's caused us to pause or affect operations in any way, but this is a concern going forward because companies have got to figure out how to keep their [production] lines open with their own social distancing and their own procedures to be able to protect their workforce," Goldfein said. "This is a constant communication that's led by Secretary Lord with industry leaders to make sure that we can keep the trains running."

On March 17, at Lord's direction, Pentagon officials began what will be a daily series of phone calls with defense industry associations, including the National Defense Industrial Association, to discuss COVID-19 updates and get feedback on impacts on industry.

"The department remains fully engaged with the defense industrial base on all programs, and stands ready to respond when needed," Lt. Col. Mike Andrews, a Pentagon spokesman, said in a statement.

Meanwhile, Goldfein said the Air Force has seven confirmed cases of COVID-19.

However, Air Force Surgeon General Lt. Gen. Dorothy Hogg said the number of infected airmen is expected to grow in the coming weeks.

"We do know that our cases will increase just like they are in the general public, and so we are paying attention to those cases and identifying contacts and implementing measures to decrease exposures" to include social distancing, she said.

"Projections are difficult because there's a lot we still don't know about the virus," she added. "We do know that the virus is highly infectious. … We're looking at that and using that as our planning factor."

Goldfein noted that exercises such as Red Flag Alaska, which generally includes hundreds of airmen training for high-end warfare, have been canceled. Additionally, a major advanced battle management system experiment involving industry and high-level Pentagon officials, originally slated for April, has been postponed until June.

As part of the service's social distancing efforts, Goldfein, Secretary Barbara Barrett and Vice Chief of Staff Gen. Stephen "Seve" Wilson have begun teleworking.

"We're sending a message to every echelon of command in the Air Force that if the chief of staff of the Air Force can do it, then they can too," Goldfein said. "The good news is I've got everything I need both classified and otherwise to continue to stay connected."

So far, the coronavirus pandemic has not caused any recruiting problems for the service. "But common sense would say as the nation limits its movement, at some point that is going to have an impact," he said.

Lt. Gen. Brian Kelly, deputy chief of staff for manpower, personnel and services, said recruiting stations remain open, but the service will need to boost its digital and social media engagement with potential recruits to mitigate potential shortfalls.
Topics: Air Force News