Political Battle Brewing Over New Nuclear Program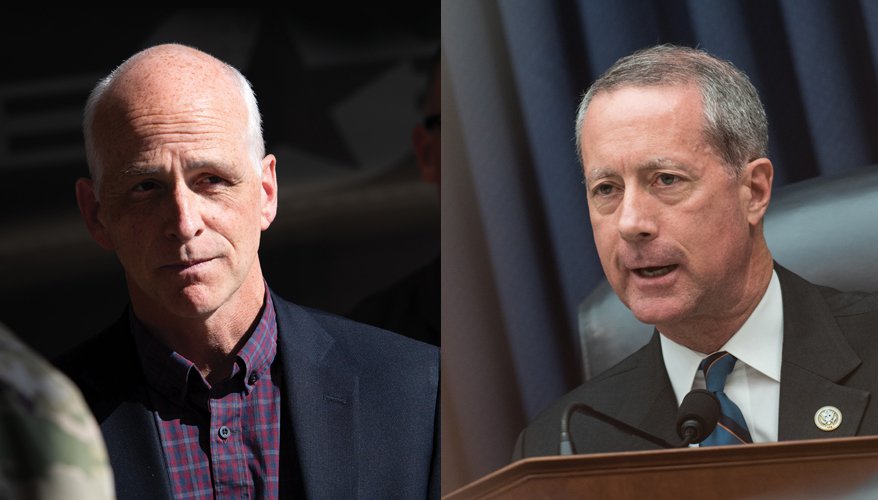 Rep. Adam Smith, D-Wash. (left) and Rep. Mac Thornberry, R-Texas (right).
Defense Dept. photos
The Trump administration's proposal to begin work on a new nuclear warhead program to modernize the nation's aging stockpile is expected to be hotly contested.
For fiscal year 2021, President Donald Trump requested $28.9 billion for the Pentagon's nuclear enterprise. He requested an additional $15.6 billion for efforts by the National Nuclear Security Administration, which manages the stockpile, including $53 million for NNSA work on a new warhead, dubbed the W93.
The Pentagon's budget blueprint includes $480 million for work on the weapon system over the future years defense program, with $32 million slated for 2021.
The W93 is intended for the Navy's submarine-launched ballistic missiles, according to senior defense officials. There are currently two families of warheads for the sea-based leg of the triad: the W76 and the W88.
"Both of these systems are growing old, and so now we must start thinking about a warhead that will replace one of those two when it's time for those systems to retire," a senior defense official told reporters during a background briefing. "These things take a long time. There's a seven-stage process by which we start to develop a warhead."
The W93 will provide U.S. Strategic Command and the Navy a means to address evolving ballistic missile warhead modernization requirements, improve operational effectiveness, and mitigate technical, operational and programmatic risk, Stratcom Commander Adm. Charles Richard said during a recent Senate Armed Services Committee hearing.
"Given the potential severity of impacts on overall deterrence from late delivery of the W93/Mk7, it is imperative [to start] the complex work to identify opportunities to accelerate the development timeline and invest in technologies to reduce schedule risk," Richard said.
"Research-and-development efforts for critical national capabilities, such as fuzes and aero shells, must begin immediately to deliver a capability in the 2030s that maintains a credible at-sea deterrent through the 2050s and beyond," he added.
The Department of Energy has estimated that the program will cost about $10.9 billion in 2019 dollars.
Hans Kristensen, director of the Nuclear Information Project at the Federation of American Scientists, said the $10.9 billion estimate is "low-balling it." A new fuze is also needed, he noted in an email. "New fuzes are expensive."
Other components could increase the price tag.
"The W88 uses the Mk5 [reentry body] but the W93 will likely use a new Mk7, which will add to the cost projection," Kristensen said. "A W93 using Mk7 obviously will be more expensive than the standard life-extension programs."
The warhead will be based on previous designs and will not require any nuclear testing, and the program won't increase the size of the stockpile because it will replace older warheads on a one-for-one basis, defense officials say.
Nuclear modernization programs, especially those related to warheads, have put Republicans and Democrats at loggerheads in the past.
"This will be, I predict, the probably most contentious issue in this year's defense authorization bill about modernizing the stockpile," House Armed Services Committee Ranking Member Rep. Mac Thornberry, R-Texas, said during recent remarks at the Brookings Institution. "There is a temptation to say, 'Oh, it's worked pretty well so far. Why do we need to mess with it and spend all this money?'"
Thornberry said the nuclear arsenal needs to be modernized.
However, Democrats may not go along with the W93 plans.
"Congressional leadership has yet to receive the military requirement or justification for another new nuclear warhead," a spokesperson for HASC Democrats said in an email.
"As recently as July 2019, the Department of Energy projected it would begin work on this warhead in 2023. Work on this new warhead will add billions of dollars to an already strained nuclear modernization plan."
HASC Chairman Rep. Adam Smith, D-Wash., "looks forward to reviewing and considering NNSA's budget request to better understanding their priorities and plans," the spokesperson added.
Topics: Budget, Strategic Weapons