JUST IN: Army Future Long-Range Assault Aircraft Agreements Total $181 Million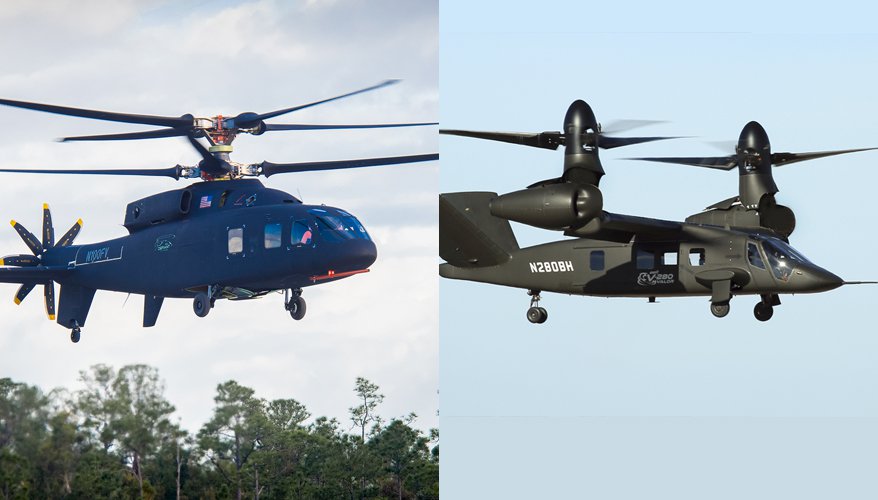 Army photos
The Army's recently awarded other transaction authority agreements for the future long-range assault aircraft add up to $181 million, officials said March 17.
On March 16, the service announced it had selected Bell Textron and a Sikorsky-Boeing team for the FLRAA competitive demonstration and risk reduction effort, which will be held prior to a program of record competition. Under the OTAs, the companies will deliver initial conceptual designs, requirements feasibility and trade studies using model-based systems engineering, according to the Army.
"We absolutely want to use this time appropriately to ... really burn down the risk for the program of record and get our requirements ... executed up front," Col. David Phillips, project manager for future long-range assault aircraft, said to reporters.
Under the agreements, the Sikorsky-Boeing team was awarded $97 million and Bell Textron won $84 million, he said. The difference in funding was based on technical needs rather than merit, he noted.
"Although the scope of each of the proposals were very similar, their technical approaches ... costing approaches and the phasing of the work is different and unique to each vendor," he said.
Both companies have been participating in the Army's joint multi-role technology demonstrator, or JMR TD, which will determine requirements for the 2022 program of record competition. The first unit is slated to be equipped by fiscal year 2030. FLRAA is part of the Army's future vertical lift effort to replace its current fleet of legacy helicopters. Future vertical lift is the service's third modernization priority.
Bell is pitching its V-280 tilt-rotor demonstrator, which has logged 170 hours of flight testing, according to the company.
"The JMR TD and V-280 show that rapid maturation of new technology is possible with a solid government-industry partnership fueled by our talented and innovative workforce," Mitch Snyder, the company's president and CEO, said in a news release.
Sikorsky and Boeing are pitching their
SB-1 Defiant coaxial demonstrator, which made its first flight in March 2019 and was temporarily grounded last year due to technical issues.
"We are confident we will deliver a producible FLRAA aircraft that is survivable, affordable, sustainable and provides Army aviators strategic day one battlefield advantages," the company said.
Although the V-280 has been flying for a longer period of time, the service expects to see "very comparable data from both sides" by August, Brig. Gen. Walter Rugen, director of the Army Future Command's future vertical lift cross-functional team, said.
"The flight envelope continues to expand for Sikorsky, Boeing," he noted. "They're flying a bit more aggressively now than the V-280."