BATTLEFIELD COMMUNICATIONS
Comms On-the-Move: Industry Improves Satellite Communication Technologies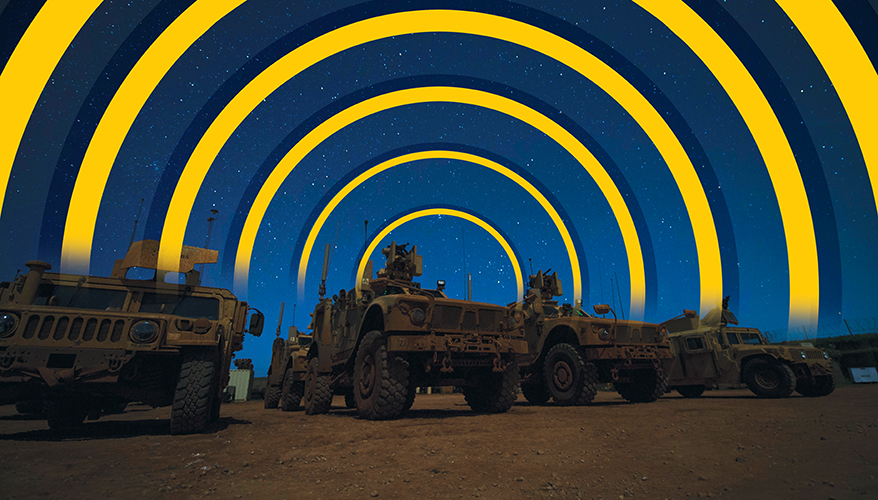 Photo: Defense Dept.
The military's push to improve its communication systems with beyond-line-of-sight capabilities is spurring companies to expand their satcom on-the-move offerings.
One of the Pentagon's most high-profile satellite communication efforts is the mobile user objective system, or MUOS. Lockheed Martin is providing the Navy with technology that will act via a constellation of five satellites and four ground stations.
Designed to allow servicemembers to connect globally, the program is intended to replace the service's legacy ultra-high frequency communication system.
David Vasiloff, Lockheed Martin's MUOS program manager, said the technology went through multiservice operational test and evaluation in October and is expected to reach full operational capability this year.
According to Naval Information Warfare Systems Command, soldiers and Marines are already able to use the platform for humanitarian responses, disaster assistance and training. The service is now working to use MUOS in tactical environments.
The program is expected to provide capabilities that are not available via legacy communication systems. These include remote computer access, and the ability to transmit imagery files and group calls, Vasiloff said. It is also expected to provide better audio performance and voice recognition.
"We have a global military cellular network, so you can now make a call from any point in the world to any other point in the world utilizing MUOS," he said.
These features are especially important for military operations, which may take place in congested cities and other challenging terrain such as places with tree canopies, which can often hinder satellite communications, he noted.
Legacy UHF systems have more limitations than MUOS, he noted.
"You'll be able to get [better] call quality in those areas as well," Vasiloff said. "MUOS becomes more valuable in stressed environments."
Although MUOS is a Navy program, it can provide satcom on-the-move capabilities to all the services, Vasiloff said. Multiservice operational test and evaluation included participants from both the Army and the Marine Corps, according to a Defense Department press release. The Marine Corps has already begun fielding terminals.
There are around 50,000 terminals already in use across the military that could be upgraded for MUOS, he said.
To facilitate the transition to the newer technology, the satellites are able to support both the legacy UHF communication systems and the new wideband code division multiple access waveforms.
"The value of having both payloads on the MUOS satellites, is that warfighters … can still use their legacy comms as we transition over to WCDMA in the future," Vasiloff said.
Additionally, the system is able to be upgraded over time, said Chip Eschenfelder, Lockheed Martin's communications lead for military space technologies.
"One of the advantages of going to a system like this ... is that you can update it just like other cellular networks," he said.
Marty LoBiondo, waveform product line director for communication systems at L3Harris Technologies, said the company's Manpack radios are compatible with the MUOS satellite constellation. Manpacks are generally larger than the handheld radios and have satcom capabilities for voice and low-rate data transfer as well, he noted. The company has over 50,000 PRC-117G radios with satcom on-the-move waveform capabilities.
Harris' handheld AN/PRC-163 system will also be compatible with MUOS, he noted.
The AN/PRC-163 is part of the Army's two-channel Leader radio program. In 2018, the service awarded Harris and Thales initial orders to provide products for the effort.
"A soldier could be walking with it and having data on the move," said Jerry Adams, general manager for the company's satcom products division. The radio can also be used with a vehicle. "I can clip a 163 into a vehicle system. I can plug it through and have on-the-move comms as well," he noted.
To keep up with the military's needs, General Dynamics is working on ways to upgrade its existing satellite terminals to support low-Earth orbit satellites.
"If an adversary takes a geostationary satellite link away for some reason, they can switch automatically or in real time to another lower-Earth orbit and still get that same beyond line-of-sight connectivity," said Bill Ross, the company's vice president of radio frequency and broadband products.
This will provide the Defense Department with better radio frequency performance, he noted.
"Low-Earth orbit is obviously ... less distance to travel," he said. "The RF performance is inherently better. You can get better performance with a smaller antenna and you can get higher data rates as a result."
Additionally, General Dynamics provides the military with multiple types and sizes of antennas to match different platforms.
"We have to offer a variety of antenna sizes and form factors to support, whether it's … land mobile application, airborne … or a ship," he said. "It's very important. Not all customers want to use the same satellite network to communicate."
Low-Earth orbit satellite constellations may come online in the 2022-2023 timeframe, he predicted.
"We are positioning our portfolio so that our military customers can take advantage of those same constellations in that same timeframe," he said.
The company is also focused on ensuring its satcom on-the-move technologies are robust enough to withstand GPS-denied environments, he noted. As adversaries improve their cyber and electronic warfare capabilities, the Defense Department has increasingly focused on ways to stave off attacks on the military's GPS systems, which can be hacked or spoofed to throw warfighters off their paths.
General Dynamics is working on this problem by offering its mounted assured positioning, navigation and timing system, or MAPS, Ross said. Coupled with the company's satcom on-the-move antennas, the device monitors GPS signals to ensure they are trustworthy and sends the data to corresponding devices. The effort falls under the Army project manager for positioning, navigation and timing.
The Army tested MAPS in late 2018 and it is being integrated into a mix of ground vehicles scheduled to be fielded in Europe, he noted. The company received "positive feedback in terms of its resilience and its ability to address real-time contemporary threats for a variety of platforms," he said.
Another area of interest for industry is developing electronically steerable antennas, Ross noted. General Dynamics is looking to partner with commercial companies to find solutions that would fit the military's requirements for robust systems. These antennas would be more reliable than currently fielded products because they would have less moving parts and fit better on the services' platforms, he said.
"There's a ton of investment currently going on in the commercial world to get to that Holy Grail of a flat — not a parabolic — but a flat panel antenna that has no moving parts but is electronically steered," he said.
PacStar is improving its portfolio with a technology that enables cellular connectivity as well as video and artificial intelligence processing in environments with limited communications. The company introduced the 453 GPU enhanced server module in November, which is part of its 400 series of communication modules, said Charlie Kawasaki, PacStar's chief technical officer. The capability adds equipment sensors, video cameras and radios to mobile platforms, which include both aircraft and ground vehicles.
As the Defense Department continues to invest in new capabilities such as manned-unmanned teaming, it has emerging requirements for video processing in new platforms such as self-driving vehicles and drones, he noted.
The 453 server can be used in a variety of ground vehicles.
"That includes what we might traditionally call communications vehicles," he noted. "These are all different types of vehicles, like small Humvees … up to vehicles like the [joint light tactical vehicle] or Strykers or larger vehicles that are used for things like command posts."
These devices will provide drivers with additional situational awareness, he said.
Additionally, the server module's equipment is smaller and lighter than the large server stacks usually required for these types of capabilities, Kawasaki noted. This will provide war­fighters with more space on vehicles and eliminate the need to potentially overtax power supplies in challenging environments.
"It's designed so that it can be deployed in situations that are very, very constrained," he said. "That needs to be rugged because the vehicles bounce around in the dirt. The equipment that's being designed to be shipped to a data center with giant air conditioners sitting next to a dam or the power plant — that's not the environment that we're talking about."
To ensure the server is secure against cyberattacks, PacStar is working with a variety of other companies to research these types of threats, Kawasaki said. Attacks using tools such as artificial intelligence are not well understood yet, he noted.
"As a result, we're making our equipment available to things like military research laboratories in order to begin to understand the threat and build software technologies we can run on our platforms to make sure that we're prepared for any threat that may evolve," he said.
Additionally, the video and AI systems can be used for a variety of applications, he noted. For instance, they can provide drivers with additional situational awareness as well as help detect drones. Having devices that can assist in understanding a drone's attack movements can reduce workload for personnel, he said.
"The goal is not to require a human to sit there and watch all these videos, but to automatically do that and alert the appropriate people automatically," Kawasaki said. "If you all of a sudden deploy hundreds of cameras … you don't want to field hundreds of people to watch that video."
Topics: Battlefield Communications