EDITOR'S NOTES DEFENSE CONTRACTING
A High-Profile OTA Program Goes Off the Rails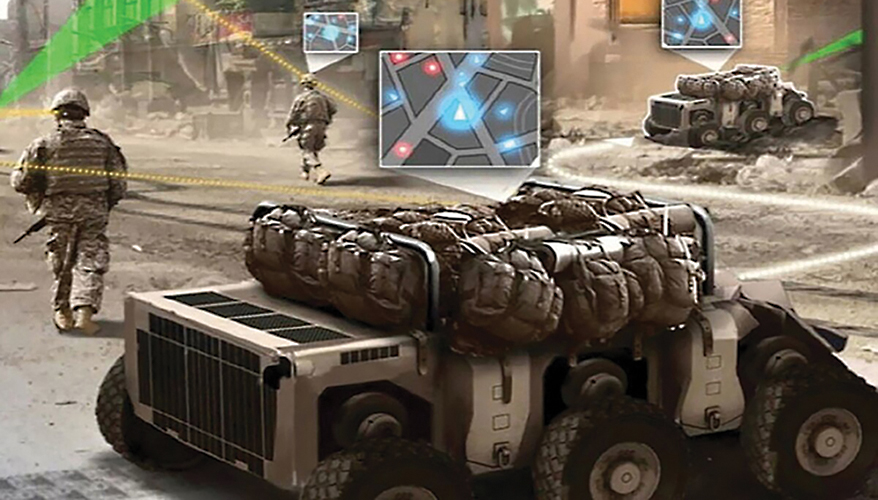 Image: Army
It had to happen at some point. A high-profile, big-ticket Army program using an other transaction authority agreement has turned into a fiasco.
In December, the Army Contracting Command announced it was canceling and resoliciting a contract issued in October to manufacture hundreds of robotic mules. This is bad news.
For critics of the Army's acquisition system, it's another example of the service's poor record over the last 20 to 30 years of developing and fielding new weapon systems. While Army leadership say they are going to speed procurement of badly needed technology to take on "great powers" — this is a black mark and will certainly get the attention of Congress.
And the same goes for proponents of other transaction authority agreements — touted as a way to put new technology into the hands of warfighters faster by forgoing the traditional acquisition system.
The program in question is the squad multipurpose equipment transport, or SMET, the Army's answer to helping dismounted troops lighten their loads. This so-called robotic mule has been on the service's wish list dating back to the Future Combat Systems program, which was canceled in 2009.
After years of development, field tests and the validation of requirements, the Army decided to proceed with a development program in 2017. That coincided with the emergence of the enhanced other transaction authority, or OTA.
OTAs had been around for decades. But the 2016 National Defense Authorization Act tweaked the law and allowed the military to change how they were used in several important ways. The agreements allow contractors to go around the cumbersome Federal Acquisition Regulation to develop prototypes and transition them to new capabilities.
Previously, they were reserved mostly for small businesses, universities and "nontraditional defense contractors" to build prototypes. That restriction was relaxed and the primes can now compete for the contracts as long as they had some participation from the "smalls," participate through a consortium, or if a senior procurement official proclaims that there were "exceptional circumstances."
But the real attraction for contracting officers is the ability to take a prototype developed under an OTA and move it to a production contract, as long as there is a competition to see who has the best product.
OTAs in the military jumped from 34 prototype contracts in 2016 to 173 in 2018, according to the Government Accountability Office. SMET was one of the most high-profile OTA programs with PEO combat support and combat service support leading the effort.
It put 10 vehicles through operational tests, then whittled that number down to four systems. It awarded four companies OTA agreements to develop 20 vehicles apiece.
The four companies were: General Dynamics Land Systems; Textron, with a vehicle developed by a company it acquired, Howe & Howe; an Applied Research Associates/Polaris Government and Defense team; and HDT Global.
Those robots were put through the paces and assessed last year. The result was a contract award to General Dynamics Land Systems for $162 million. The Army wants to buy more than 600 of the robots at a price of about $100,000 each.
Textron immediately protested the award.
Details are sketchy at press time — mostly because the principals involved such as Textron, General Dynamics and PEO CS&CSS have declined requests to be interviewed.
We do know that Army Contracting Command in December declared the contract null and void prior to GAO having a chance to make a ruling. A copy of the command's email making the announcement was sent to National Defense by one of the aggrieved losers in the competition.
A new request for proposals were due in January and the email said a contract award was expected in April, meaning the Army isn't starting from square one and wants to mitigate further delays.
The competitor's email made several allegations that have not been independently confirmed, but it claimed the Army found "deep bias toward GD."
It also provided data from the four vehicles in a variety of performance categories, some of them showing General Dynamics' entry lagging in several important ones.
The competitor alleges that GD's follow-on contract allowed for several alterations to make up for the deficiencies. That is not allowed under an OTA and rendered the 2019 evaluation moot as soldiers were not able to test the new version.
Again, readers can take this with a grain of salt as these allegations come from an aggrieved party. Yet, we have the undeniable fact that Army Contracting Command took another look at the contract and decided to cancel it rather than letting GAO make a final ruling.
We are left with several questions. To what extent is the OTA process at fault? It has been stated in this column before: What Congress giveth, Congress can taketh away. If the OTA acquisition vehicle ends up producing junk, or worse, technology that puts warfighters' lives at risk, then that's a big problem.
Second, the Army is speeding ahead with modernization and has set up Futures Command to help it get there. Leaders have said they have put the service's acquisition woes behind them. Have they really? Just as the magazine was about to go to press, the Army announced it had to go back to the drawing board on its optionally manned fighting vehicle, which is its third attempt at replacing the Bradley. It only had one bidder, meaning it couldn't hold a prototype competition as planned.
Topics: Defense Contracting