Elon Musk: U.S. Needs Star Trek's Starfleet to Compete Against China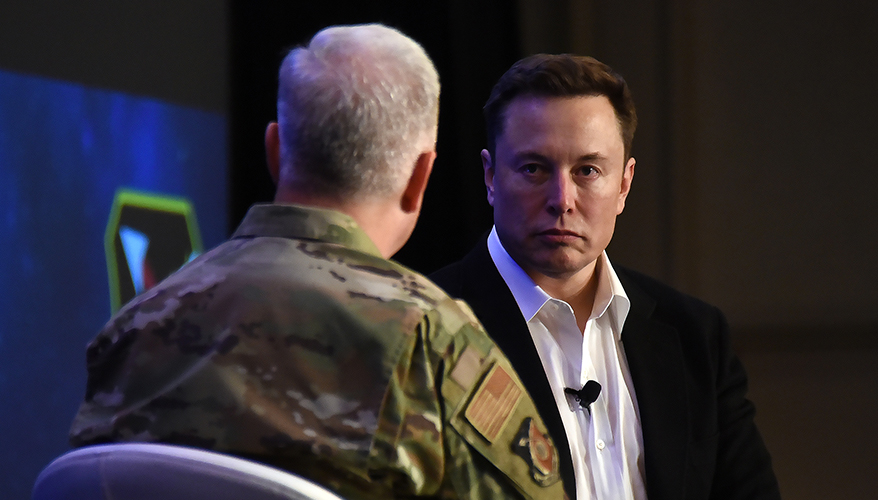 Defense Dept. phot by Senior Airman Christian Conrad
ORLANDO, Fla. —
While the United States only stood up its new Space Force in December, what the public really wants is its very own Starfleet, said billionaire entrepreneur Elon Musk Feb. 28.
Harkening back to the beloved Star Trek television show, Musk, founder and chief engineer of SpaceX, said it is possible for the United States to reach that point.
"We can go a long way towards making a Starfleet real," he said during the Air Force Association's annual Air Warfare Symposium in Orlando, Florida. "It will definitely require radical innovation."
But that will only happen if the Air Force pushes for radical breakthroughs, Musk said. And failure will not only stifle dreams of a real Starfleet, but will put the United States at a competitive disadvantage compared to countries such as China.
"I have zero doubt that if the United States ... does not seek great innovations in space it will be second in space," he said. "There's no country more innovative and inventive than United States. So it's just important to use that attribute — that's the ace card."
Key to those breakthroughs in space will be full reusability and access to the domain, Musk said.
"This is the Holy Grail of space," he said. "At the point of which you have full usability for orbital rockets, then you have a profound advantage over anyone else." He compared it to today's aircraft. If a rival could only fly its airplanes once and had to dispose of them, it would be at a distinct disadvantage compared to the U.S. Air Force and its aircraft that can be flown multiple times.
"That would be no contest," he said. "Same thing in space. This is extremely fundamental."
The cost of propellant is not where savings are found. It is typically on the order of 1 percent of the cost of the launch vehicle or less, he said. However, manufacturing reusable platforms adds up to substantial savings.
SpaceX's Falcon 9 is a partially reusable launch vehicle, but the company is working on a new vehicle that has the potential to be fully reusable, Musk said.
"It would be great to have other companies as well that are doing full reusability," he said. "Competition is a good thing."
But reuse cannot be approached the same way it was with the Space Shuttle, Musk added. "The shuttle was a case where the reuse was very slow and it was not complete," he said. "The main tank was lost every time and refurbishing the shuttle between flights was extremely expensive."
Reuse must be rapid and complete, he said. "Once you have a dramatically lower cost access to space, then many things are enabled," he said.
Musk compared it to the early days of the Union Pacific Railroad that carried Americans across the country into the West.
"Getting to the West Coast was much faster and much less dangerous, and you're not likely to sort of end up eating your compatriots in a snowy situation," he said, referring to the infamous Donner Party that in 1847 resorted to cannibalism to survive a brutal winter on the way to California from the Midwest.
The United States must radically innovate if it wants to counter China, which is growing its economy substantially, Musk said.
"The Chinese economy is going to be probably at least twice as big as the U.S. economy, maybe three times, but at least twice," he said. "The foundation of war is economics. ... If you have half the resources of the counter-party, then you better be real innovative. If you're not innovative, you're going to lose."
Topics: Space, Space Industry, Space Operations