BREAKING: Coast Guard Releases New 'Tech Revolution' Road Map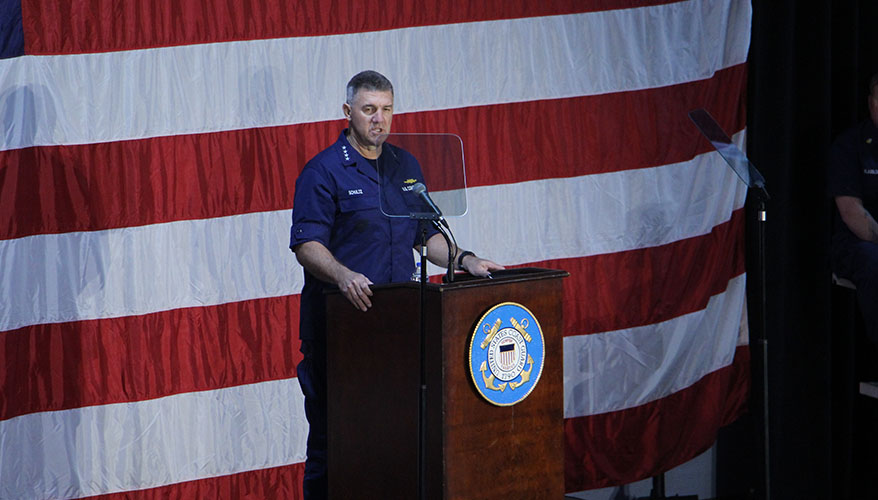 Adm. Karl Schultz
Photo: Connie Lee/National Defense
CHARLESTON, S.C. — The Coast Guard has released a new plan aimed at revolutionizing its data management capabilities, the service's commandant announced Feb. 20.
Adm. Karl Schultz said the service is currently using 1990s-era hardware and software.
"We need a 'tech revolution,' a whole-of-service effort to empower our people with an information system that is reliable, mobile and integrated," he said during his annual State of the Coast Guard Address in Charleston, South Carolina.
"In an era where data generates more revenue than oil, it is crucial that the Coast Guard modernizes its data management to help build and sustain its future force," he added.

The modernization blueprint, called the Tech Revolution Road Map, seeks to bring the service's information-technology into the 21st century.
The maritime force needs all of its IT equipment to match industry standards, which would reduce the risk of critical failures and address the long-term problem of deferred maintenance, Schultz noted.

According to a fact sheet released by the service, some mid- to long-term goals include implementing next-generation commercial satellite communications, enhancing network security and modernizing cyber defense tools. The Coast Guard will transition to Microsoft Office 365 this spring to increase email reliability. Plans also include making internet speeds 50 times faster this year and improving ship connectivity over the next three years, Schultz noted.

Master Chief Jason Vanderhaden, the service's senior enlisted member and principal advisor to the commandant, said fiscal year 2020 is the first year the service has received funding for the initiative. The Coast Guard is taking a multi-phased approach that will involve upgrading its hardware, software and processes, he noted.

"This year we actually got funding in the budget to be able to work on some [command, control, communications, computers/information technology] enhancements," he told National Defense after Schultz's address. "We're replacing a lot of our hardware infrastructure."

The Coast Guard also wants more mobile systems and is looking into ways to incorporate tablets and other devices, Vanderhaden said.

"Our folks right now, oftentimes they have to carry manuals in their backpacks," he said. "We're trying to go mobile there. … Anything that we might do where mobility would be better or more useful we're trying to go with mobile apps."

However, continuing these efforts will require additional funding, Schultz noted during his speech.

"While we've developed this new road map to a more technologically advanced and effective Coast Guard, we need an injection of funding now," he said. "Closing our existing $300 million annual IT shortfall is an important step to modernize the Coast Guard's technology landscape."

Additionally, the service is pushing to improve its cyber capabilities to protect the nation from hostile actors, Schultz noted. In the past year, the Coast Guard's new cyber protection team has assisted in eight intergovernmental responses to malicious attacks, he said. These occurred in multiple cities such as New York and New Orleans.

Addressing the threat will require a revamp of the service's 2015 cyber strategy. The Coast Guard hopes to release a new document detailing its plans this summer or early fall, he said in an interview.

"That cyber domain is changing so fast that I've challenged the team to say, 'Hey, let's take a refresh,'" he said. "We were building out some of our organic capabilities."

The Coast Guard isn't just looking to play defense, he noted. It is also looking at conducting its own cyber attacks.

"There's interest in, 'Hey what can you do in terms of operational effect for offensive cyber capabilities? Could we bring cyber as an effect against transnational criminals smuggling drugs or other things?'" he said. "There's increasing portfolio and we're updating our strategy because the world's changed that much in the last five years."
President Donald Trump's 2021 budget request calls for adding 179 cyber personnel to the Coast Guard's existing force, Schultz noted. The service currently has about 360 cyber personnel, and about 50 or 60 are coming on board this year.
Topics: C4ISR, Defense Department, Emerging Technologies