Army Charging Ahead With Advanced Powertrains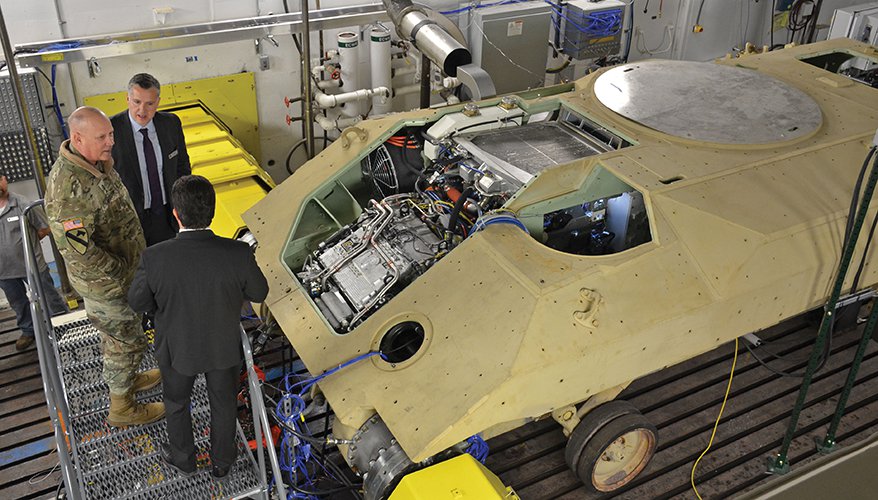 Advanced Powertrain Demonstrator
GVSC photo
An Army program to develop and integrate new powertrain technology is setting the stage to provide leap-ahead capabilities for the military's vehicle fleets, as the service pursues next-generation platforms.
The Advanced Powertrain Demonstrator initiative began in 2015 after the Army canceled the Ground Combat Vehicle program. The aim was to mature critical technology that could enable a more revolutionary future platform, said Bruce Brendle, associate director of ground vehicle power and mobility at the Army's Ground Vehicle Systems Center, which spearheads cutting edge automotive research and development.
The demonstrator, known as the APD, has several components, including an advanced combat engine, transmission, integrated starter generator, modular batteries and thermal management system.
"We were looking at a more power dense solution … offering an engine in a smaller package," said John Tasdemir, powertrain branch chief at GVSC.
The smaller form factor could free up space for additional armor protection for Bradley fighting vehicles or other platforms, Tasdemir said. Future vehicles could also be designed to be smaller and less heavy to enhance mobility, or have more room to carry additional capabilities.
"For new clean-sheet vehicle designs, you can have a more compact propulsion system," he said. "You can add more to the soldier crew, you can add more weapons, more capabilities for other technologies on the vehicle besides the powertrains for next-generation combat vehicle applications."
The 1,000-horsepower advanced combat engine with a two-stroke opposed piston diesel design, will offer efficiency improvements in fuel economy and cooling mechanisms, while increasing vehicle range, according to officials.
The more efficient and power dense the system is in terms of packing, the more power can be delivered to the sprocket to enhance mobility and propulsion, Tasdemir said.
The advanced combat transmission is another key component of the powertrain.
"You might have the best engine in the world, but if you have the worst transmission … you're not going to get the gains or the benefits," he said. "You have to look at the whole system approach."
The transmission is involved in three key functions: propulsion, braking and steering.
"What this solution offers is the efficiency gains that current combat vehicles and U.S. Army combat tracked vehicles do not have," Tasdemir said.
Some transmissions in Army platforms have efficiencies — calculated by dividing power output by power input — as low as 55 percent depending on the operating range. But the advanced combat transmission efficiency exceeds 90 percent, he noted.
"Most of all the power that's being developed by the engine can then go down to the sprocket potentially for mobility and propulsion use. That's the key element. And also the size too," he said. "The smaller, the better."
The integrated starter generator — essentially a motor that GVSC put between the engine and the transmission — is another key technology. It generates 160 kilowatts of power, about 10 times the amount on current medium combat vehicles, Brendle noted.
Today's vehicles typically have alternators that are belt driven and produce electrical power, he explained.
"What we wanted to do was to enable these future Army technologies, so we went to a similar type of generator you could say, but it's driven directly from the engine … so we don't have that belt system. And then we went to a high voltage architecture," he said.
The 600 volts of direct current create a tremendous amount of power that can then be used to add new energy-based capabilities to the vehicle, such as electrified armor and high-energy lasers, he noted. It can also be used to export power to systems like soldier radios, robots or temporary expeditionary bases. "There's a lot we can do with all this energy once we put it on the vehicle."
The powertrain package also includes advanced modular lithium-ion batteries that offer major advantages over current lead-acid batteries, with half the weight per battery and an ability to replace legacy batteries two for one.
"You have a two-times saving in volumes for the same space claim and a four-times weight savings," said Michael Claus, a mechanical engineer at GVSC. The Army can put more batteries on the vehicles to help power onboard electronics or enable silent-watch capabilities that mitigate the need for noisy engines when soldiers are out in the field.
The lithium-ion technology is expected to achieve a more than 10-fold increase in battery cycle life, reducing logistics requirements and overall lifecycle costs.
The systems are "smart batteries" that can input signals and interact with the rest of the powertrain, Claus said. They can also operate just as well as comp­arable lead-acid batteries even when they have a much lower charge.
Brendle said the improved energy storage technology has implications for other GVSC projects.
"Our next set of programs are focused on electrification of combat vehicles, including hybrid systems that can offer silent mobility and these long periods of silent watch," he said. "The better storage we have, the longer mobility we can get or the longer silent watch. So it's certainly a stepping stone to that capability."
The APD effort includes an advanced thermal management system to prevent overheating. A new cooling stack was developed to incorporate the integrated starter generator, and a high-speed fan was converted from a mechanical to an electrical configuration, enabling the technology to operate more efficiently.
"Electrifying the fan allows us to choose different operating points with a fan and really cool what the other components need to be cooled," Claus explained. It is a major step up from mechanical fans.
"It's usually an on-or-off type system or a belt-driven system," Claus said. "But now with the electronic controls we can sense the heat in the compartment and really spin it to what we need to, and that lowers the overall power draw on the platform."
The Army is currently pursuing an optionally manned fighting vehicle and a family of robotic combat vehicles. The APD technology was designed to offer a drive-by-wire capability.
"We wanted to make sure everything was a drive-by-wire solution," Tasdemir said. "This enables the next generation [of platforms] … to be autonomously driven or optionally manned."
All of the APD technologies were designed to have a modular and scalable architecture that could fit a variety of platforms. They can be scaled up for heavier platforms such as a tank, or scaled down for smaller tactical vehicles, Tasdemir noted.
Brendle said the greatest benefit would be derived from incorporating the entire powertrain package into a vehicle. But some current vehicle program managers are interested in incorporating individual components into their platforms.
"There's already some potential to transition some of that technology earlier than the entire power pack," he said.
The APD is not a formal part of the next-generation combat vehicle program, Brendle emphasized, but it is developing capabilities that are options for integration into future systems.
"We don't have a firm tie to that program … but the dense powertrain is really critical," he said. "If we can get more power, not just for mobility but for new capabilities, we can really enable the future that the Army envisions."
Industry has played an important role in the APD effort and helped develop the components under competitive solicitations, Brendle noted. Cummins developed the engine, SAPA the transmission and L3 the integrated starter generator.
GVSC has been in frequent communication with the major vehicle original equipment manufacturers about the APD technology and has shared its computer-aided design models.
"We try to make sure our equipment, our technologies fit into various vehicles," Tasdemir said. "We do our own placement and analysis to guide our designs. But one of the … things we can do with industry is to allow them to use the models of our equipment so they can do their own work to see how it impacts their system — either their current systems or systems they're conceptualizing on their own."
The goal is to make the technology available to U.S. companies bidding on Army, Marine Corps or Special Operations Command programs, Brendle noted.
"We try to work closely with the OEMs to make sure they have the information they need, any test results that we've done," he said. "The [APD] program is wrapping up and the opportunities now are for the technologies we have demonstrated to be leveraged by industry in their future programs."
About $204 million has been spent on the project, according to the Army.
The Ground Vehicle Systems Center recently completed integration of the various powertrain components into a Bradley fighting vehicle hull to demonstrate basic functionality and to allow for detailed testing and validation of system level performance.
"We have a Bradley hull and it's stripped of all the components, and we're using the actual hull just so we … know that if we integrated this [APD technology] into a real vehicle, it would fit," Claus explained.
In December a demonstration was held at GVSC in Warren, Michigan, for senior service leaders including Lt. Gen. James Richardson, deputy commander of Army Futures Command. Members of industry also attended.
The next program milestone is to complete detailed testing and system level performance validation in a test cell. Technology Readiness Level 6 testing is slated for March.
A follow-on project known as the Advanced Mobility Experimental Prototype, or AMEP, will include additional testing and evaluation at Army proving grounds. It will be a joint effort between the Ground Vehicle Systems Center and program executive office for ground combat systems to mature the technology to TRL 7.
"We'll be moving the technology onto moving vehicles for dynamic evaluation over the next several years," Brendle said. Army plans called for having the advanced powertrain systems ready for potential production in fiscal year 2023.
Topics: Tactical Wheeled Vehicles, Land Forces