BUDGET 2021: Trump Proposes Flat Pentagon Budget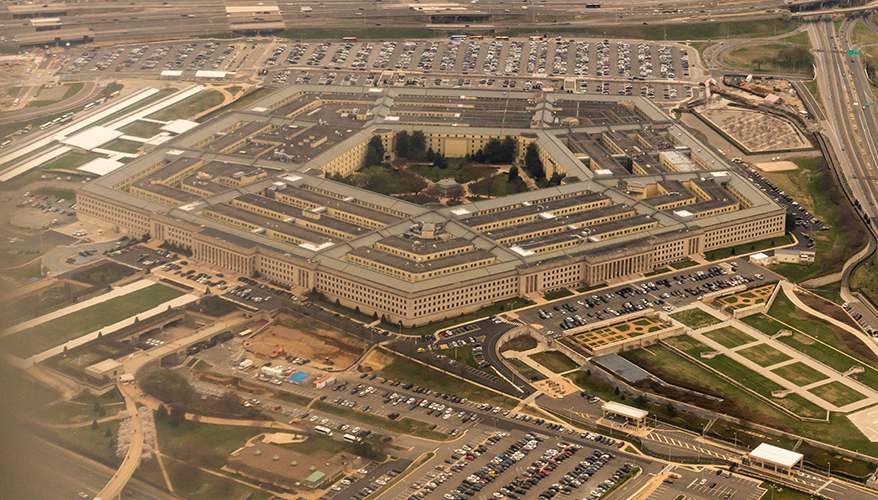 Photo by iStock
Despite growing concerns about China and Russia, the Defense Department's budget would essentially remain flat under President Donald Trump's fiscal year 2021 budget request, which was unveiled Feb. 10.

The new fiscal blueprint calls for $705.4 billion in Pentagon spending. That represents just an $800 million increase over the enacted 2020 level excluding natural disaster relief and emergency funding, according to budget documents.

The Trump administration had pushed for large increases in military investments in recent years. But the 2021 proposal was constrained by the 2019 Bipartisan Budget Act, which already set total spending levels for defense and non-defense programs.

"This budget is a little different because the topline is flat," Deputy Defense Secretary David Norquist told reporters during a briefing at the Pentagon. "No growth for inflation. That means that we had to make additional tough choices and major cuts in some areas in order to free up money to continue to invest in preparing for the high-end fight."

The aim of the 2021 plan is to create an "irreversible" implementation of the 2018 National Defense Strategy, he said. The strategy identified peer competitors such as China and Russia as the greatest national security threats, and called for investing in next-generation technologies to help the United States keep its military edge.

The proposed 2021 funding includes $636.4 billion for the base budget, $53 billion for overseas contingency operations, and $16 billion in the "OCO for base" account.

Procurement would be slashed by $6.9 billion, to $136.9 billion. Research, development, test and evaluation accounts, on the other hand, would receive a $2.1 billion bump, to $106.6 billion.

"When you're seeing increases in RDT&E and you're not seeing that commensurate increase in procurement, that leads me to believe that DoD is investing in new technologies, and it means they're not necessarily buying as many of the existing platforms that are out there," said Seamus Daniels, a budget analyst at the Center for Strategic and International Studies. "That means they're planning to cut some of the … legacy platforms."

The research-and-development money would fund high-tech items such as artificial intelligence, directed energy and hypersonic weapons.

The 2021 RDT&E budget is the largest ever requested, according to defense officials. It is expected to facilitate new systems that will transition into procurement in the coming years.

"We have been investing in these emerging technologies and many are now being prototyped and tested," Norquist said. "As they are ready, we are poised to move them into production."

Under the president's proposal, the Departments of the Army, Navy and Air Force would receive $177.9 billion, $207.1 billion and $207.2 billion, respectively. Defense-wide accounts — which include organizations such as Special Operations Command and the Missile Defense Agency — would be provided $113.2 billion.

Modernization efforts for the military's five warfighting domains include: land, $13 billion; air, $56.9 billion; maritime, $32.3 billion; space, $18 billion; and cyber, $9.8 billion.

The missile defense and defeat accounts would receive $20.3 billion, including $9.2 billion for the Missile Defense Agency and $7.9 billion for regional and strategic missile defense capabilities outside of MDA, and $3.2 billion for thwarting missile attacks "left of launch."

"The department is committed to supporting the 2019 Missile Defense Review, which called for a layered defense, comprehensive missile defense capabilities, flexibility, tighter offense-defense integration and interoperability, and the importance of space," the budget documents said. "The FY 2021 budget request focused on a diversified set of … capabilities to counter the advancing threat."

Funding would go toward expanding capability and capacity of existing systems such as the Terminal High Altitude Area Defense system and Aegis, as well as the pursuit of future equipment such as a next-generation interceptor and other counter-hypersonics capabilities.

Hypersonic weapons pose challenges to today's missile defense systems, officials have noted.

"DoD will pursue hypersonic threat defense weapons and leverage and upgrade existing systems, while developing and maturing technologies that augment future hypersonic defense architectures," the budget documents said.

The United States is developing its own offensive hypersonic missiles. The technology is the Pentagon's top R&D priority. The president's budget requests $3.2 billion for hypersonics for the Army, Navy and Air Force. That is a 23 percent increase relative to 2020, according to Acting Pentagon Comptroller Elaine McCusker.

Other key munitions investments in the request include: $1.2 billion for the Guided Multiple Launch Rocket System; $533 million for the Joint Direct Attack Munition; $577 million for the Joint Air-to-Surface Standoff Missile; $224 million for the Long Range Anti-Ship Missile; $603 million for the Tomahawk; $96 million for the Small Diameter Bomb I; $517 million for the Hellfire; and $816 million for the Standard Missile-6.

When it comes to munitions, the Pentagon is pursuing two main goals. One is to ensure inventories are sufficiently stocked. The other is to buy more advanced weapon systems to provide "increased standoff, enhanced lethality and autonomous targeting for employment against near-peer threats in more contested environments," the budget documents said. "The department has accordingly ramped up procurements to ensure healthier inventory levels are achieved as soon as possible."

Additional high-tech investments include $1.5 billion for microelectronics and 5G networks, $1.7 billion for autonomy and human-machine teaming, and $800 million for AI pathfinder initiatives such as the Joint Artificial Intelligence Center.

Procurement and RDT&E accounts for nuclear modernization would see a large plus-up, to $17.7 billion, as the Pentagon pursues an ambitious modernization effort to replace its aging land-based intercontinental ballistic missile systems, bombers and ballistic missile submarines. Total spending on the nuclear force would total about $29.8 billion, according to budget slides.

"The 2021 budget fully funds and modernizes all three legs of the triad," said Vice Adm. Ron Boxall, director of force structure, resources and assessment on the Joint Staff.

Proposed funding for these initiatives includes: $1.5 billion for the Ground-Based Strategic Deterrent; $200 million for the Long-Range Standoff Cruise Missile; $4.4 billion for the Columbia-class submarine; $1.2 billion for the Trident II life extension; $2.8 billion for the B-21 stealth bomber; and $4.2 billion for nuclear command, control and communications, or NC3.

"Modernizing the nation's nuclear delivery and command, control and communications systems is the department's number one priority," the budget documents said. "There is little schedule margin between legacy system age-out and fielding of the replacement systems."

The $3.5 billion boost for these program is "a pretty significant increase" and a bit of a surprise, Daniels said, especially in light of the National Nuclear Security Administration's spending plans.

The NNSA, which is part of the Department of Energy, is responsible for managing the nation's nuclear weapons stockpile. The agency requested about $20 billion in 2021 for its work on the nuclear stockpile. The organization's funding is included in the total defense topline, which was set at $740.5 billion for 2021 under the bipartisan budget agreement last year, but is in a separate account.

Under the defense budget proposal, modernization for special operations forces, which include Navy SEALs, Special Forces, Delta Force and other elite units overseen by Special Operations Command, would receive about $3 billion under the fiscal proposal.

"The FY 2021 budget for SOF investments procures, modernizes and/or modifies SOF-peculiar aviation, mobility and maritime platforms, weapons, ordnance and communications equipment," the document said. "The FY 2021 budget sustains SOF growth and readiness and increases lethality through modernization and recapitalization and investing in new technologies."

It includes $293 million for warrior systems; $243 million for a precision strike package; $211 million for rotary-wing upgrades and sustainment; $164 million for AC/MC-130J aircraft; and $106 million for armed overwatch and targeting.
Unlike last year, the Pentagon's 2021 budget request does not include funding for Trump's controversial border wall.

"We have no request in the '21 budget for border wall construction," McCusker said. "We do have a request for assistance from the Department of Homeland Security that we're doing our due diligence on now. As soon as we have that complete and [Secretary of Defense Mark Esper] makes a decision, we'll inform Congress."

Daniels said the decision not to include border wall funding in the military budget request, which was a major sticking point in last year's fiscal negotiations between Republicans and Democrats, could make it easier to pass critical defense legislation for 2021.

While the budget request reflects the administration's spending priorities, Congress is responsible for passing authorization and appropriations bills for the military, and lawmakers are sure to make adjustments to what the president has proposed.

"Everyone is a stakeholder in this and everyone has their own interests," Daniels said. "When Congress sees the budget they will make their judgment based on what's in it."
Read More Budget 2021 Stories:

-Trump Budget Would Cut Marine Corps Funding, Force Structure

- Navy Proposes Slashing Shipbuilding Budget by $4 Billion

- Pentagon Rolls Out First Space Force Budget
- Tradeoffs, Aircraft Retirements Drive Air Force Budget Request
-Army Realigns $2.4 Billion in New Budget Request
Topics: Budget, Defense Department