I/ITSEC NEWS: Navy Cruising Ahead with Project Avenger Pilot Training Program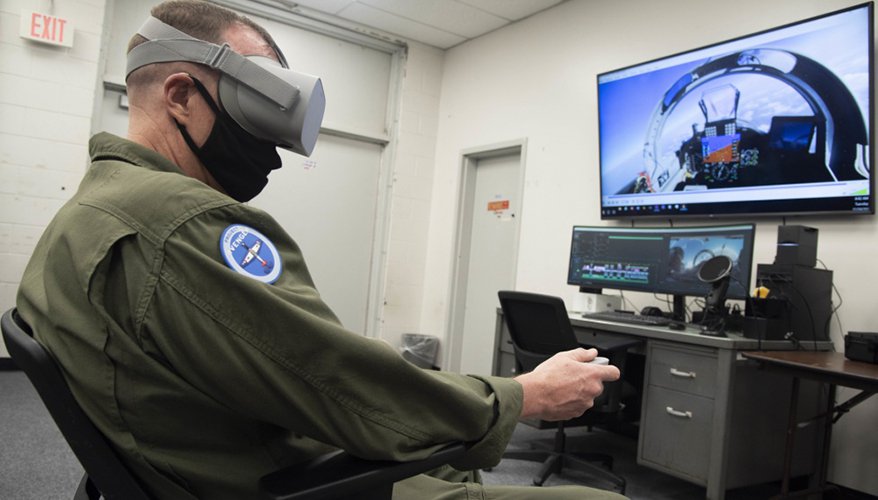 A Marine operates a virtual reality flight trainer device part of Naval Aviation Training Next - Project Avenger.
Navy photo by Lt. Michelle Tucker
The Navy is moving forward with a new initiative aimed at improving aviator training by leveraging virtual reality systems, according to the chief of naval air training.
Rear Adm. Robert Westendorff said the service's Project Avenger class is about three months into its courses. Project Avenger incorporates the service's prototype syllabus designed to shorten and enhance the training of its pilots. Westendorff said this is the Navy's first "proof of concept" for this type of flight training.
The effort integrates virtual reality systems and pairs small numbers of students with instructors so they can have more individual training, he noted Dec. 2 during the Interservice/Industry Training, Simulation and Education Conference. I/ITSEC is hosted by the National Training and Simulation Association, an affiliate of the National Defense Industrial Association. The event is being held virtually this year due to the COVID-19 pandemic.
"The ultimate goal is to produce a more capable aviator and a more capable warfighter," Westendorff said. "It's time to branch out and leverage this modern technology in a new way to train … these students."
The service now plans to integrate "mixed reality" systems that combine virtual reality goggles with tools such as gear handles.
"They can feel the knobs. It's exactly like it is in the airplane and they can actually see their hands through cameras in the virtual reality goggles, so it's that mixed reality environment," he said.
The Navy has been working to move beyond traditional aviation training procedures and help students become more ready to operate complex weapon systems onboard aircraft, he noted. By implementing this curriculum, the intent is to create pilots that are able to multitask.
"It's not just enough to be a great stick-and-rudder pilot anymore," Westendorff said. "You have to operate your weapons systems, you have to interpret information, and you really manage a system of systems. That is the future of air combat."
Through Project Avenger, students are able to complete multiple stages of learning at the same time rather than completing them sequentially. For instance, aviators can simultaneously work on the familiarization and instrument training stages.
"We're blending those," he said. "What we're trying to teach the students is that they need to think [about] multiple tasks at a time. They need to be prepared for multiple flight tasks for any given flight."
Next year, Project Avenger will move into phase 2, which will incorporate lessons learned from the first phase. Eventually the plan is to add this type of virtual training into curricula for multiple types of jobs, he noted.
"We're modernizing all our pipelines," Westendorff said. "It's in primary flight training now, but all of our advanced pipelines will go to this."
The Navy as a whole has been pushing to integrate more live, virtual and constructive training into its curricula, said Rear Adm. Greg Harris, director of air warfare in the office of the chief of naval operations.
"We've really got to get out of where we were," he said. Chief of Naval Operations Adm. Michael Gilday "put the dot directly on my forehead to say, 'get after LVC aggressively.'"
Topics: Training and Simulation