I/ITSEC NEWS: Space Force Expanding Training Portfolio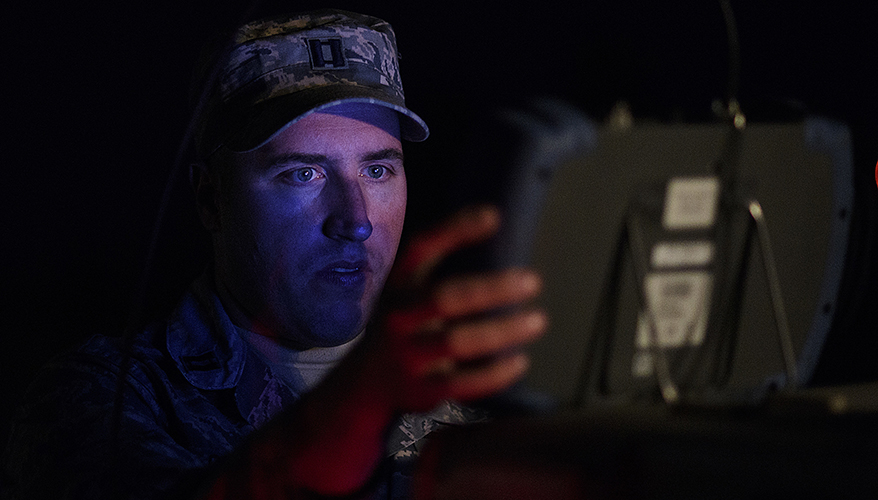 Space aggressors test Red Flag airmen.
Photo: Air Force
The Space Force — which was stood up nearly a year ago — is looking to expand its training portfolio in the coming years to better prepare for operations in contested environments, one official said Dec. 2.
For space professionals, they experience their domain through a screen, said Col. Pete Flores, commander of the service's provisional Space Training and Readiness, or STAR, Delta at Peterson Air Force Base, Colorado Springs. Space Force deltas are equivalent to Air Force wings.
"We're not flying the jet. We're not on the ground. We're not on the ocean. We experience it through this IT technology," he said. That means that "high-fidelity modeling and simulation is critical to what we do because that's how we experience the environment."
Over the next couple of years, the Space Force will be working to expand its training and education portfolio to take advantage of the best technologies available such as high-fidelity simulations, Flores said during a panel discussion at the Interservice/Industry Training, Simulation and Education Conference. The event — the largest modeling and simulation symposium in the world — is being held virtually this year due to the COVID-19 pandemic. I/ITSEC is hosted by the National Training and Simulation Association, an affiliate of the National Defense Industrial Association.
The Space Force has major training needs, such as its Space Flag event which is analogous to the Red Flag air combat training exercise that takes place at Nellis Air Force Base, Nevada, he said.
"That modeling and simulation engine is critical to what we do" to try and understand what a contested space environment requires, he said. "We're trying to push that up both in terms of the fidelity … and the complexity of that."
Flores noted that the STAR Delta also runs space training for the Noncommissioned Officer Academy and National Security Space Institute, which both have service and joint courses that leverage high-fidelity modeling and simulation, he said.
The Space Force needs multi-level security, coalition training events, he noted.
"It's a very complicated environment when you start talking about anything significant … [happening] in space," he said. "So we're building on those things."
The service is currently in the process of recompeting its Space Flag and advanced training contracts in Colorado Springs, he said.
But "even that is an interim step to a broader look," he added. "We think that [over] the next few years, the Space Force will need more events and more complex events."
Space becoming a contested environment is one of the main drivers of why the service needs new training equipment, Flores said.
"The problem is we grew up in a certain environment and now we're trying to adapt to a new environment," he said. "[We were] focused on how do you operate the system, not necessarily how you fight the system in a contested domain."
The service's training has to develop to encompass this new situation, and simulators will have to be upgraded as well, he said. These new simulators will need to be physics-based, he added.
"That's the critical part," Flores said. "They can't be theoretical. They have to be … based on what is happening in the environment with a given vehicle or given a system."
They also must be scalable, he said. "Our satellites operate in constellations, and we operate within constellations of constellations to deliver some effect to the joint team," he said. "That scalability is important."
Using modeling and simulation for testing is also critical for the Space Force, Flores noted. For the service, operational testing largely has to be simulated.
"High-fidelity modeling and simulation that allows us to test new software, new techniques and procedures is very important," he said.
These systems must also be able to support localized and distributed training, he added.
Topics: Space, Training and Simulation