JUST IN: U.S. Commander Alarmed as China Makes Inroads in Americas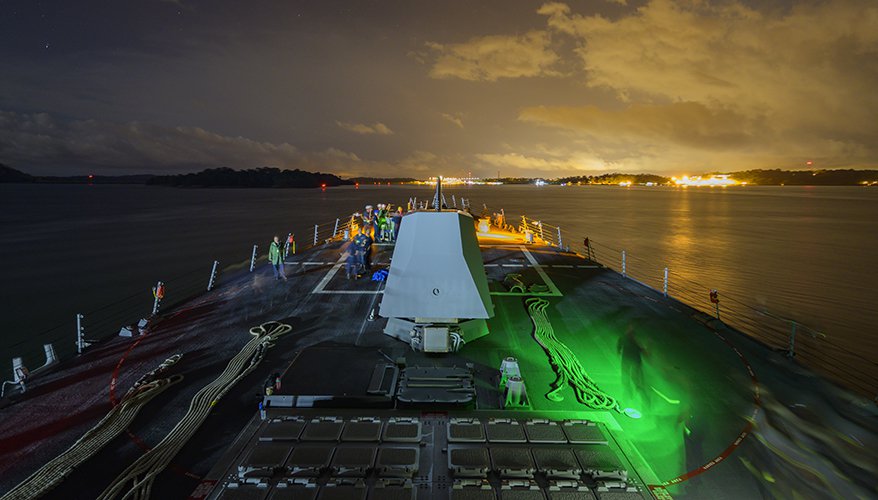 The guided-missile destroyer USS Gridley (DDG 101) transits the Panama Canal.
Navy photo
China continues to spread its influence militarily and economically throughout the Caribbean and Latin America, the head of U.S. Southern Command said Dec. 2.

"I think what they're doing [in the region] matches what they're doing globally. It's a full court press to have China become the world's dominant power," Adm. Craig. S. Faller, Southcom commander, told reporters in a briefing.
The 2018 U.S. National Defense Strategy identified the Asian nation as a great power competitor.
"China is working for their version of the world order globally," said Faller, whose area of responsibility as head of Southcom includes much of the Americas.
Faller laid out a variety of means Beijing is trying to spread its influence, from potential naval bases to economics, politics and influence operations.

"They've come in with the same type of infrastructure deals, loans, that they have used globally to gain influence," he said.

"There has got to be a role for China legitimately as an economic world power, but they've got to play by global rules. And so we don't see that. They have a playbook. They're exercising that playbook," Faller said.

Politically, China attempts to undermine local and regional elections and pay off officials, he said.
Economically, "they come in with deals that no one can compete with because U.S. industry has to compete fairly by law," he added.

Beijing's Belt and Road Initiative, the Chinese Communist Party's campaign to invest in foreign nations' infrastructure as a means to spread its influence, had one country in the region signed on four years ago. It now has 40, Faller noted.

China is particularly interested in seaport infrastructure and has signed 40 commercial port deals in Southcom's area of operations, he said.

China is looking for a deep water port in Mexico, Bahamas, El Salvador, Jamaica, Dominican Republic, Panama, and possibly in Surinam or Guyana. "They're working lots of options — some farther south," he said.

"What does it look like if China has a strategic control of the Strait of Magellan, or the Panama Canal, the approaches to the Gulf of Mexico through a Caribbean port? What does that look like in a global conflict?" Faller asked.

"The Panama Canal is a significant global choke point. We were concerned as we watched China working port deals on either side of the canal," he added
The previous administration in Panama signed over 40 different deals with China, including one to outfit all the command-and-control centers in Panama with Chinese information technology, which by Chinese law, directly connects back to companies under the influence of the People's Liberation Army, Faller said.

The new Panamanian administration of President Laurentino Cortizo has dialed back on these deals and is more open to U.S. influence, he said. Meanwhile, Southcom has conducted a yearly Panamax exercise with 20 partner nations with an objective of protecting the canal.

"Certainly in a global Chinese fight, that would be one of the key considerations: how do we defend that canal?" Faller said.
Southcom is required to produce a plan for the defense of that strategic location. "We review that plan and we test that plan on a continuous basis," he said.

In the military realm, the People's Liberation Army offers nations free equipment, free gear and free training with no strings attached. The training doesn't include human rights training, "the things important to us," Faller said.

"We've even found them teaching a course on why the U.S. is not a partner of choice for the military taught by the PLA to partner nation militaries here in the hemisphere. That I find alarming and shocking," Faller said.

China is making significant progress in space-based intelligence in the region, Faller said, but he couldn't elaborate.

The nation continues to invest in natural resources looking for strategic minerals such as rare earth elements and gold mines, both legal and illegal, he said.
"Look at what they're doing as far as access to water," he said. Latin America has good sources of fresh water and China continues to invest in agriculture in the region.
Southcom aroutinely shares data with nations whose waters are being exploited by Chinese fishing vessels, he noted.

"Illegal unreported, unregulated fishing are among the top two to three threats that the … chiefs of defense bring up with me. And China is the biggest player in that space. And we have hard proof of violations. ... We share that information," he said.
Along with Russia and Iran, China has "significant disinformation campaigns" in the region designed to influence populations and leaders, Faller said.

"They completely twist anything Southcom is doing, or what the U.S. government is doing, into a bold-face lie to try to draw the ire of our partner nations in their countries," he said. "We have stepped up our efforts in the information space… and the public affairs arena to just amplify the facts as best we can to try to counter that negative narrative."

He added: "I think our competitive edge of being the trusted partner [in the region] is eroding, particularly when it comes to the Chinese influence."

As for other U.S. actions in the region, Southcom has been directly involved in hurricane relief after one of the most devastating storm seasons on record, he said.

The United States has also been the region's largest donor when it comes to COVID-19 relief. "Not because China did it, because it's the right thing to do," Faller said.


Topics: Defense Department