Marine Corps Looking to Fill Munitions Gaps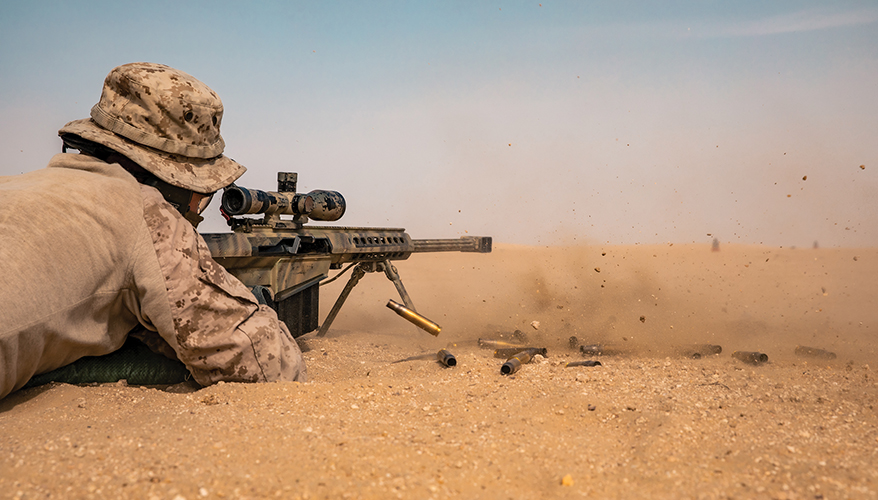 A Marine fires an M107 Semi-Automatic Long Range sniper rifle at a live-fire range in Kuwait.
Marine Corps photo by Lance Cpl. Andrew Skiver
The Marine Corps is looking to industry to help fill munitions capability gaps to keep pace with near-peer threats, a service official said.
"Right now, the USMC really needs to address the shortfalls in ... capability gaps, and in doing so we do need the assistance of industry," said Chief Warrant Officer Chad Cason, the service's medium calibers and small arms project officer. "Now is when we're starting to reimagine the Marine Corps as a small agile force."
A number of the ammunition programs are beginning to refocus to meet the Commandant's Planning Guidance, Cason said during the virtual Joint Armaments, Robotics and Munitions conference, which was organized by the National Defense Industrial Association.
The planning guidance — which was released in August 2019 — calls for greater integration with the Navy to counter adversaries' advances in long-range precision fires.
"Transitioning from legacy to advanced munitions is a big-ticket item right now," Cason said. "We are excellent with current munitions as well as the legacy items, but we simply need to increase lethality and we need to do it quickly."
The service wants munitions that will surpass near-peer threats, Cason noted. Performing incremental changes on older capabilities is not enough. Smaller changes to legacy systems make it easier for China and Russia to more easily surpass the United States, he noted.
"Ideally, we want to get to the point where we can maintain a gap between ourselves and the near peers," Cason said.
Improving the range capability of current programs systems is high on the wish list. The Marine Corps is lagging behind when it comes to long-range precision fires, he said.
The Army also is working to achieve the same goal and has named long-range precision fires its top modernization priority.
The Marine Corps is looking for capabilities that will give its forces superiority, but can be scaled down for operations in the so-called gray zones of warfare, Cason said.
The Corps needs to team closely with industry, he noted.
"We want to see what's out there. We don't just want to keep playing the catch-up game with the near peers," he said. "We want to get ahead of them and widen the gap in our favor. ... We need to understand how we can work with each other to improve the munitions as we move forward."
Topics: Marine Corps News