Air Force Wants Lasers on Fighter Jets by 2025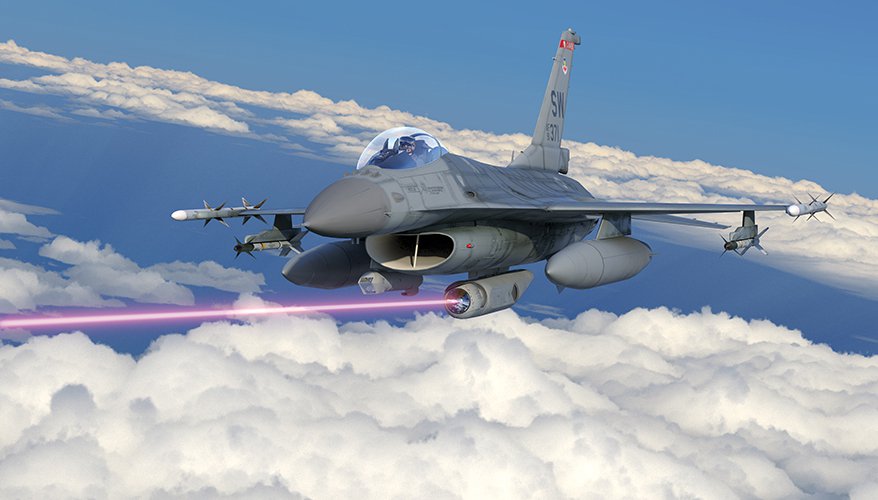 Rendering of a Lockheed Martin producible tactical airborne laser weapon
Lockheed Martin concept
Lockheed Martin is working toward outfitting a directed energy system on fighter jets by the middle of the decade, according to a company official.
"We're committing to putting a laser pod equipped with a high-energy laser in the air within five years," said Mark Stephen, business development lead for strategic technology development at Lockheed Martin's missiles and fire control division.
The company is a core member of an industry team partnering for the Air Force Research Laboratory's Self-Protect High Energy Laser Demonstrator, or SHiELD, program, Stephen said during a virtual media roundtable in September.
AFRL is developing a directed energy system on an aircraft pod that will demonstrate self-defense against surface-to-air and air-to-air missiles, the organization said in a press release.
The effort is meant to inform requirements for a tactical airborne laser weapon program of record in the mid-2020s, Stephen noted.
Lockheed Martin is also partnering with the Air Force, Navy and Army to develop other directed energy capabilities. These systems will defend U.S. forces against threats such as rockets, small drones and small attack boats, said Robb Mansfield, senior manager of business development for laser and sensor systems within Lockheed Martin's integrated warfare system and sensors business.
One aspect of the technology the company has been focused on perfecting is its beam director, Stephen said.
"The beam director is the optical system that puts the high-energy light on target and keeps it there with enough precision to defeat the threat," he said. "We spent several years developing producible, low [size, weight and power] and low-cost tactical beam directors in house."
The technology will first be demonstrated on an Army application, the Indirect Fire Protection Capability-High Energy Laser, he noted.
"This is a 300-kilowatt class laser weapon system, which mounts on the ground vehicle to defeat drones, rockets, artillery and mortars," Mansfield said. The demonstration is expected to take place by late 2021.
The company has also established a new directed energy system integration lab in Orlando, Florida, to test high-energy lasers and beam directors as it integrates them into pods, Stephen said.
"By 2021, this lab will be certified to test high-energy laser outfits up to 50 kilowatts and will allow firing of 150-kilowatt class lasers by 2024," Stephen noted.
To build and manufacture the systems, the company is investing more than $20 million into its Orlando-based optical components center.
"We intend to use this space to establish low-risk production processes that enable us to build critical laser weapon optical components, some of which have never seen a production line at the rates our customers need," Stephen said.
Correction: A previous version of this story misattributed a quote referencing Lockheed Martin's beam director technology to Robb Mansfield. The story has been updated with the proper attribution.
Topics: Air Force News