COMMENTARY DEFENSE DEPARTMENT
Defense Industry Needs New Way of Doing Business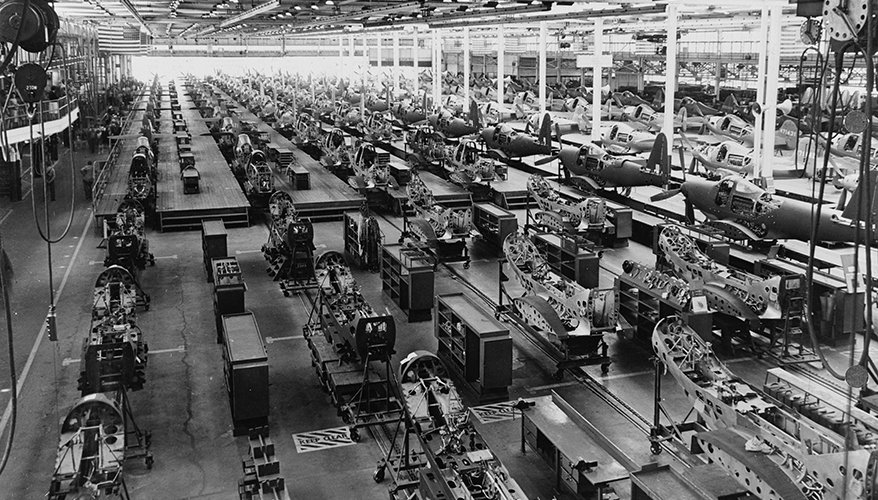 Library of Congress photo
A senior procurement executive of one of the military services suggested that the defense industry might have to be nationalized if certain trends continue.
Based on subsequent comments, it is not clear whether the original statement was meant to be taken seriously or not. In any event, the organization of the defense industry is a subject that should be seriously considered.
There are only a few organizational options for any industry. Prime among these are: nationalized; commercially oriented driven by market forces; or a regulated public utility. Which of these organizational constructs best describes the state of the defense industry today? This will be discussed. However, first it makes sense to describe huge changes that have occurred.
Before World War II, the defense industry was relatively small. The government had its own arsenals and shipyards dedicated to developing and producing weapons. Industrial firms also supplied many of the military's needs, but few of them relied solely or primarily on the military as their principal market. This was an era when commercial airlines had navigation equipment far superior to anything developed by the Army Air Corps, for example. During World War II, major industrial firms were mobilized to supply the weapons needed by the military.
After the war most of the companies that had been converted to defense production returned to their former lines of business. As the post-war period chilled into a Cold War, a specialized defense industry began to emerge. It supplied the high-tech weaponry and supporting gear that was then unique to the military such as jet engines, nuclear materials, sophisticated electronics, advanced materials and radars. Over the years, numerous laws and regulations began to differentiate the defense industry from firms that addressed commercial markets.
Today, few areas of high technology are unique to the military. The commercial sector invests in research and development and introduces or upgrades innovative products rapidly. A comparison of Defense Department R&D contract awards shows that top firms receiving these contracts are not leaders in any industry segment except defense and aerospace. Moreover, leaders in high-tech industry sectors other than defense and aerospace receive little, if any, such funding.
They do, however, make major investments in R&D. This is only one data point among many that illustrates that the defense industry is segregated from the broader national industrial base. Today, this segregation is not based on specialized technology needs of the military, but on government-unique business practices imposed on defense companies via the acquisition system. This is the reason why the decline in military spending at the end of the Cold War resulted in a consolidation of the defense industry, and dozens of profitable major firms were reduced to just a handful.
Competition — supposedly a hallmark of government acquisition including defense contracting — is on the way to becoming non-existent at the major system level. As the Cold War ended, defense companies were not in a position to diversify into commercial markets because they were burdened with government-imposed business practices that made them non-competitive in the commercial marketplace.
The department recognizes the value of dealing with a broader industrial base and often tries to take advantage of existing commercial systems or emerging commercial technologies that can be adapted to defense purposes. However, in doing so it often requires the commercial supplier to partner — typically in the subordinate position of subcontractor — with a traditional defense contractor familiar with the Pentagon's contracting procedures.
This approach has resulted in some high-profile failures. The Defense Department's imposition of government-unique requirements has been demonstrated to add to program costs while the utility — benefit compared to cost — of many government-unique business practices are open to question or simply non-existent.
Many of the government-unique requirements are imposed in the contracting process and appear in contract specifications or terms and conditions including those mandated by contracting laws or regulations.
A few quotations may help illustrate the points just mentioned. In a 1946 memorandum titled, "Scientific and Technical Resources as Military Assets," then-Army Chief of Staff Gen. Dwight D. Eisenhower said: "The armed forces could not have won the war alone. Scientists and businessmen contributed techniques and weapons that enabled us to outwit and overwhelm the enemy."
It was not expected that private sector organizations would become captives of the government, merely that a close liaison would be maintained. Fifteen years later when leaving office, President Eisenhower noted an emerging "military-industrial complex" which might have unintended negative consequences. At the end of the Cold War, Norman Augustine, chairman of the largest defense contractor, was asked why Lockheed Martin did not diversify into the commercial sector. Augustine cited its lack of "commercial accounting." This was shorthand for saying it was required to conform to government-imposed accounting standards and the many other business practices mandated by the government. The overhead these practices imposed were a barrier to engaging commercial markets on a competitive basis.
The defense industry most closely resembles a regulated public utility. How so? Good question! The defense industry does not look like typical regulated public utilities. Why? Because most public utilities are regulated by a single expert regulatory body at the macro level — structure, price and profit. This is not the case with the highly regulated defense industry. It is regulated at the micro level by numerous "regulatory bodies" with little expertise outside their own narrow bailiwicks and with little or no coordination.
The regulators of the defense industry include the Office of Federal Procurement Policy, Defense Pricing and Contracting, Government Accountability Office, Defense Contract Audit Agency, Defense Contract Management Agency, the FAR Council, courts and various administrative bodies, and numerous contracting offices. These organizations issue decisions, guidance, and exercise varying degrees of control over the system.
In addition, there is Congress which has enacted basic procurement laws, fiscal laws and related laws of broad applicability. It annually adds additional "guidance" through the National Defense Authorization Act and other legislation. While some regulations have a broad policy perspective, much of the overhead burdening defense companies comes at the level of small details contained in contract clauses, inspection requirements and defense-unique standards; they constitute a myriad of details that must be tracked and managed.
Not to be underestimated is lore — the various traditions, ideas and concepts that have gained wide acceptance among acquisition bureaucrats. Some of the lore is system-wide but in some cases relates to particular agencies or industry sectors. This can result in the "just say no" syndrome, when a rational basis for "no" cannot be articulated. When forward-leaning bureaucrats bust through some barrier created by lore, they think they are innovative and have made progress.
One of the artifacts of the highly regulated defense industry is the obsession with cost and fee. Costs are tracked in excruciating detail. Former Sen. Jeff Bingaman, D-N.M., was fond of saying the defense acquisition system "spends millions to save thousands." The Defense Department has a so-called "profit policy" focused on the fee defense companies receive. Time is spent in negotiations reducing the contractor's fee. Despite an obsession with tracking incurred costs and fees, the top defense companies have some of the highest return on investment numbers reported in the Wall Street Journal.
Rather than thinking about nationalizing the defense industry, perhaps we should consider how to liberate defense companies from the burdens of policies that add cost, but not value, to products and services delivered. The objection will be raised that we cannot unravel a system that has taken 70 years to create. That is probably right. At least it cannot be done all at once. It can be done incrementally and selectively.
As long ago as 1994, the Defense Science Board Task Force on Acquisition Reform concluded "mature jet engines, microelectronics, software and space systems can and should be procured and supported in a fully commercial environment."
Congress has given the department the means to operate a commercially friendly acquisition system. Other transaction authority agreements (OTAs) and related innovative acquisition authorities can be used to create an alternative to the traditional overly regulated "costs too much, takes too long" acquisition system. The department can reform Part 12 of the Federal Acquisition Regulation to make it truly commercial friendly. Defense companies can set up divisions and technology sectors that operate in a commercial environment while doing business with the government and also expanding into commercial markets.
Acquisition leaders such as senior procurement executives need to get over thinking OTAs are "just another tool." They can be the core of an alternative acquisition system.
Dual-use should become the department's default approach to science-and-technology projects. OTAs can be the preferred contractual instrument for science and technology, prototyping and follow-on production after a successful prototype project. The department can conduct its business in a way that maximizes benefits to the warfighter in terms of quality, speed and affordability of new capabilities and also aligns the defense industry in a way that contributes to national economic strength. ND

Richard L. Dunn is an independent consultant providing advice on the implementation of technology in the military and civil sectors through innovative means. He is also the founder of the Strategic Institute for Innovation in Government Contracting.
Topics: Defense Department